Domestic and International Compact Demolition Robot Shipping
Heavy Haulers is the perfect company to hire when you need to move a compact demolition robot, and you should let us handle all the logistics involved. Our excellent shipping services are for all the residents of North America, Canada as well as Mexico, hence you should never feel left out. Furthermore, our drivers come with many years of experience in handling different brands of compact demolitions robots. Indisputably, yours is under the best care while in our hands.
Heavy Haulers has amazingly affordable customized rates for our incredible compact demolition transport services. Once you call one of Heavy Haulers' experts, we will give you a shipping quote free of charge, and upfront, so that you can start planning your budget as early as possible. In case you have more queries, visit our website and talk to our educated and disciplined customer service agents on our live chat facility.
Contact Our Expert Shipping Specialist's
(800) 908-6206
Transport Your Compact Demolition Robot within Your Schedule and Budget
A compact demolition robot is a piece of machinery that is used for demolition work in different spaces, especially in the construction industry. Most compact demolition robots are used with other tools such as versatile crushers, steel shearers, and hammers for maximum efficiency. Some of the notable features of most compact demolition robots include rotatable arms, a compact low-weight design to facilitate easy access to confined spaces as well as a lot of power.
Heavy Haulers provides reliable transport services for compact demolition robots of all kinds. Some of the benefits to enjoy after you have hired us include timely delivery. We are never late because we value your time, as we do ours. When we arrive at your current job site, we will call you and also help you unload the compact demolition robot.
Common Types of Compact Demolition Robots Heavy Haulers Ships
● The Husqvarna DXR 310 compact demolition robot
● The Avant Robot 185
● Remote Controlled Husqvarna DXR 140 and DXR 300 Models
How to Ship a Compact Demolition Robot with Heavy Haulers
Talk to one of Heavy Haulers' logistics experts when you require help shipping your compact demolition trailer. We will get a properly rated trailer capable of protecting your compact demolition trailer, and pair it with one of our highly-skilled drivers whose primary responsibility is to deliver the compact demolition robot to the agreed destination.
When shipping your compact demolition robot, Heavy Haulers is always compliant with your state's regulations to avoid squabbles with the local authorities. The experts at Heavy Haulers will also take care of all the required paperwork for the customs and weigh stations. Additionally, Heavy Haulers will make an extra effort to secure insurance for the compact demolition robot before we begin to transport the equipment.
Common Trailer Types Available from Heavy Haulers
Heavy Haulers specializes in hauling heavy loads such as construction equipment, oil field rigging and Super Loads. We are wideload experts! We offer an extensive range of trailer choices, including:
Max Weight: 48,000 lbs. | Max Length 53 ft. | Max Width 8.5 ft. | Max Height 11 ft.




Max Weight: 45,000 lbs. | Max Length 29 ft. | Max Width 8.5 ft. | Max Height 11.5 ft.
Max Weight: 150,000+ lbs. | Main Deck Length 29 ft. | Well Width 8.5 ft. | Legal Height Limit 11.6 ft.




Max Weight: 48,000 lbs. | Max Length 53 ft. | Max Width 8.5 ft. | Max Height 8.5 ft.
HEAVYHAULERS.COM
START YOUR SHIPMENT TODAY!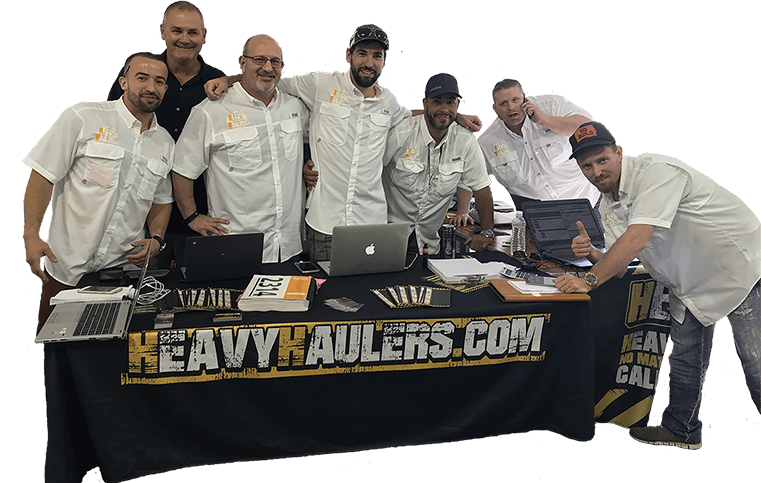 We Are Ready To Help You Haul Your Equipment!