Efficient and Affordable Slipformer Paver Transport
We regularly undertake work for paving companies and specialize in the delivery of paving equipment, including slip form pavers, compactors, milling machines, and trucks. Our certified, insured, and bonded drivers can move your entire fleet as part of our slipformer paver transport service. We prepare all the permits and paperwork in advance, so we're ready to transport your equipment ASAP. You can keep up with your slipformer paver delivery in real-time, so you can plan around our arrival.
We have the expertise and experience that allows us to handle all slipformer paver hauling requests, even at short notice. We're a slipformer paver transport company capable of handling bulk delivery requests as well as one-time shipments. State and local regulations vary when it comes to oversized transport, but we've got the knowledge and expertise available to make sure that your equipment delivery is fully-compliant. Call now! (800) 908-6206
Contact Our Expert Shipping Specialist's
(800) 908-6206
Heavy Haulers can Deliver a Slipformer Paver Anywhere!
Contractors may have to travel far and wide to undertake paving and road work jobs, and its crucial to arrive on time, with your equipment ready to start work. As heavy-duty road users, we understand the importance of well-maintained roads across the United States, Canada, and Mexico, as well as the importance of arriving on schedule. We can even handle the delivery of associated paving equipment, such as side feeders and texture curing machines. Choose us to haul a slipformer paver, and you'll get access to a nationwide network that can deliver your paver anywhere!
Slipform paving machines use a molding process that dispenses concrete into a continuously moving mold to attain the required pavement design. Many pavers can perform automatic width adjustments and offer a highly mechanized cost-effective paving solution for road, bridge, and building projects.
Common Types of Slipformer Paver:
● 4-Track Slipformer Paver
● Conventional Slipformer Paver
● Offset Slipformer Paver
● Inset Slipformer Paver
● Half-Width Slipformer Paver
● Apollo HEM Series
● Gomaco GP3000
● Power Pavers SF1700
● Wirtgen SP Series
How to Ship a Slipformer Paver
We ship all types of slipformer pavers across the United States, Canada, and Mexico. Most slipformer paver deliveries require a drop deck or RGN trailer to meet the safety regulations associated with slipformer paver haulage. Depending on size and weight, shipping a slipformer paver may require the use of a crane when loading and offloading. Speak to one of the logistics specialists on the Heavy Haulers slipformer paver delivery team, and we'll advise you on the most suitable slipformer paver transport available. We'll also provide any loading equipment, manage the permit applications, and schedule your slipformer paver equipment delivery for a time that suits you. Let's get started! (800) 908-6206
Common Trailer Types Available from Heavy Haulers
Heavy Haulers specializes in hauling heavy loads such as construction equipment, oil field rigging and Super Loads. We are wideload experts! We offer an extensive range of trailer choices, including:
Max Weight: 48,000 lbs. | Max Length 53 ft. | Max Width 8.5 ft. | Max Height 11 ft.




Max Weight: 45,000 lbs. | Max Length 29 ft. | Max Width 8.5 ft. | Max Height 11.5 ft.
Max Weight: 150,000+ lbs. | Main Deck Length 29 ft. | Well Width 8.5 ft. | Legal Height Limit 11.6 ft.




Max Weight: 48,000 lbs. | Max Length 53 ft. | Max Width 8.5 ft. | Max Height 8.5 ft.
HEAVYHAULERS.COM
START YOUR SHIPMENT TODAY!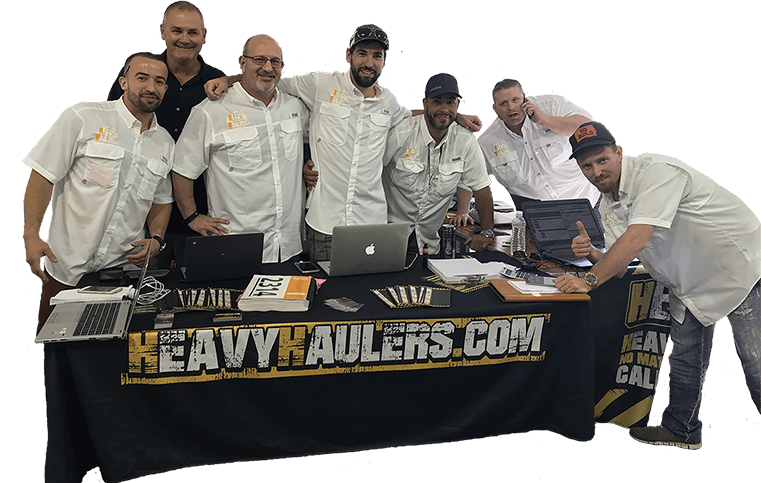 We Are Ready To Help You Haul Your Equipment!