Industry Leading Electric Semi Truck Transport Company
Over a decade of heavy haul trucking experience makes Heavy Haulers the "go to" company to ensure that electric semi trucks are most safely transported by our trained and experienced logistic team. You can rest easy that our team highly-skilled professionals will gather all of the necessary information to haul your electric semi trucks wherever they need to go on time and within budget. We understand and take into account the special needs and considerations required when transporting electric semi trucks. Call now! (800) 908-6206
With the advent of semi electric trucks, Heavy Haulers has not only developed the required processes, but we've also upgraded our systems to ensure that we facilitate stress-free semi electric truck shipping. Our personalized, sophisticated state of the art logistics software, incorporating digital signatures, photo capture, seamless communication, and satellite tracking ensures a hassle-free delivery each time, every time.
Contact Our Expert Shipping Specialist's
(800) 908-6206
Electric Semi Truck Shipping with Ease
When faced with shipping semi electric trucks, you should be free from worries and hassles. After all, you're delivering Americans with a more fuel-efficient and cost-friendly way for them to travel. You want your electric truck delivered safely and on time. Heavy Haulers understands that and is ready and equipped to your electric semi truck transported to its destination with ease. Heavy Haulers is an industry-leading heavy haul trucking company. We have a large and versatile fleet, a highly trained logistics team, over ten years of experience and the track record that proves we can get your job, or any job, done right. We are the guys to call for all your semi electric truck shipping needs.
With the advent of lithium-ion battery-powered electric semi trucks in recent years, Heavy Haulers has grown to be the safest and most efficient transporter of this "greener" alternative to American consumers and companies. We take pride in the fact that we bring to the world a greener alternative that helps to greatly reduce local pollution. With their ingenious simplicity along with their high efficiency, electric semi trucks have greatly reduced the running and maintenance costs for consumers and companies. Electric semi trucks have made the world a better and safer place. Heavy Haulers is proud to be an important part of that change.
Common Electric Semi Trucks We Haul
The following companies trust Heavy Haulers with their electric semi truck and other heavy equipment needs:
● Cummins Aeos

● Tesla Semi
● Nikola Motor Company

● Freightliner eCascadia
How to Ship an Electric Semi Truck with Heavy Haulers
Heavy Haulers provides top logistics coordination, along with the ease of electric semi truck transport. We provide the best rigs, trailers, and drivers to get your electric semi truck where it needs to be. Whether you're shipping locally or long distance Heavy Haulers is the company you need. Call now for a free shipping estimate! (800) 908-6206
Common Trailer Types Available from Heavy Haulers
Heavy Haulers specializes in hauling heavy loads such as construction equipment, oil field rigging and Super Loads. We are wideload experts! We offer an extensive range of trailer choices, including:
Max Weight: 48,000 lbs. | Max Length 53 ft. | Max Width 8.5 ft. | Max Height 11 ft.




Max Weight: 45,000 lbs. | Max Length 29 ft. | Max Width 8.5 ft. | Max Height 11.5 ft.
Max Weight: 150,000+ lbs. | Main Deck Length 29 ft. | Well Width 8.5 ft. | Legal Height Limit 11.6 ft.




Max Weight: 48,000 lbs. | Max Length 53 ft. | Max Width 8.5 ft. | Max Height 8.5 ft.
HEAVYHAULERS.COM
START YOUR SHIPMENT TODAY!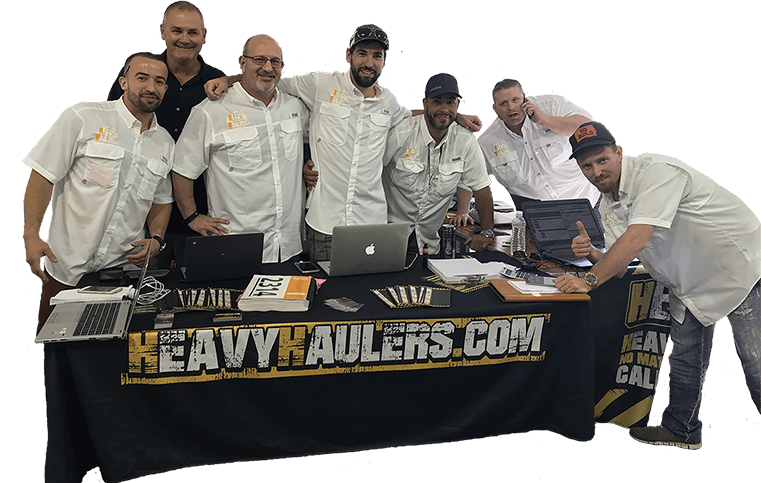 We Are Ready To Help You Haul Your Equipment!