(800) 908-6206
Heavy Haulers
Specifications Database
We provide quality heavy haul transport
for every year, make, and model.
Trust the best in the industry.
Terex CR362 Asphalt Paver Specs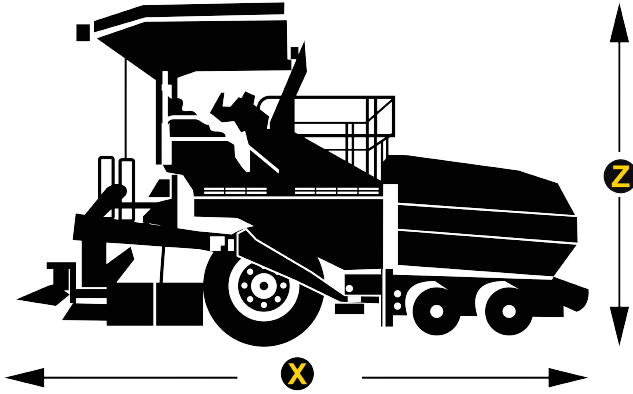 Need Terex CR362 Specifications & Dimentions?
Heavy Haulers specifications database is where you find reliable specs and dimensions of Terex asphalt pavers. You're able to compare them with similar models from other manufacturers until you find what you need. Before looking at the specs and dimensions of Terex asphalt pavers, inspect where it will be used first to get an idea of what you need. Without considering your jobsite requirements, the probability of getting a Terex asphalt paver with specs and dimensions that don't meet your needs is high. Some of the factors to consider include accessibility and jobsize. A good Terex asphalt paver should be comfortable, reliable and productive.
What Is a Terex Asphalt Paver Used For?
Terex asphalt pavers are used for laying asphalt on bridges, parking lots, roads and other similar places. When buying a used Terex asphalt paver, make a point of inspecting and testing it thoroughly. A used one might not function as well as a used one. This is because it might have been overworked or poorly maintained by the previous owner. Our agents recommend the most suitable trailer for transport depending on the weight and dimensions of a Terex asphalt paver.
Terex CR362 Asphalt Paver Specifications:
» Length W/ Screed: 18.51 ft in


» Transport Width: 8.5 ft in


» Transport Height: 9.17 ft in


» Length Of Track On Ground: 8.26 ft in


» Track Width: 14 in


» Width W/ Hopper Open: 10.01 ft in


Need Heavy Haulers to Verify Specs for You?
Call One of Our Specification & Dimension Specialists for a
FREE

Spec Verification at (800) 908-6206.
Step Deck Trailer

Max Weight: 48000
Main Deck Length: 43
Well Width: 8.5 FT
Legal Height Limit: 10.6