Terex GS1530 Scissor Lift Specs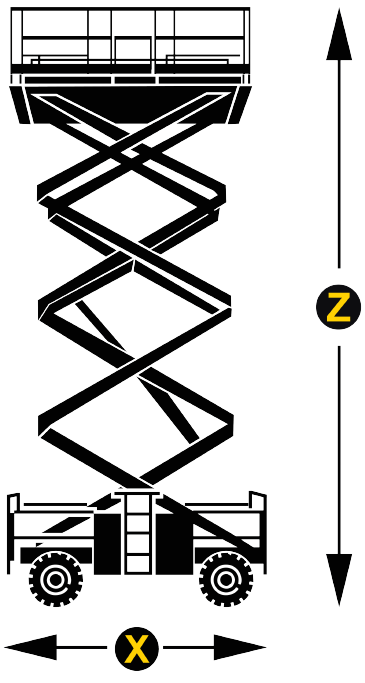 Terex GS1530 Height, Length, Width, and More
Through the Heavy Haulers specifications database, you can find specs and dimensions of every Terex scissor lift. To find a Terex scissor lift with specs and dimensions that meet your jobsite requirements, you need to familiarize yourself with your job requirements first. Some of the things to consider include its accessibility, moving distance, lift capacity and lifting height. With this information, you will have an idea of the specs and dimensions to look for in a Terex scissor lift. On our specifications database, you will find platform, engine and operational specs of Terex scissor lifts.
What Is A Terex Scissor Lift Used For?
Terex scissor lifts are known for their high performance and versatility. They're ideal for maneuvering through tight worksites. Terex scissor lifts are used for indoor and outdoor installation, maintenance and construction applications. It's important to ensure that the Terex scissor lift of your choice is dictated by the requirements of your jobsite. If your jobsite applications require a high Terex scissor lift, get exactly that. This will help you work efficiently.
Terex GS1530 Scissor Lift Specifications:
» Overall Length: 6.01 in


» Wheelbase: 4.34 ft in


» Overall Width: 2.5 ft in


» Height W/ Rails: 6.44 ft in


» Ground Clearance: 2.37 in


» Height W/O Rails: 5.68 ft in


» Turning Radius: 5.09 ft in


» Gradeability: 30 %


Need Heavy Haulers to Verify Specs for You?
Call One of Our Specification & Dimension Specialists for a
FREE

Spec Verification at (800) 908-6206.
HotShot Trailer

Max Weight: 16000
Main Deck Length: 40
Well Width: 8.5 FT
Legal Height Limit: 10.6