A Qualified Commercial Stump Grinder Haulage Provider
Heavy Haulers is a commercial stump grinder transport shipping company that has more than a decade of experience hauling heavy-duty grinders. Our haulage professionals are qualified to handle a comprehensive range of grinders and associated accessories, including aggressive pcd plates and a variety of diamond grits. Every one of our haulers is trained to load, secure, and transport heavy-duty equipment in an efficient manner, without compromising anyone's safety.
We know that the safe haulage of your stump grinder is integral to your business being able to provide the finishing touches to a wide variety of projects. We make sure everyone involved in the stump grinder shipping service we provide is fully insured, certified, and knowledgeable about the specific make/model you're shipping. During our ten year history, the chances are high that we have shipped a commercial stump grinder of your type in your area. Even if we haven't, you can trust us to get up to speed before arriving onsite to handle your commercial stump grinder hauling request.
Contact Our Expert Shipping Specialist's
(800) 908-6206
Trust us to Transport a Grinder Anywhere
We offer the facility to send large, bulky commercial stump grinders to your buyers anywhere in the U.S., Canada, Mexico, and overseas. Our stump grinder transport service is perfect for buyers, sellers, and movers that need to transport a grinder quickly and easily. Our haulage network is nationwide, and we have a wide variety of sophisticated trucks and trailers available for your commercial stump grinder shipping needs. Whether you need to haul a grinder across town to a new workshop or shipping a grinder across the state, we're available to assist you.
Commercial stump grinders are used in abundance by the forestry industry. They are used to demolish tree stumps by gradually chipping away with a multi-toothed cutting wheel. Shipping an industrial stump grinder is done with precision and care at Heavy Haulers. Give us a call and we'll get you a free shipping estimate. (800) 908-6206
Common Commercial Stump Grinders We Transport
● Volvo PF6160 Stump Grinder
● CMI Biogrind Horizontal Stump Grinder
● CMI Megagrind 800 Stump Grinder
How to Ship a Grinder
Before you agree for a commercial stump grinder shipping transport company to handle your gearbox shipping needs, get a quote from us at Heavy Haulers. We provide free, accurate, and comprehensive quotes based on your gearbox transport requirements. Not only can we handle nationwide grinder haulage, but we can assist you with protective packing, loading, and offloading your stump grinder onsite. We offer a variety of secure stump grinder transport services and will recommend a grinder shipping service hauler and transport type that will match your requirements. Contact us, and we'll get started on your grinder shipping project. (800) 908-6206
Common Trailer Types Available from Heavy Haulers
Heavy Haulers specializes in hauling heavy loads such as construction equipment, oil field rigging and Super Loads. We are wideload experts! We offer an extensive range of trailer choices, including:
Max Weight: 48,000 lbs. | Max Length 53 ft. | Max Width 8.5 ft. | Max Height 11 ft.




Max Weight: 45,000 lbs. | Max Length 29 ft. | Max Width 8.5 ft. | Max Height 11.5 ft.
Max Weight: 150,000+ lbs. | Main Deck Length 29 ft. | Well Width 8.5 ft. | Legal Height Limit 11.6 ft.




Max Weight: 48,000 lbs. | Max Length 53 ft. | Max Width 8.5 ft. | Max Height 8.5 ft.
HEAVYHAULERS.COM
START YOUR SHIPMENT TODAY!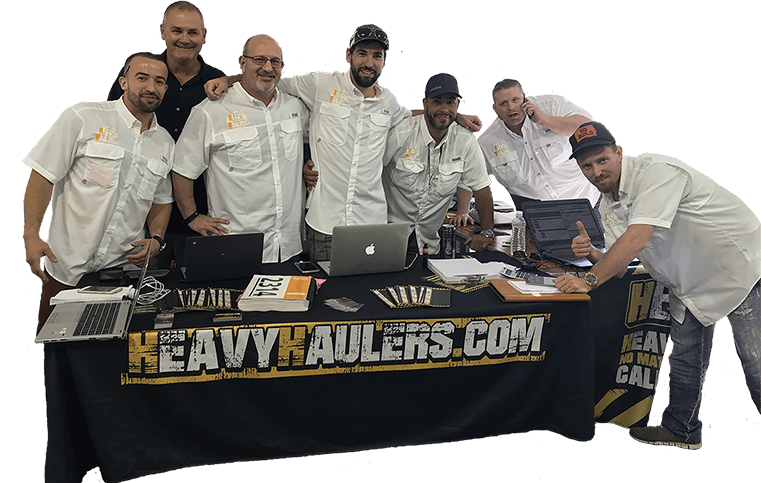 We Are Ready To Help You Haul Your Equipment!