Over-Height Load Guidelines
When it comes to transporting an over-height equipment or load, all states have specific height limits. The given load can exceed the specific height but for it to travel through public roads, overheight permits need to be acquired. The height of the load is achieved by adding the height of the trailer and that of the load. For example, if the height of a trailer is 5' and the height of a load is 8'6, the total height is 13.6'.

When the total height exceeds the maximum height allowed by the state, special permits are acquired so that on the transportation date, structures in between the origin and destination of the load exceeding height limit are cleared. In this case, they are either lifted to a higher height or removed for the time being. Removal of overhead lines is done by the permittee. Being sure about the transport date is important so that all these arrangements are done ahead of time. Below is a table showing height limits in different states.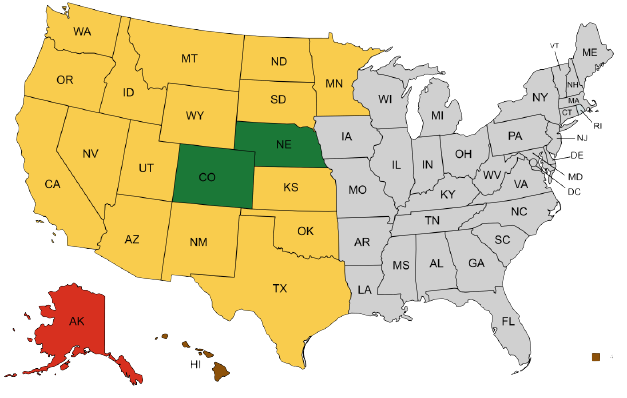 | States | Height Limit |
| --- | --- |
| California, Arizona, Washington, Oregon, Idaho, Montana, Nevada, Wyoming, Utah, New Mexico, Texas, North Dakota, South Dakota | 14' |
| Nebraska, Colorado | 14'6 |
| Minnesota, Iowa, Missouri, Arkansas, Oklahoma, Louisiana, Wisconsin, Illinois, Tennessee, Mississippi, Alabama, Georgia, Florida, Kentucky, Ohio, Michigan, Pennsylvania, New York, Indiana, Virginia, North Carolina, South Carolina, Connecticut, New Jersey, Maryland, Vermont, Maine, Rhode Island, Massachusetts, Maryland, West Virginia, New Jersey, Washington DC | 13'6 |
| Alaska | 15' |