Complete Heavy Equipment Shipping Services
Heavy Haulers offers a variety of heavy equipment and machinery transport services. The quality of our heavy equipment shipper services remains unmatched and are budget-friendly solutions to the needs of our clients, and you can rely on us every other day of the week. Heavy equipment shipping is a process that takes time and requires a specific skill set and specialized equipment to be done safely and within the stipulated deadlines. Therefore, if you are thinking about transporting industrial materials, engines, agricultural, and construction equipment, you need the services of experienced professionals with the means, the workforce, and expertise needed to do the job right the first time. Call now! (800) 908-6206
At Heavy Haulers, we can make all the necessary plans at a surgeon's precision. What's more, we have world-class customer representatives ready to provide you with all the information you need. This is to ensure that you have everything you need to make the right choices. They will also update you every step of the way until your heavy equipment reaches your destination. Heavy Haulers comes with the expertise and tools required to haul heavy materials. This is how we see to it that all your needs are satisfactorily met. With us, you can have a guarantee that you are placing your goods in the right hands. You can trust us every step of the way.
Contact Our Expert Shipping Specialist's
(800) 908-6206
The Process of Hauling Heavy Equipment
Our heavy equipment shippers will involve you when deciding on the best route to use. We also have what it takes to guarantee the safe delivery of your cargo. Before we start transporting it, we have to discuss the shipping costs with you. You will get the free quote estimate as soon as you contact us for help to haul your heavy cargo. We are quick and upfront because we don't want to waste your time, plus it helps us to establish trust. Additionally, we do not wish to cause any inconvenience or surprises. Instead, we want you to plan your budget appropriately and in advance.
As industry-leading heavy equipment shippers, Heavy Haulers understands that no two loads are exactly the same. That's why we provide expert shipping evaluations to determine what your cargo will need to be transported safely. Our highly skilled logistics team is ready to take your call and provide you with the best information available. At Heavy Haulers, we also provide the most affordable shipping estimates. Call now! (800) 908-6206
Common Factors Considered When Shipping Heavy Equipment Includes
● Distance
● Shape
● Size
● Weight
● Insurance
How to Determine the Costs of Heavy Equipment Shipping
Several factors will come into play when deciding the overall pricing you have to pay for your heavy equipment shipping. To begin with, we put the size, weight, shape, and value of your load into consideration. The heavier it is, the more you have to pay for it. Also, the traveling distance matters. The quote you will get when transporting cargo over a 500-mile distance is different from that of 2000 miles. If the distance is small, you will part with more money when paying for every mile of the move. For larger distances, the cost per mile decreases. Other things that may affect the cost is whether you need insurance from us and if your equipment needs special equipment to handle. As expert heavy equipment shippers, we always do our best to find the best prices and best drivers to move your freight.
Common Trailer Types Available from Heavy Haulers
Heavy Haulers specializes in hauling heavy loads such as construction equipment, oil field rigging and Super Loads. We are wideload experts! We offer an extensive range of trailer choices, including:
Max Weight: 48,000 lbs. | Max Length 53 ft. | Max Width 8.5 ft. | Max Height 11 ft.




Max Weight: 45,000 lbs. | Max Length 29 ft. | Max Width 8.5 ft. | Max Height 11.5 ft.
Max Weight: 150,000+ lbs. | Main Deck Length 29 ft. | Well Width 8.5 ft. | Legal Height Limit 11.6 ft.




Max Weight: 48,000 lbs. | Max Length 53 ft. | Max Width 8.5 ft. | Max Height 8.5 ft.
See what you need?
Call us for a FREE Shipping Estimate at (800) 908-6206
HEAVYHAULERS.COM
START YOUR SHIPMENT TODAY!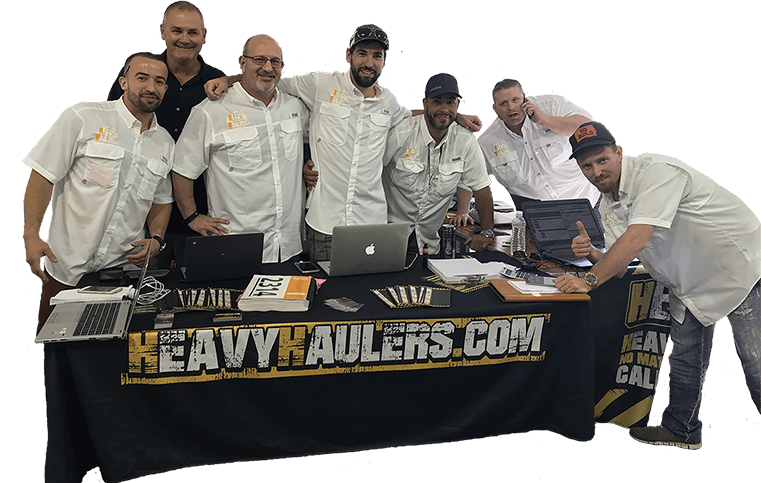 We Are Ready To Help You Haul Your Equipment!
See what you need?
Call us for a FREE Shipping Estimate at (800) 908-6206