5 Things to Know About Truck Transport
When it comes to the world of truck transport, you may not realize just how important it is to the U.S. economy, or how convenient it is to have your truck shipped for you. Rather than utilizing a driveaway service for your vehicle or simply driving the truck yourself, you can take advantage of the multitude of benefits that are associated with a truck shipping service from an established company.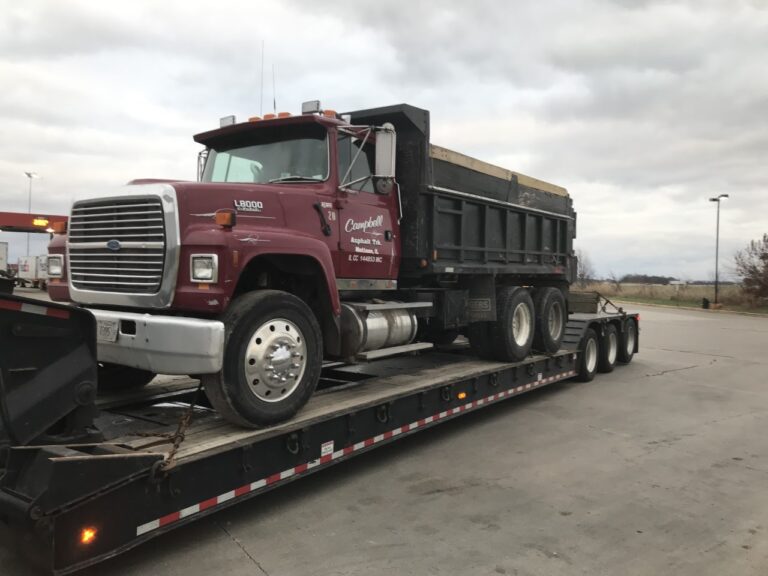 Open or Enclosed Shipping for Truck Transport
Truck shipping is an incredibly versatile shipping method. You can opt for an open or enclosed trailer to transport your truck, depending on your personal preference.
Open trailers, such as flatbeds, RGNs, and drop-deck trailers, are a much cheaper travel option. However, trucks being transported in the open air are prone to get covered in road debris, and they are exposed to the elements. They also have your vehicles on display throughout the entire journey. If it's a truck you're particularly fond of, expensive, or rare, then your shipment may be better suited to traveling in an enclosed container.
Trucks traveling in enclosed containers are less prone to damage and theft. However, both trucking methods involve securing the truck to the bed of the trailer using straps and other components. Regardless of the transport method you choose, you need to make sure your transporter knows how to secure your vehicle properly.


Trucks being shipped on open trailers can be tied down with chains, nylon straps, and choked to prevent movement. Chains that are placed over vehicle axles can cause unnecessary stress on the vehicle if overtightened. Loose chains and straps can also bang against the truck, potentially causing damage if picked up by the wind during transport.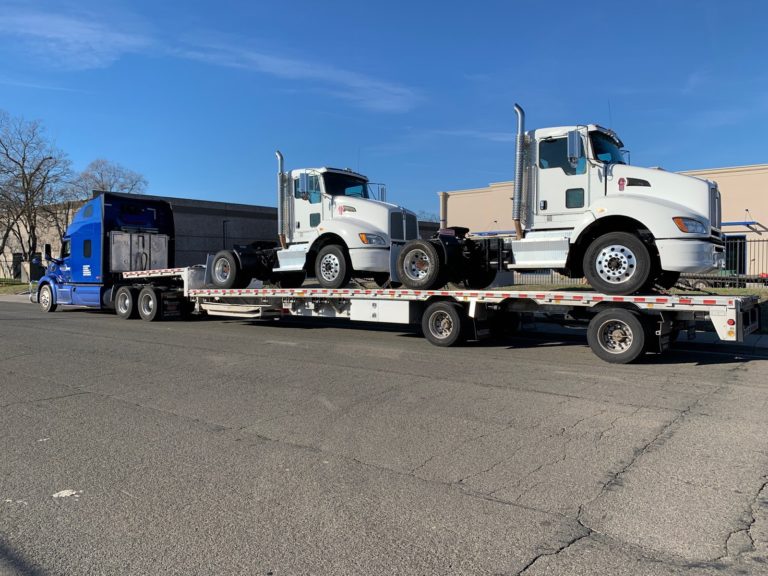 You Can Choose Pickup and Dropoff Locations for Truck Shipping
Pickup and dropoff locations can vary. It's common for truck transporters to transport the vehicle to a central hub or dealership location, where customers have to travel a short distance to collect their truck. However, it is possible to arrange for loading and unloading locations that are more convenient for you. Some truck transport companies will allow you full control over the pickup and dropoff points by offering a door-to-door truck delivery service.
Truck Transport Companies Offer Multiple Services
While it may seem obvious that a transport company dedicated to truck transport will transport a vehicle for you, the available services are often a lot more extensive than just truck shipping. Some companies specialize in a particular type of transport, such as enclosed container shipping. Others have the capability of shipping a wide range of commercial and personal trucks, including the following:
– Trucks
– Emergency services trucks
– ClasUtility sic trucks
– Box trucks
– Dump trucks
– Tanker trucks
– Panel trucks
– 18-wheelers
– Garbage trucks
– Semi-trailer trucks
– Pick-up trucks
Truck transport providers may offer single carrier shipping or multi-carrier shipping, as well as transport methods for non-working trucks such as those involved in road traffic accidents. Large truck shipping companies can also coordinate with rail and boat freight providers to complete shipments that require overseas or long-haul transport. Additional services such as door-to-door transport, expedited shipping, and more, can all make truck transport much more convenient
Truck Shipping Requirements Vary
When it comes to truck shipping, several documents may be necessary, depending on the shipment and travel destination. ID, vehicle registration, insurance, and title are often requested before a company will agree to transport a truck for you. When it comes to the paperwork required for truck shipping, the transport company may also need to fill out additional documents such as route surveys and oversized permits, if your truck exceeds Federal transport guidelines due to its size or weight.
How to Prepare a Truck for Transport
Before shipping a truck, preparation needs to take place. Make sure the vehicle is as clean as possible. Remove any personal belongings or items that aren't secure. Make sure the gas tank is not full; a full tank adds unnecessary weight to the shipment, and an empty tank reduces the likelihood of spillage.
Check whether there are any mechanical issues before transporting, including whether there are any noticeable leaks. Properly inspect and record the condition of the truck, in case damage occurs during transit. Also, check that your truck's tires are properly inflated to ensure a smooth loading and unloading experience.
Step 1:

Fill Out Quote Form

Fill out the short & easy quote form.
Step 2:

Speak With An Agent

We'll pick up your heavy equipment or vehicle.
Step 3:

Get Transported On Time

We deliver on time so you can get back to work.