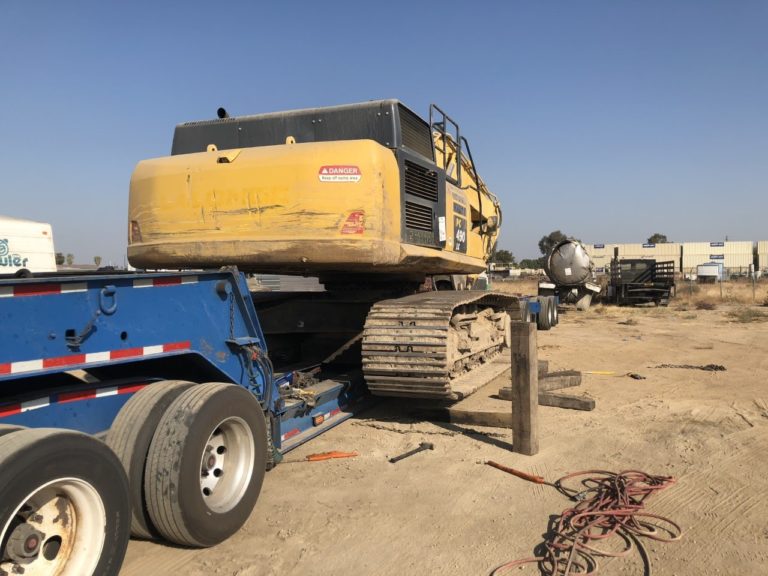 Types of Excavators and How to Transport Them
For lifting substantial amounts of soil, an excavator is the perfect piece of equipment. They're incredibly popular vehicles used for earthmoving on all types of construction, excavation, and demolition sites, offering superior mobility and digging power. There are many types of excavators, from compact machines to industrial variants. We discuss some of the most popular types below.
Crawler Excavators:
Crawler excavators, unlike many other types of excavators, utilize tracks. The weightiness of steel tracks can help to successfully counterbalance the weight of heavy material when the loads are lifted above the machine's center of gravity. The weight of the tracks helps to lower the tipping point and stabilizes the excavator.
This type of excavator is most commonly used in mining and heavy-duty construction projects. Chain wheel systems also allow them to scale hills with less risk, making them suitable for landscaping of uneven terrain.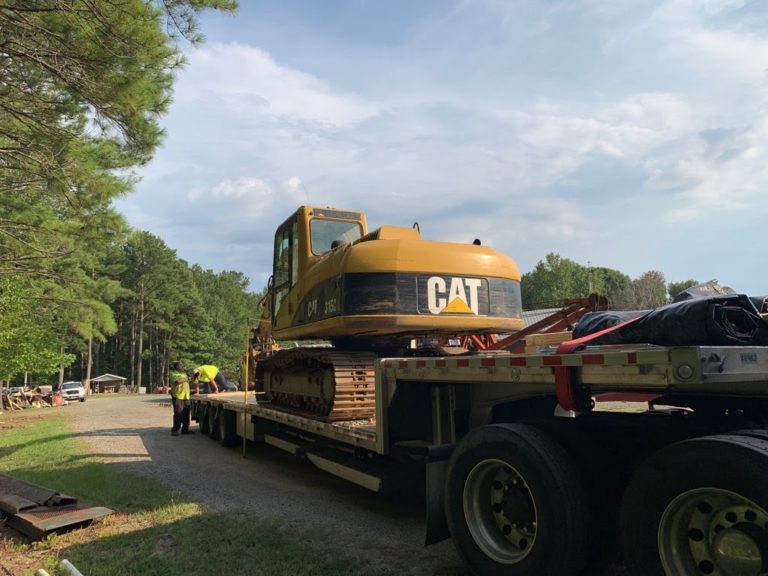 Excavators are incredibly popular vehicles used for earthmoving on all types of construction, excavation, and demolition sites, offering superior mobility and digging power.
Dragline Excavators:
Dragline excavators are also large excavators, but they utilize an alternative process to lift and move debris. It uses a rope system that connects one side of the bucket through a hoist coupler. The other side of the bucket is fixed to a dragline that connects the bucket to the machine's cab. The rope is used to raise and lower the bucket, while the dragline is used to pull the bucket back towards the cab safely.
Skid Steer Excavators:
Skid steers are a type of excavator that looks quite different from other forms of excavator, as the boom and bucket face away from the cab. This configuration allows drivers to lift debris over the booth, making them a useful choice in narrow areas. They're often used in residential applications, pool building, and debris clearance.
Vacuum Excavators:
Vacuum excavators, also known as suction excavators, include a suction pipe that utilizes air to provide up to 400hp of suction. First, the excavator loosens the ground using a water jet and then the pipe, fitted with sharp teeth to further break up the debris, and remove it safely. Delicate underground applications benefit from this type of excavator as they typically cause less damage to the surrounding soil than other excavating machines.
Long Reach Excavators:
This type of excavator features a more extended arm and boom than traditional excavators. This design makes the machinery best-suited for hard-to-reach locations. The extendable arm can often reach over 100ft horizontally and can be operated with extreme precision. They're commonly used in industrial demolition projects where it's unsafe to use explosives, and more control is required.
How to Transport an Excavator Safely
When it comes to transporting an excavator, it's possible to minimize the challenges associated with loading and transporting an excavator by following these three key processes:
– Choose an appropriately-sized towing vehicle
– Follow recommended loading procedures
– Securing the excavator
Make sure that the trailer can support the weight of the excavator and is of adequate size so that there's no excessive overhang. Smaller excavators, for example, can be shipped on a trailer capable of supporting 10,000 lbs of weight, while larger excavators may need a trailer that can bear 20,000 pounds of weight or more on its axles.
Recommended loading procedures for an excavator include adding blocks or supports to the rear of the trailer to prevent the trailer from rising during the loading process. Making sure the undercarriage of the machine is free of dirt, mud, and sand is also preferred. When loading, make sure the heaviest end travels up the trailer ramp first; this is usually the front end if the excavator has fitted attachments.
Before traveling offsite, the boom, arm, bucket, and blade should be lowered to the trailer's floor. Chains at the front and rear using the machine's tie-down points will help to prevent movement during transit.
Get Your Excavator Transport Quote Now!
Step 1:

Fill Out Quote Form

Fill out the short & easy quote form.
Step 2:

Speak With An Agent

We'll pick up your heavy equipment or vehicle.
Step 3:

Get Transported On Time

We deliver on time so you can get back to work.
Trust Only The Best.