Transporting a John Deere 310 Backhoe
Heavy Haulers was recently asked to transport a 2000 John Deere 310 from Dunnigan, CA 95937 to Mad River, CA 95526. The operation was assigned to Antonio, one of our long-standing heavy load transportation specialists. The backhoe had to be at the clients' premises after two days. The client had leased the machinery and wanted to maximize the hours before the cumulative costs surpassed his budget. Antonio understood the urgency of the backhoe transport and immediately set out to process the shipment.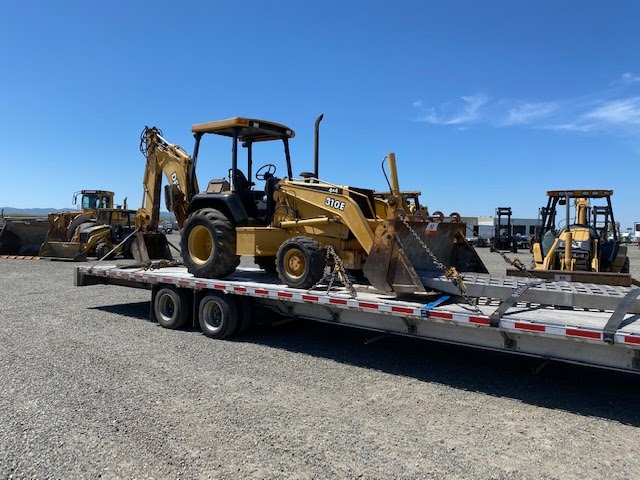 Shipping a John Deere 310 Backhoe Across the Country
Antonio first selected a team of specialists. He delegated different duties to the team. Each team was to report back to Antonio after every 30 minutes. Antonio has been transporting similar equipment and machinery across the country for quite some time now. When the John Deere 310 was being loaded on the lowboy trailer, Antonio noticed that the extended hoe at the back was longer than previously anticipated. A machinery operator was called in and had to retract the rear hydraulics.
Soon afterwards, the standard pre-checks on the trailer and the John Deere 310 were carried out. Antonio gave the green light, and the four-hour journey commenced. The transport length of the John Deere 310 had to be 10.01 ft. Throughout the journey, Antonio made sure this was so by adding milestones along the route. The driver made three stops along the journey to ensure the load was safe. At the clients' premises, our affiliates helped with the offloading operation.
Heavy Haulers Affordable John Deere 310 Backhoe Shipping Services
Our hauling services are offered to clients across the country indiscriminately. We offer unadulterated advice to our clients so they can have an easier time transporting heavy loads in the future. Thanks to our diversified services, there's no load too big or too heavy we cannot ship. We have state of the art trailers and carriers on standby to process your request. Reach out to us for an instant John Deere 310 shipping quote.
Did you Know?
• Backhoes can be easier to load via forklift
• Can transports taller loads without requiring additional permits
• Suitable for towing a wide variety of equipment
• Goods can be stacked on the lower level to transport more at a time
Step 1:

Fill Out Quote Form

Fill out the short & easy quote form.
Step 2:

Speak With An Agent

We'll pick up your heavy equipment or vehicle.
Step 3:

Get Transported On Time

We deliver on time so you can get back to work.
Trust Only The Best.