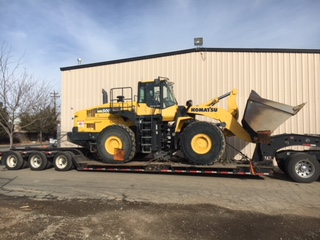 Everything You Need to Know About Landoll Trailer Transport
If you've ever seen a hydraulic trailer that can adjust its inclination to create an angled design to load a piece of equipment, then the chances are that you've seen a Landoll trailer. These trailers offer a super-easy means of loading oversized and over-dimensional loads that would otherwise require separate ramps to load. For instance, it is challenging to load wheeled cargo on a flatbed trailer because accessing the trailer bed requires specific loading equipment, such as ramps and forklifts. Landoll trailers solve that problem by providing high-capacity trailers that can be inclined at an angle (through a combination system of moving undercarriage a a trailer tilt levers) — allowing transport professionals to load the cargo quickly.

If you're interested in learning more about Landoll Trailers, then you're at the right place. This article will discuss a brief history and story behind Landoll trailers, some positive aspects of Landoll trailer technology, and the various types of Landoll trailers.
These trailers offer a super-easy means of loading oversized and over-dimensional loads that would otherwise require separate ramps to load.
A Brief History of Landoll Trailers
Landoll Corporation is a globally renowned manufacturing company specializing in producing high-quality, affordable, and custom trailers, farm equipment, forklifts, and OEM replacement parts and equipment.
It all started in 1969, when a bigwig tractor company came to Don Landoll, the founder and manager of Landoll Corp., to help them design and create a chisel plow based on a dual toolbar concept it had. The partnership was a success. As years passed, most manufacturers were unable to meet the quantity and quality demand of chisel plows. That compelled the companies, such as Case, to turn to Landoll to help them produce top-tier, performance chisel plows.

After interacting with experienced sales and distributors in the industry, he managed to expand his business. After the encroachment of new farm equipment manufacturers in the industry during the 80s, the sector became more competitive. He started his journey of trailer manufacturing when he helped FMC Corp, a company that sold the kind of trailers used in the rear of military planes to load aluminum containers.
That's where he learned the skills of designing and building custom trailers for applications in various industries, including cargo shipping and recovery, construction, loading equipment, and storage containers. Today, Landoll Corporation boasts a vast dealer network in North America and Europe.
Advantages of Transporting Heavy Equipment Using Landoll Trailers
Landoll custom trailers are the ideal choice when you need to move oversized and overweight cargo. They feature hydraulic systems that allow logistics and shipping professionals to tilt the trailer bed for hassle-free cargo loading from the rear.

Additionally, you can deploy Landoll trailers when shipping loads that are complex and out of the norm because they feature the same positive attributes as removable gooseneck trailers. You can adjust their ground clearance, and they also have extended lengths, enabling you to transport cargo seamlessly. A unique aspect of Landoll trailers is that they feature an undercarriage roller system. That gives them the capacity to carry more weight than a standard RGN trailer on different terrains. Typically, Landoll trailers can handle loads that measure 5-60 tons in weight, 48-74 ft. (length), 11.5 ft. (height), and 8.5 ft. (width). With such specs and dimensions, Landoll trailers offer the most suitable trailer systems for hauling superloads and significantly heavy equipment like bulldozers, large excavators, articulated dump trucks, and many more. Combine that with their exceptional weight distribution capacity, and you can be sure that the load will stably "sit" on the trailer for safe transportation.
Types of Landoll Trailers
When you invest in Landoll trailers, you simply invest in its differentiating feature: the undercarriage roller system. Whichever type of model of Landoll trailer you purchase; you can guarantee a higher weight-carrying capacity. The roller system rides evenly on two or three axles, evenly distributing the cargo weight to the axles. As a result, they can carry larger equipment and cargo than RGN trailers.

The following are types of Landoll trailers:

- Detachable Gooseneck Trailers – These trailers feature two or three axles and are commonly used in transporting agricultural equipment. Shippers can also add a fourth axle to withstand even larger loads.

- Bottom-Dump Trailers – These trailers feature a dumper with a bottom that can instantly open and release the load. These trailers are used in construction and mining sites to move and dump soil.

- Traveling-Tail Trailers – Shipping companies use traveling-tail trailers to easily load cargo from the rear end. They feature adjustable tails that can be tilted 15-ft.-long tails that can tilt to an angle of 11 degrees. They alleviate the need to use separate ramps.

Others include:

- Non-Hydraulic Fixed Gooseneck Landoll Trailer with Four-Beam Trailer Design Rollback Carriers

- Utility Tag Landoll Trailers (10,000-14,000 lb. Capacity)

- Industrial Tag Landoll Trailer (Designed with A Lower Deck Height and Pierced Main Beams)

Landoll trailers have revolutionized the shipping industry. While people were previously limited to transport the heaviest cargo and superloads using RGN trailers, Landoll trailers allow heavy freight transporters to move even heavier loads, thanks to their undercarriage roller system.
Transport Your Equipment With A Landoll Trailer now!
Step 1: Fill Out Quote Form
Fill out the short & easy quote form.
Step 2: Speak With An Agent
We'll pick up your heavy equipment or vehicle.
Step 3: Get Transported On Time
We deliver on time so you can get back to work.
Recommended Blogs For You: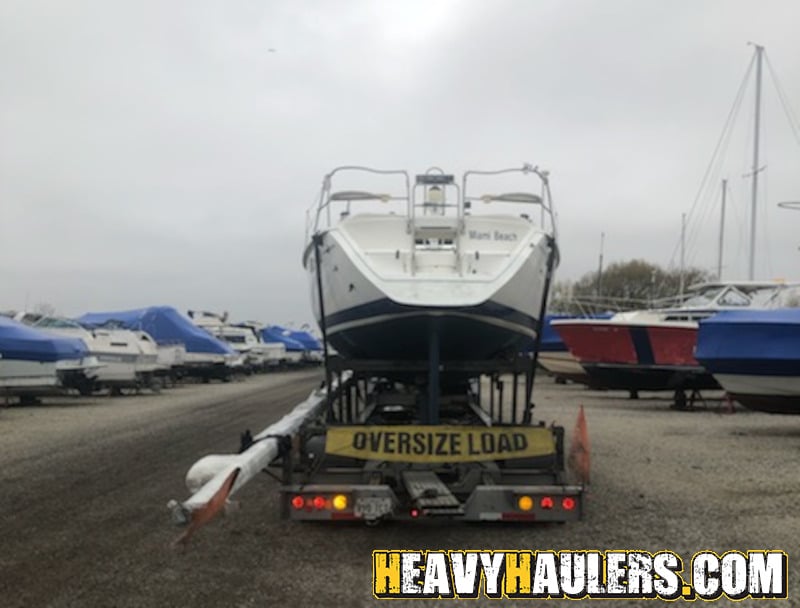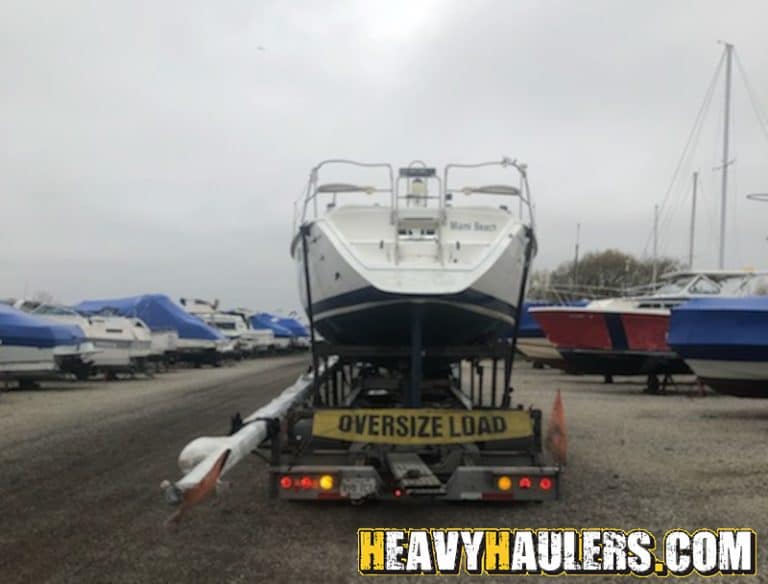 Heavy Daily Haulers Blog Daily Blog Safety Tips for Boat Transport If you plan to ship a boat, the first priority should be safety. Shipping
Read More »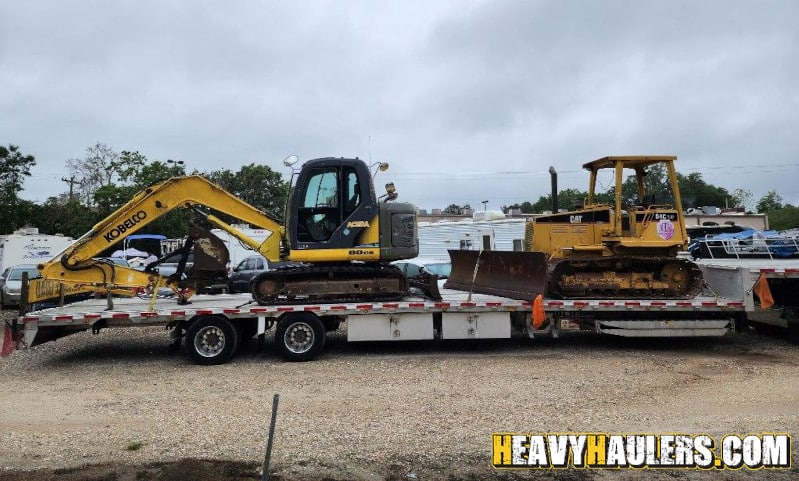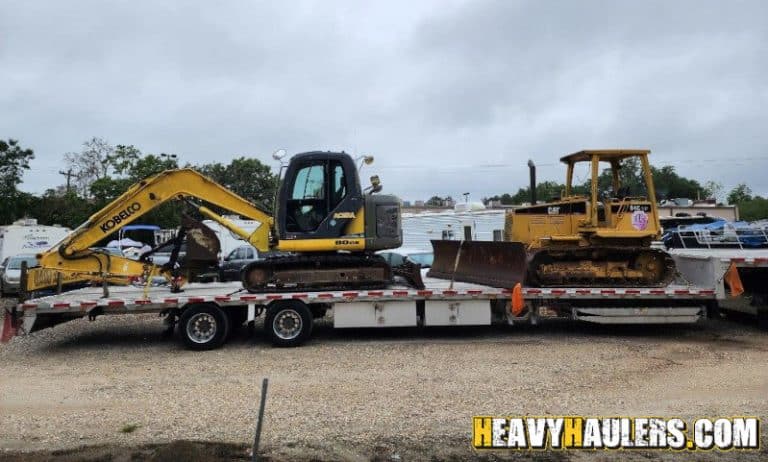 With any industry, fraud, and scams happen from dishonest people trying to make a quick buck. Heavy equipment transport and vehicle shipping have high volumes of money changing hands.
Read More »