Ship Your Landoll Cargo OR Trailer with Heavy Haulers in All 50 States, Canada, and Mexico!
Landoll trailers are used to transport equipment and cargo for a variety of different industries, including ranging from 5 to 60-ton capacity. These ground loading trailers service many industries including towing and recovery, construction, agriculture, rental, forklifts, and moving closed storage containers. The Landoll trailer is a trademarked name, created in 1969 by company founder Don Landoll to solve a transport problem for one of his customers. Landoll trailers are custom-fabricated to meet different shipping needs. The basic chassis is the same; however, these trailers are customized to safely ship many different types of cargo.
One of the more unique things about Landoll trailers is their flexibility. While the framework of the trailers is the same, Landolls actually span a variety of models. These include traveling axe trailers, detachable gooseneck trailers, traveling tail trailers, bottom dump trailers, utility tag trailers, and industrial tag trailers. Depending on what you need to be shipped, the Landoll trailers supplied by Heavy Haulers can transport your cargo, from one piece of equipment to your entire excavation or construction fleet, or cargo enclosed shipping containers.
Contact Our Expert Shipping Specialists


(800) 908-6206
Your Heavy Haulers Landoll Shipment Can Be Easy! Find Out For Yourself!
Begin your Landoll transported shipment service with a phone call to one of the professional route planners at Heavy Haulers. We determine what cargo or machinery you need moved, and then contract with a licensed, bonded, and double insured driver to ensure that your cargo arrives safely, on your timeline.
We also handle the paperwork for you, from escorts to weigh stations. Heavy Haulers ships everywhere in North America, from Canada to Mexico, so we can even help you with customs paperwork, too. You'll receive a unique code to help you track your shipment in real time. Heavy Haulers gives you door-to-door transport for all your cargo using perfectly suited Landoll trailers. Give us a call today at (800) 908-6206 for a free, fair quote!
What You Should Know Before You Transport Your Landoll Trailer
Offering a complete selection of specialized equipment transport trailers, Landoll trailers are a necessary tool for many industries, including construction, agriculture, and manufacturing. When it comes to transporting Landoll trailers, proper preparation and loading are essential to the safety and success of your move. So, when you need to have one, or more, Landoll trailers moved, you need someone you can trust to do the job right. Heavy Haulers has years of experience in transporting Landoll trailers and knows how to do it efficiently and safely. We will take the time needed to make sure that strict attention is paid to the details of your specific trailer, or shipment of trailers.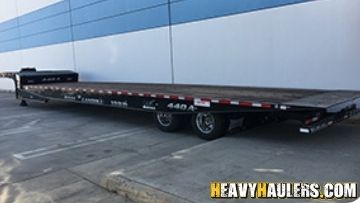 Heavy Haulers Moves Landoll Trailers in All 50 States!
We are anywhere you need us to be! Heavy Haulers is your number one choice for efficient Landoll trailer transport in the United States and one reason is because we provide premium trailer shipping in every state. No reason to waste your time researching from state for the best, most affordable option. We go where you need us, whether that means across town or across the country. At Heavy Haulers, you will always have Landoll trailer shipping specialists in charge of your transport all the way. Put your trust in our experience and knowledge and let us handle the details for you.


Common Trailer Types Available from Heavy Haulers
Heavy Haulers specializes in hauling heavy loads such as construction equipment, oil field rigging and Super Loads. We are wideload experts! We offer an extensive range of trailer choices, including:
Max Weight: 48,000 lbs. | Max Length 53 ft. | Max Width 8.5 ft. | Max Height 11 ft.




Max Weight: 45,000 lbs. | Max Length 29 ft. | Max Width 8.5 ft. | Max Height 11.5 ft.
Max Weight: 150,000+ lbs. | Main Deck Length 29 ft. | Well Width 8.5 ft. | Legal Height Limit 11.6 ft.




Max Weight: 48,000 lbs. | Max Length 53 ft. | Max Width 8.5 ft. | Max Height 8.5 ft.
We transport many brands of trailers across the country and North America
Trust Heavy Haulers to transport any brand of trailer you own. We are experienced in handling all types of brands and manufacturers, we have hands-on experience shipping all trailer manufacturers there is on the road! Some of the trailer brands we commonly ship include: