Flatbed Trailer Types We Commonly Use to Ship Heavy Equipment
Types of Flatbed Trailers for Transport
A flatbed trailer is a type of trailer with no sides or top. They are integral components in the shipping industry as they are used to transport large or bulky shipments such as rails, extend pipes and construction equipment. Flatbed trailers come in a wide range of sizes and load capacities. That said, different types of flatbeds might be perfect for different loads and shipping tasks and not the exact fit for others. It is therefore crucial that you do some research before choosing any specific flatbed trailer type to ensure that you go with the right option for your unique transport needs. This could save you some time and money and simplify the loading and offloading jobs before and after moving. Different size equipment may require a different type of flatbed trailer. Generally, flatbed trailers can easily transport heavy cargo that exceeds the legal weight and dimensions. All the same, some states might require a permit or impose premium charges that must be obtained before the shipping day. It is therefore crucial that you understand the maximum legal weight capacity of each.
Standard Straight Flatbed Trailers for Hauling
The standard one-level flatbed trailer is highly versatile, making it one of the most widely used types of flatbed. The best of these trailers are factory manufactured, tailored and engineered to guarantee the utmost convenience, reliability, durability and most importantly, safety. Ideally, shipment is loaded and secured on the flatbed's tip, side or rear end. A standard flatbed trailer is easy to load and can transport a wide range of cargo making it an essential component in today's shipping industry. Sure, you can purchase your own flatbed trailer, especially if you have a regular need for one. All the same, most people opt to seek shipping services from some of the most reliable and reputable heavy hauling companies, such as Heavy Haulers. The best thing about working with a heavy hauling company is that they are well knowledgeable and experienced in handling such complex tasks as moving heavy cargo from one place to another. They will manage the entire operation, including sourcing for the necessary permits if need be. This guarantees you an easy, reliable ad hassle-free shipping process.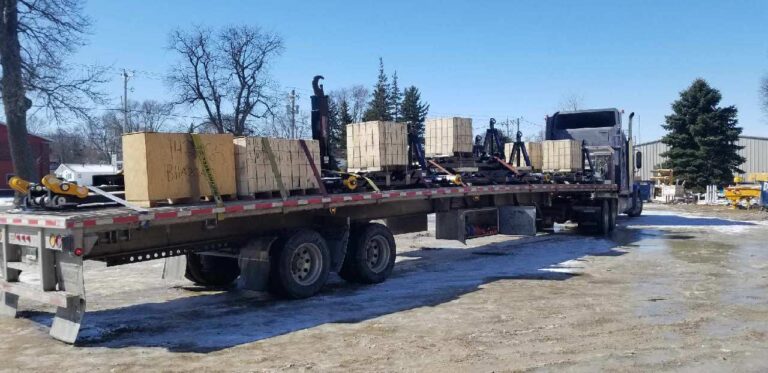 Lowboy Flatbed Trailer for Shipping
A lowboy trailer is often essential when hauling oversize heavy machinery and equipment. It differs from a typical flatbed trailer as it has a lowered bed that lies very close to the ground. This means it can accommodate taller shipments that might otherwise exceed the height restriction if hauled by a regular flatbed. It also makes it very effective when it comes to loading and offloading cargo. Ideally, flatbed trailers have two axles which can accommodate a maximum load of 40,000 pounds. However, it can hold an extra weight of up to 80,000 pounds depending on how many axles are in use. The three common types of lowboy flatbed trailers include:
• Fixed Gooseneck Lowboy Trailer (FGN)
• Removable Gooseneck Lowboy Trailer (RGN)
• Fixed Neck Lowboy Trailer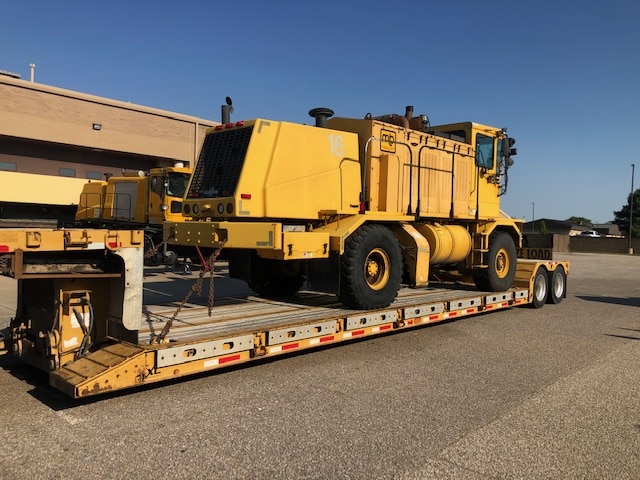 Tippers and Walking Floor Flatbed Trailers
Tippers are characterized by a tipping hydraulic system that facilitates a slow, easy, and well-controlled offloading. Their beds can easily be sloped upwards in front, which easily lowers the shipment back for unloading. Suffice to say, these trailers facilitate easy loading, especially when transporting rolling stock cargo.
A walking-floor trailer is another special type of flatbed trailer. It can easily, safely, and quickly unload cargo by tilting the bed backward towards the rear side of the trailer. In most cases, waking floor flatbed trailers are great options for hauling open-top walled containers, which are mostly used to transport loose cargo from one place to another.
Find the Best Flatbed Trailer to Ship Your Equipment Now!
Step 1:

Fill Out Quote Form

Fill out the short & easy quote form.
Step 2:

Speak With An Agent

We'll pick up your heavy equipment or vehicle.
Step 3:

Get Transported On Time

We deliver on time so you can get back to work.