Front-End Loader Shipping Services with Heavy Haulers
Our client hired us to ship a front-end loader from Amarillo, Texas to Levelland, Texas. The loader had broken down when in use in the field. Eddie L, the same specialist who had shipped the loader to the field was preferred to transport the loader back. The transportation was planned to take only 3 hours and a half as Eddie L was very conversant with the processing of the heavy machinery. Just like the first time he quickly acquired the paperwork and fully insured the heavy machinery. He sent the same driver who had previously shipped it to collect the loader. A lowboy trailer was used for transport due to the loader's 26 by 9 by 11 dimensions and its mass, 32,000 lbs.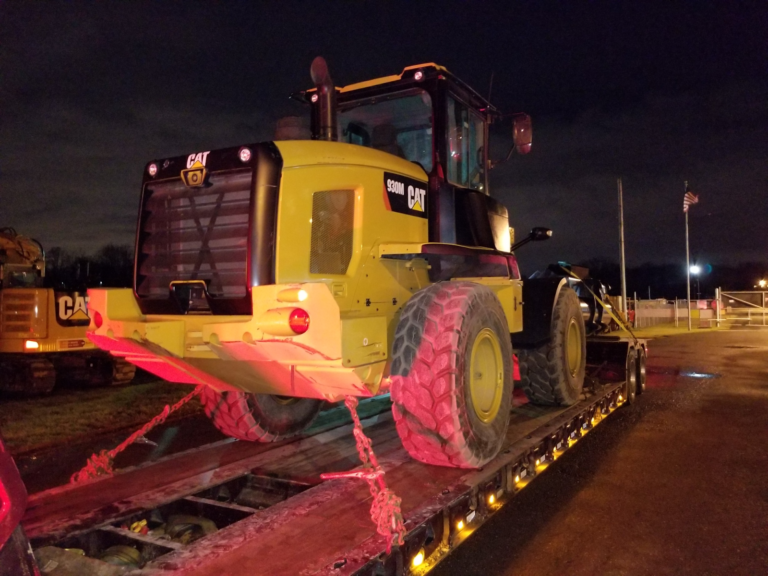 Preparing The Front-End Loader for Transport
In the field, our highly trained driver used their experience and managed to carefully place the loader on the trailer. After so doing the Front-End loader was tightened on to the trailer using high quality straps. Eddie having shipped the loader the first time advised our driver to follow the US highway 385 S as opposed to the other highways due to reliability. Since the transportation was a short haul our driver only tightened the loader on the trailer once after the shipping had commenced, halfway to the destination. Transporting heavy machinery is a tough process that requires dedication and precision to achieve. Heavyhaulers.com we come in fully equipped to aid our clients transport their heavy machinery at fair prices.
Front-End Loader Delivery
Within our company we understand in totality the delivery points as stated by our clients, be it from door to door, showrooms or work sites. For the Front-End loader, the driver delivered the it to the mechanics base as he had been directed. At Heavyhaulers.com we keep up with the standards necessary in heavy machinery and equipment shipping to ensure our clients are satisfied. We also insure our client's machinery on board no matter the distance to be covered within the transportation. Heavyhaulers.com we unlimitedly deploy all our resources to ensure you receive your heavy machinery or equipment on time and securely. Form more information, call us today.
Transport Your Front-End Loader With Heavy Haulers Today!
Step 1:

Fill Out Quote Form

Fill out the short & easy quote form.
Step 2:

Speak With An Agent

We'll pick up your heavy equipment or vehicle.
Step 3:

Get Transported On Time

We deliver on time so you can get back to work.