Equipment Transport Services You Can Rely On
You can never go wrong with Heavy Haulers transportation services. We have been in operation for over a decade and have gained the skills and expertise required in the shipping industry. Our team handles both heavy and noncommercial industrial transport for equipment transport across the US, Canada, and Mexico.
Heavy Haulers provides efficient and reliable equipment transport services across the U.S. and overseas. Our sturdy and quality trailers handle all equipment hauling shipments with ease. Depending on the type of equipment being shipped, an experienced logistics agent will provide. Heavy Haulers is licensed, bonded, and insured for all equipment transport services. We make sure your equipment is delivered safely and on time. Call now! (800) 908-6206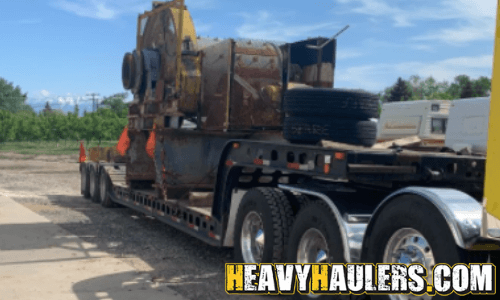 Get Your Equipment Transport
Quote Now! (800) 908-6206
Shipping Equipment Across the U.S. and Overseas
At Heavy Haulers, we tailor equipment transport services to fit your needs. We haul all equipment, including construction equipment, mining equipment, miscellaneous equipment and more. Shipping equipment is the last thing you should worry about, which is why we handle every step of the transport process. Your equipment is important to you, and that means it's important to us. Whether you're transporting locally or overseas, we make sure your equipment is transported with the best quality available.
We provide equipment transport services across the U.S. and internationally. We handle all paperwork and permits to ship your equipment. Heavy Haulers pays attention to every detail to make sure that your equipment has the safest transport possible. We're an equipment shipping company you can count on. For the best equipment transportation solutions, give us a call now! (800) 908-6206
Common Equipment We Transport
● Construction Equipment Transport
● Agricultural Equipment Shipping
● Mining Equipment Hauling
● Farm Equipment Transport
● Oversize Load Equipment Shipping
● Paving Equipment Hauling
See what you need?
Call us for a FREE Shipping Estimate at (800) 908-6206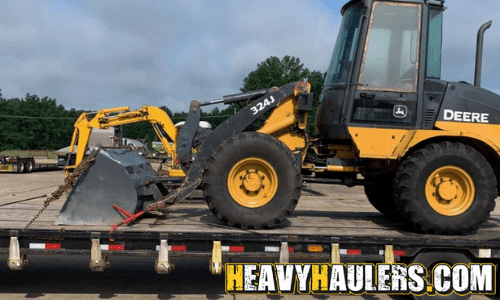 Benefits of Using Heavy Haulers as Your Equipment Hauling Brokers
Having evolved with the heavy haul trucking industry, the equipment hauling brokers at Heavy Haulers coordinate large consignment movements easily. Complex logistics, permits, and insurance covers are sorted out to facilitate smoother equipment transit between ports, plants, or warehouses. The equipment hauling brokers at Heavy Haulers want to ensure that your shipping and transport experience is a quality one. That's why we offer the following:
● Free Shipping Estimates

● Quick, Efficient, and Quality Equipment Pick Up, Transport, and Delivery

● Top Notch Transport Logistics, Including Load Tracking

● Experienced Logistics Agent Available from Dispatch to Delivery

● Heavy Haulers is also licensed, bonded, and insured, so you can be confident in your equipment transport.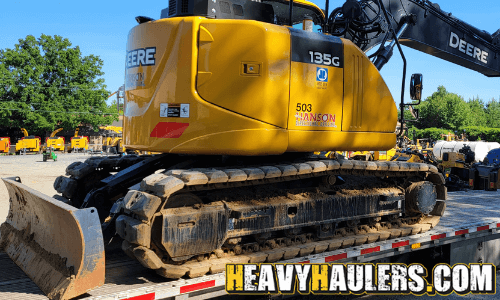 How to Ship Equipment with Heavy Haulers
Heavy Haulers evaluates each equipment transport with precision. Based on the size, shape, and weight of the equipment being hauled, we'll find the best trailer to get it delivered. We make sure that shipping equipment is done with the best security measures in the business. All equipment transport services are customized to fit your needs. We put our clients first and ensure the best equipment shipping services available. Call now and let's get started! (800) 908-6206
HEAVYHAULERS.COM
START YOUR SHIPMENT TODAY!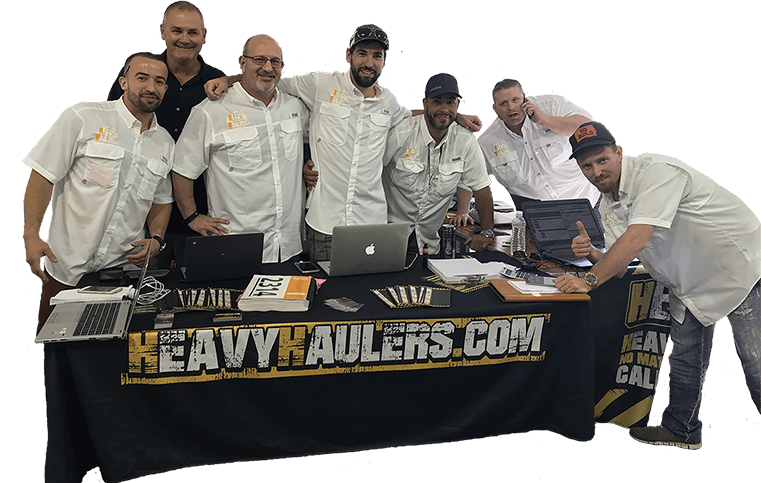 We Are Ready To Help You Haul Your Equipment!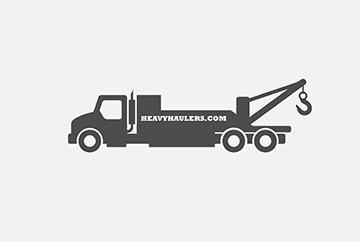 Local and Long Distance Equipment Towing
Whether you want to tow, move or generally relocate your heavy equipment, you will need the assistance if a towing company. Whether you are moving from one site to another or making starting a new project on a work site, towing services have to come up whether it's in the final draft of the bill of quantities or the surveyor's scope of services required to make the project smooth from start to finish. Where do you start when looking for towing services? Well, it all comes down to picking the right company for your towing needs.
We specialize in heavy-duty, commercial relocation and towing of heavy equipment. From dump trucks to scissor lifts, our versatile services and relentless services are always available. Whether it's light, medium or heavy duty equipment moving, our expert team is dispatched almost momentarily. This way the balance is maintained, you focus on your project while we handle the complex technicalities that come with relocating equipment.
Heavy Haulers Ships Across All 50 States
Alabama - Alaska - Arizona - Arkansas - California - Colorado - Connecticut - Delaware - Florida - Georgia - Hawaii - Idaho - Illinois - Indiana - Iowa - Kansas - Kentucky - Louisiana - Maine - Maryland - Massachusetts - Michigan - Minnesota - Mississippi - Missouri - Montana - Nebraska - Nevada - New Hampshire - New Jersey - New Mexico - New York - North Carolina - North Dakota - Ohio - Oklahoma - Oregon - Pennsylvania - Rhode Island - South Carolina - South Dakota - Tennessee - Texas - Utah - Vermont - Virginia - Washington - West Virginia - Wisconsin - Wyoming
Looking For Transport
With a Specific Trailer?

Max Weight: 150,000+ lbs. | Main Deck Length 29 ft.
| Well Width 8.5 ft. | Legal Height Limit 11.6 ft.

Max Weight: 48,000 lbs. | Max Length 53 ft.
| Max Width 8.5 ft. | Max Height 8.5 ft.
Max Weight: 48,000 lbs. Max Length 53 ft. |
Max Width 8.5 ft. | Max Height 11 ft.
Max Weight: 45,000 lbs. | Max Length 29 ft.
| Max Width 8.5 ft. | Max Height 11.5 ft.
Heavy Haulers Pilot Car Services
Are you looking for a reliable pilot car
for your transport?
Get Started
See what you need?
Call us for a FREE Shipping Estimate at (800) 908-6206