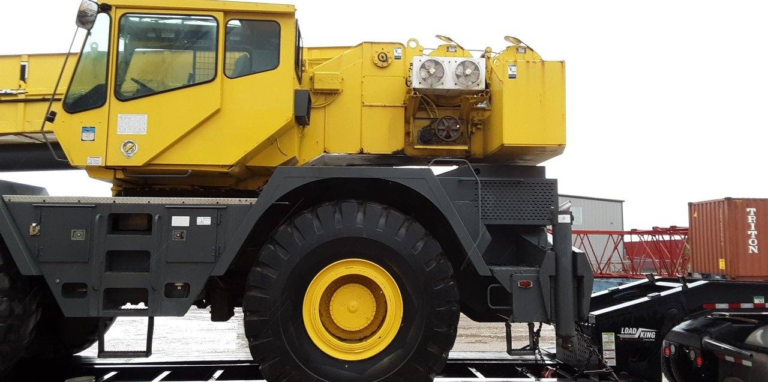 How to Load a Crane

Cranes are heavy equipment widely used in numerous industries, thanks to their multi-purpose functionality. Since they're often equipped with hoist ropes, chains, wire ropes, shaves, and other mechanisms, the prospect of loading and hauling a crane can initially seem overwhelming when it comes to working out how to move a crane from one location to the next. We're here to break down the process for you.
So how is a bulky item such as a crane transported effectively? Regardless of if the shipment is local, regional, cross-country, or international, the loading process is similar.
The Basics of Crane Loading

In most cases, the process of shipping a crane involves open-air transport. When it comes to loading a crane for transport to a new site, the equipment will typically be secured onto a flatbed trailer. Alternatively, when cranes are shipped overseas, they can be loaded onto roll-on/roll-off vessels, also known as roros, or they can be dismantled and transported in containers. Usually, a 45ft container or for 40ft high cube is the preferred container option when it comes to crane loading for international or long-distance travel.
Once the bulk of the crane is secured, all loose pieces and attachments, such as chains, hoists, and jibs, may either be removed for a separate shipment or appropriately fastened. When it comes to crane loading, safety is vital, and loading crews should always be wary of the crane's weight, hitch locations, and touchdown procedures.
Loading and unloading process for step deck trailers is much safer for everybody involved.
How to Rig a Crane for Transport

When it comes to re-rigging the crane for use, selecting the appropriate components, and correctly arranging them is crucial when it comes to rigging safety. In the construction and transport industries, a crane is often an integral piece of equipment to shift cargo that's too cumbersome to move by hand. As such, you'll often see crane loading used to effectively load heavy equipment onto a trailer for transport to a new destination.
Before lifting a load into the air, the rigging crew has a vital role to play in securing the equipment before it is moved. For a smooth rigging operation, the following tips should be observed:
– Ensure the cargo is not overweight
– Ensure the load is secure
– Ensure the correct sling is utilized
– Check the hitching
– Communicate effectively with ground crews
– Follow recommended touchdown procedures
Crane Loading Touchdown Procedures

An essential part of the crane loading procedure is the touchdown process. Before a crane loading operator begins the lowering process, it's vital that all surroundings are checked and that the chosen surroundings are capable of accepting the load. On construction sites, for example, cranes may be loaded in open areas to reduce the likelihood of needing to guide the cargo between objects. Alternatively, taglines can be used to guide the load in more built-up areas, and crews can walk with the crane if transporting close to the ground.
Where possible, make sure that surrounding objects are removed, keep feet clear of loads, and always make sure there is an escape route to avoid trapping crews or causing unnecessary damages.
Get Your Crane Transport Quote Now!
Step 1: Fill Out Quote Form
Fill out the short & easy quote form.
Step 2: Speak With An Agent
We'll pick up your heavy equipment or vehicle.
Step 3: Get Transported On Time
We deliver on time so you can get back to work.
Trust Only The Best.