How to Prepare Your Fire Truck for Transport
When it comes to transporting a fire truck, there are multiple reasons to consider utilizing a fire truck transport company for moving a fire truck, especially if the distance to be covered on the journey is quite far. Using flatbed transport, for instance, will save on fuel, as well as prevent wear and tear on valuable components such as tires and brake pads. With the right transportation company by your side, preparing for and completing fire truck transport projects is much easier and more accessible than ever.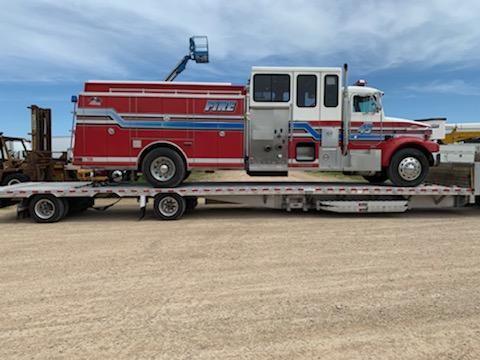 How to Prepare External Components For Fire Truck Transport
Among other components, fire trucks are equipped with large ladders that can extend away from the truck, but they do not detach. These are often hydraulically operated aerial ladders that can reach up to 105ft at full extension. When not in use, they are folded down against the truck's roof and should be tied down before transport. Accessories, including the hoses, will also need to be tied down with extra cabling.
Fire trucks should also be washed and as clean as possible before transport. It means accurate pictures can be taken of the truck's condition, and loading crews can easily see where tie-down points are located. If the wheels are free of mud and as clean as possible, it's safer to drive the truck onto the chosen trailer.
How to Prepare Internal Components Before Hauling a Fire Truck
Trucks also include a full array of ground ladders of varying types and lengths, as well as specialized equipment for forced entry, search and rescue, and ventilation tasks that may be required at the location of a fire. These components should be secured to the truck to prevent unwanted damage.
Tool compartments inside the truck containing axes, halligan bars, fire extinguishers, cutters, and other vital equipment should also be secured shut. Where possible, personal belongings, such as laptops that are usually connected to dispatch, reference books, and other items such as thermal imaging cameras, should be taken out of the fire truck before shipping and placed back in the truck at the final destination.
Another way to prepare your fire truck is to ensure that the gas tank is a quarter full or less. This helps with both weigh stations and toll roads, plus it prevents loss of gas if there's an accidental leak en route.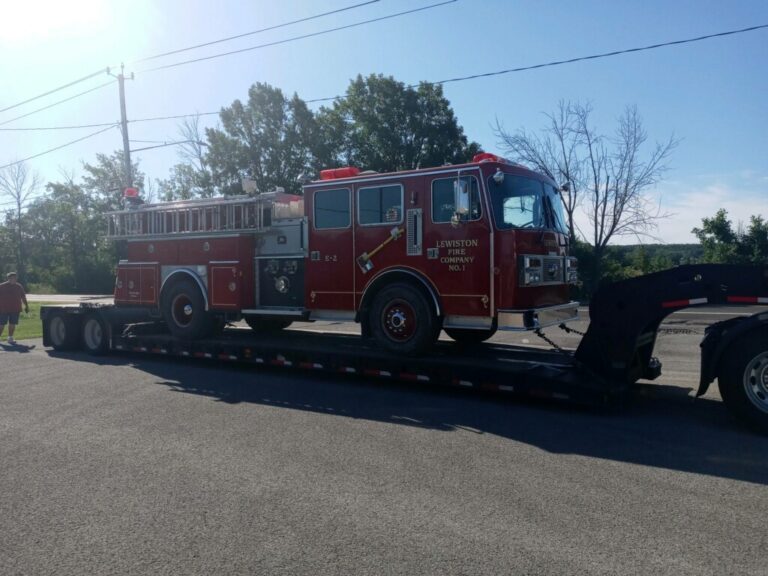 Are There Different Precautions for Local or Long-Distance Fire Truck Shipping?
The short answer is yes. There are some differences between local and long-distance shipping preparation. If you're shipping to another state, for example, you (or your chosen shipping company) will need to be aware of towing regulations and requirements in the state you're traveling to, not just the state you're currently in. The DOT sets out the conditions in each state, and some considerations may include:
– Travel time restrictions
– Weight restrictions
– Oversized travel restrictions
– Route planning
– Escort requirements
– Weigh station procedures
Long-distance fire truck shipping is more likely to include weigh stations, for example, to make sure the shipment's weight won't damage the road along the intended travel route in the state. Oversized truck transport restrictions are not the same in every state, so the intended route must be suitably researched, and all requirements should be met before the fire truck leaves its pick-up location.
Some aspects of fire truck transport preparation will often be undertaken by the transport company, including choosing the right trailer type, obtaining the travel permits, and preparing the best route to take to the new destination. Shorter fire trucks may be able to ship on a step-deck trailer with multiple axles, and larger rigs can travel on an RGN trailer. Both trailers will require anchors to hold the wheels in place, supplied and secured by the fire truck transport crew.
Get Your Fire Truck Transport Quote Now!
Step 1:

Fill Out Quote Form

Fill out the short & easy quote form.
Step 2:

Speak With An Agent

We'll pick up your heavy equipment or vehicle.
Step 3:

Get Transported On Time

We deliver on time so you can get back to work.