Contact Our Expert Shipping Specialists
(800) 908-6206
Expert Step Deck and Drop Deck Hauling By Heavy Haulers
When cargo or equipment is too tall for a standard flatbed, don't worry. Heavy Haulers is proud to have a wide variety of step deck/drop deck trailers (WITH and without RAMPS) to use for these non-standard jobs.
A step deck trailer (also known as a drop deck trailer) is similar to a conventional flatbed trailer with a drop in the deck down to the axle height. This gives it an extra boost in the height that it can securely transport.
Drop deck trailers can have one step, where the deck drops and stays flat until the end of the trailer, or a double drop, where the deck drops below the axle height and steps back up over the axles at the end of the trailer.
Double drops are typically only used when cargo is between 10 feet and 11.5 feet tall, however. This is because while conventional flatbeds and drop decks are graded to carry 48,000 lbs, while conventional double drops are graded to carry 45,000 lbs to keep the load stable in cases of extreme height.
Recent Loads We Moved on a Step Deck Trailer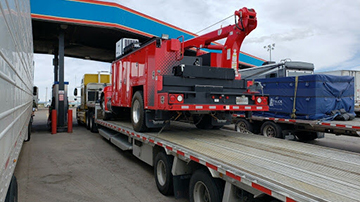 Kenworth T370 Service Truck Transported on a Stepdeck Trailer
Shipping From: Columbus, IN 47201

Transporting To: Dixon, CA

Specs: Kenworth T370 Service Truck; 26L X 8W X 9.75H; 27,000lbs

Transport Specialist: Milos Visnjic
(754) 203-9257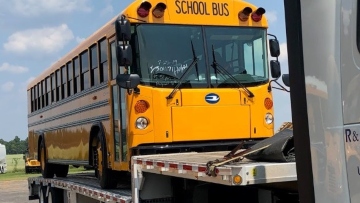 2019 Blue Bird T3RE Electric Bus transported to California
Shipping From: Fort Valley, GA 31030

Transporting To: Sacramento, CA 95823

Specs: 2019 Blue Bird T3RE Electric Bus; 40L X 8W X 10.6H; 25,000lbs

Transport Specialist: Milos Visnjic
(754) 203-9257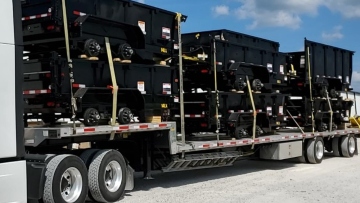 (8) Big Tex Trailers shipped on a step deck trailer from OK
Shipping From: Madill, OK 73446

Transporting To: Wildomar, CA 92595

Specs: 8 Full Load Trailers; 53L X 8.5W X 10.6H; 28,120lbs

Transport Specialist: Jay Hays
(561) 562-496
See what you need?
Call us for a FREE Shipping Estimate at (800) 908-6206
More Recent Step Deck Trucking Moves
Transporting a John Deere 310G Backhoe Loader on a Step Deck Trailer
Heavy Haulers recently transported this John Deere 310G Backhoe Loader from Mays Landing, New Jersey, to Londonderry, New Hampshire. That's 370 miles north. Also along for the ride was a Caterpillar D4 dozer. Deere specs - Weight: 12,800 pounds. Length: 23 feet 3 inches. Width: 7 feet 2 inches . Height: 11 feet 2 inches. To transport your Caterpillar backhoe where you need it, speak directly with Mike at Heavy Haulers at (754) 203-8914.
Transporting 2006 JLG G9-43 Boom Lift on a Step Deck
Brian H. at Heavy Haulers recently transported this 2006 JLG G9-43 boom lift. This client needed a same day pick up. Brian H. was able to secure a carrier within the first hour of contact. This JLG boom lift was picked up in Yale, SD and delivered to Rockford, IL. It was 20 feet long, 8 feet wide, 8 feet high and 26,000 pounds. Call Brian H. for more information on your next quote! (754) 203-8979
Step Deck Trailer Hauling a Caterpillar D4 Bulldozer
Heavy Haulers recently hauled this pair of Caterpillar D4 Bulldozer from Mays Landing, New Jersey, to Londonderry, New Hampshire. The trip on a step-deck trailer was nearly 370 miles long. Weight: 10,860 pounds each. Length: 11 feet each. Width: 6 feet 6 inches each. Height: 6 feet each. To haul your Caterpillar D4 dozers anywhere in the US, Canada or Mexico, contact Sam at Heavy Haulers at (561) 931-6741.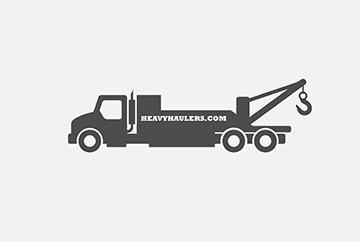 Step Deck Best Towing Service from
Heavy Haulers
Need a step deck towing service? At Heavy Haulers our trailer operators have high skills in dealing all types of trailers available in Heavy Hauling thus it is easy to deal with any emergency that may occur during the towing process. The time our team uses in shipping your machinery is the least to ensure that we do not interfere with your plans regarding the machinery. Our drivers are also equipped with the required safety standards to ensure they are safe as well as the other road users. Call us now!
(800) 908-6206
Step Deck Shipping Services with Heavy Haulers
The great thing about step deck transport services is that it adds an extra layer of versatility to your flatbed shipping experience. Step deck trailers have a removable gooseneck (RGN) which lowers the deck where the shipment travels. When the RGN is used, the step deck trailer's lowered deck allows extra room for extremely tall shipments. Heavy Haulers provides the best in step deck shipping services, so your freight meets the height requirements. Our experienced staff of shipping experts offers premium transport services to make shipping your oversize load a breeze. Whether you need step deck transport for a few miles or a few hundred, Heavy Haulers goes there. In fact, we furnish step deck flatbed shipping in all 50 states. Count on the oversize load specialists to get your shipment to its destination safely and efficiently. Overweight loads are no problem for us and neither are the details of your transport. Our logistics managers will take care of routing, scheduling, and obtaining all necessary permits for your freight. Heavy Haulers will also make sure that you have the pilots and escorts needed.
How Much Can a Step Deck Trailer Haul?
The length for a legal step deck trailer is 48', but oversize loads can be hauled on trailers up to 53'. Height ios at 10' and width is limited to 8.5'. step deck trailer can carry freight payloads of up to 48,000 pounds. With this kind of power, Heavy Haulers can move overweight loads with ease. Let our professionals take care of everything for your next step deck trailer shipment and rest easy, knowing the experts in hauling oversize loads are in control.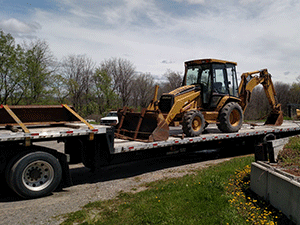 LTL and Partial Load Step Deck Shipping Services
LTL shipping services are perfect for business that need to ship smaller loads. LTL shipping is for small loads that do not fill the step deck trailer. Partial loads fall between LTL and full-load shipping and usually weigh around 5,000 pounds or about 6 pallets. There are several benefits to LTL and partial load transport services, one being the reduced cost. Since several customers can use the same trailer, you only pay a portion of what a full load would cost to move. Besides the price reduction, you will also benefit from the fact that LTL and partial loads are placed securely on pallets, making your shipment even safer. Trust the professional shipping specialists at Heavy Haulers to properly pallet, load, and haul your shipment safely and quickly to its destination anywhere in the United States. With our premium LTL and partial load transport services, your shipment is in capable hands with Heavy Haulers.







11423605

MILES TRAVELED






1214292

LOADS SHIPPED







1315658103

TONS TRANSPORTED






921637

CLIENTS SATISFIED