How to Transport Lumber
Transporting lumber can be dangerous when you are inexperienced or ship with an inexperienced company. Based on reports from the AAA Foundation for traffic safety, approximately 25000 debris-related road accidents result from poorly secured loads. As such, transporting construction material such as lumber is a task best left to the heavy hauling professionals. However, if you choose to do it yourself, it is crucial that you pay extra attention to safety if you want to avoid ugly road incidents that could lead to injuries, property loss, and damage. But even so, most pick-up transporting lumber might still pose challenges for ordinary pick-up drivers, especially because it is long and bulky. That's why using an experienced transport company, like Heavy Haulers, ensures a safe and quality lumber transport experience.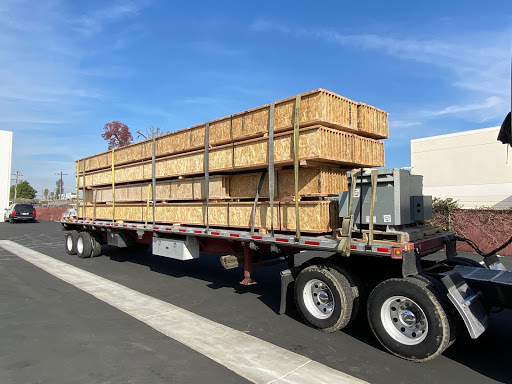 Determining the Best Trailer to Ship Lumber
When it comes to shipping lumber, perhaps the first thing you should do is have precise freight dimensions. This will help you determine the right shipping equipment and the state permits required to transport your load to its correct destination legally. Please note that an overloaded truck is not only illegal but also downright dangerous. It can lead to truck instability, overturning, poor maneuverability, reduced truck handling ability, and braking default. If you are doing this yourself, you might want to check your truck's maximum permissible weight to avoid overloading it. If yours qualifies as an oversized load transport, then you might want to hire professional help for safe and timely transportation.
If yours is an LTL shipment, you can easily transport it in an enclosed trailer. However, an oversized load is best transported on a flatbed trailer. For successful shipping, you might have to wrap up the lumber to protect it from external conditions such as rain which might damage them. The best thing about hiring Heavy Haulers is that it's a professional hauling company, which have all the right equipment and all the shipping accessories at your disposal. From state-of-the-art trailers to forklifts and ramps, you can be confident that your load is under expert care. We also have dedicated logistics agents who will help you acquire all the necessary shipping permits and other state requirements for lumber shipping. What's better, We will help you with the loading and professionally shepherd the cargo right from pick up to delivery.
Loading and Shipping Your Lumber Safely
Securing your load for safe transportation will need at least four heavy-duty ratchet straps. They should be about 15 ft. in length with a load limit ranging from 1000-3000 Ibs. Of course, you can use strong ropes and bungee cords when moving a relatively lighter load across smooth roads at a lower speed. But to be extra cautious, you have to be ready for emergency swerves, rough bumps, and sudden stops. In such cases, your ropes and bungee cords are most likely to fail, leaving you to deal with the consequences of damaged products or even worse. That said, it would be best to go for strong and long-lasting ratchet straps for ultimate safety. You might want to store them in an enclosed box when not in use to protect them from extreme sunlight and moisture.
If your lumber load is significantly larger and heavy, resting it on a raised gate might not be a good idea as the weight is too much to handle. Instead, lay out at least two ratchet straps on the bottom side of the trailer bed and start loading the largest and heaviest lumber on the straps. You can then arrange the shorter pieces on top and use the ratchet to safely secure the front, middle, and trailing end of the load. Finally, tie down the bundle to the truck bed and crisscross the straps across the lumber load, securing one end to the anchor rings at the edge of the truck and the other to the bundle strap at the furthest end.
Transport Your Lumber With Heavy Haulers Today!
Step 1:

Fill Out Quote Form

Fill out the short & easy quote form.
Step 2:

Speak With An Agent

We'll pick up your heavy equipment or vehicle.
Step 3:

Get Transported On Time

We deliver on time so you can get back to work.