How to Load a Fire Truck for Transport
Also known as a fire engine, a fire truck is a vehicle mostly used in fire-fighting operations. They always have a large ladder attached to them and other specialized equipment such as hydraulic rescue devices, pump water, hoses, and other life-saving accessories. They also come in handy when it comes to transporting the fire-fighting team and helping them force their way into the burning site. Fire trucks come in numerous sizes, and some can be large enough to hold multiple tools and accessories. From the ground ladder and an aerial ladder to the water pump, fire pump, and hose bed, these trucks will keep these tools intact and still provide reliable emergency services.

Transporting a fire truck is a task that is not your typical shipping process. It requires professional skills, great attention to detail, and specialized hauling equipment to guarantee easy, safe, and successful transportation. Suffice to say, transporting such equipment as fire trucks are best left to the experts. A professional hauling company will provide you with specialty-rated transport trailers with sufficient power and torque for moving such large, irregularly shaped heavy equipment. Besides, the professional team of logisticians will help you manage the entire shipping process making it easy and hassle-free.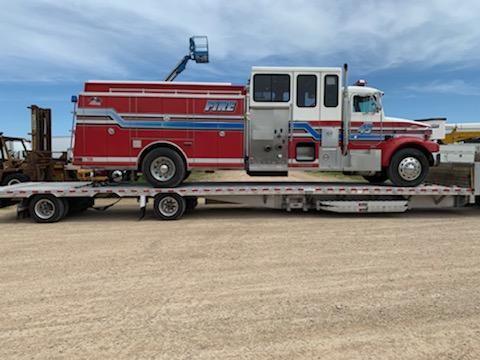 Preparing Your Fire Truck for Shipping
Most external components of a fire truck are quite large, with some ladders extending away from the shipping trailer. Unfortunately, they are not detachable and can only be folded to the top of the trailer and secured safely for successful moving. Other accessories and tools such as hoses are also tied down and secured with extra cables. You might also want to wash up the truck and ensure it is sparkling clean before transport. This will make it easy for you to take accurate pictures of the load before loading and use them to compare your fire truck's condition upon delivery.
A fire truck also contains numerous internal components, such as ground ladders which come in various types and lengths. It also contains other specialized tools to facilitate forced entry, ventilation, and search and rescue tasks. These components must be safely secured to protect them from damage. Also, ensure that your fire truck's gas tanks are quarter full or almost empty. This especially helps when moving along tool roads and at weighing stations. It also prevents accidental leaks during the transporting process.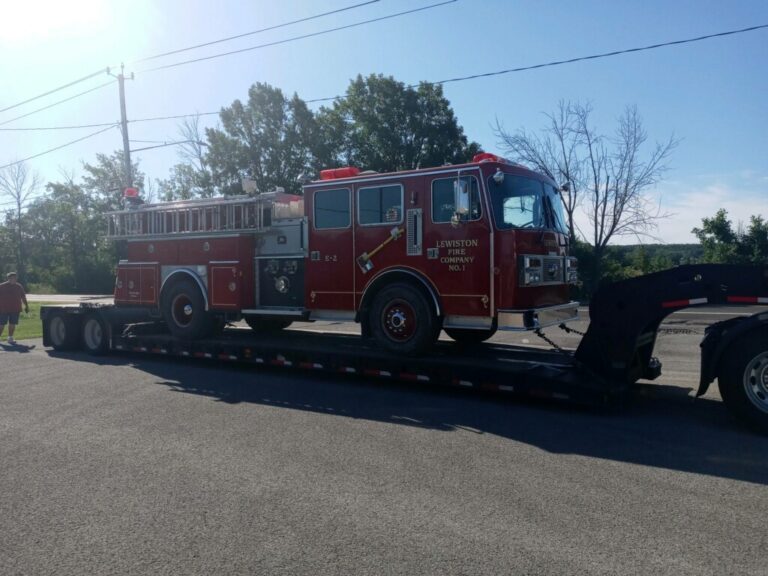 Loading Your Fire Truck for Short or Long Haul
Ideally, large fire trucks are transported using specialized trailers such as RGN or lowboy, while shorter ones can be shipped on a step-deck trailer. The lowboy trailer comes in very low bed height and is equipped with drop-down features which ensure the fire truck height does not exceed the legal state limits. Besides, the extra axles can facilitate the extra weight capacity, which prevents your load from being treated as oversized. Suffice to say, this will save you the extra time and money you would have spent acquiring shipping permits.
Your fire truck will be driven onto the lowboy trailer via its own power or loaded using specialized winches if it is completely inoperable. This might be quite a complex process. Fortunately, with a professional hauling company by your side, you have nothing to fear. They will help you pick an ideal trailer for shipping, arrive on time for pick up, and help you with the loading process. They will also safely secure it and provide anchors which will hold the fire truck trailer wheels in place throughout the shipping process.
Common Types of Fire Trucks We Ship
• Pumper Truck
• A-Wagon
• Conventional Fire Truck
• Wildland Fire Engines
• Quints
• Turntable Ladder Trucks
• Tiller Truck
• Heavy Rescue Vehicle
Transport Your Fire Truck With Heavy Haulers Today!
Step 1:

Fill Out Quote Form

Fill out the short & easy quote form.
Step 2:

Speak With An Agent

We'll pick up your heavy equipment or vehicle.
Step 3:

Get Transported On Time

We deliver on time so you can get back to work.