How to Ship The Most Common Types of Water Tanks
Large storage tanks are built to withstand extreme weight and pressure and have the capacity to hold tons of water. There are multiple types of water tanks commonly transported and used throughout the U.S., including tanks constructed of steel, fiberglass, and polyethylene.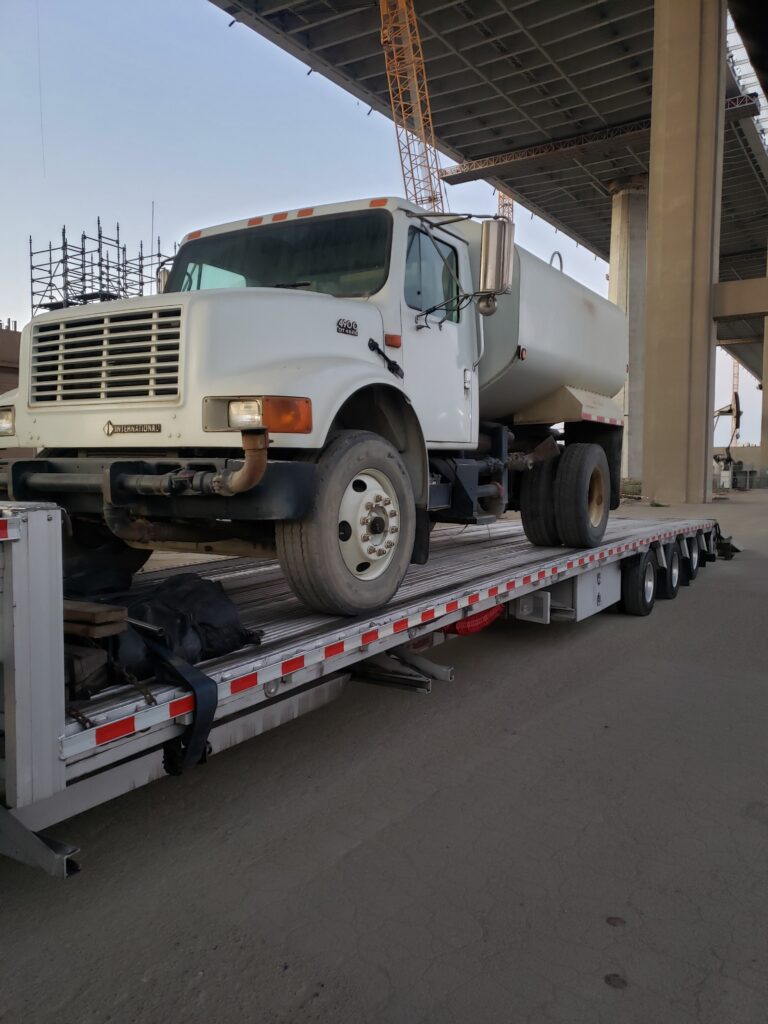 What are The Most Common Types of Water Tanks?
Water tanks are used in a surprising variety of locations for domestic use, industrial use, and various agricultural purposes, such as processing and washing, diluting, cooling, reclaiming land, irrigating land, and even rearing livestock. Like us, animals require vast amounts of water, something which water tanks are thus indispensable for.
Steel tanks are commonly shipped and used most for agricultural water storage and industrial applications. They're so popular in these industries because they're highly durable, cost-effective, have colossal water storage capabilities, and are known for their longevity.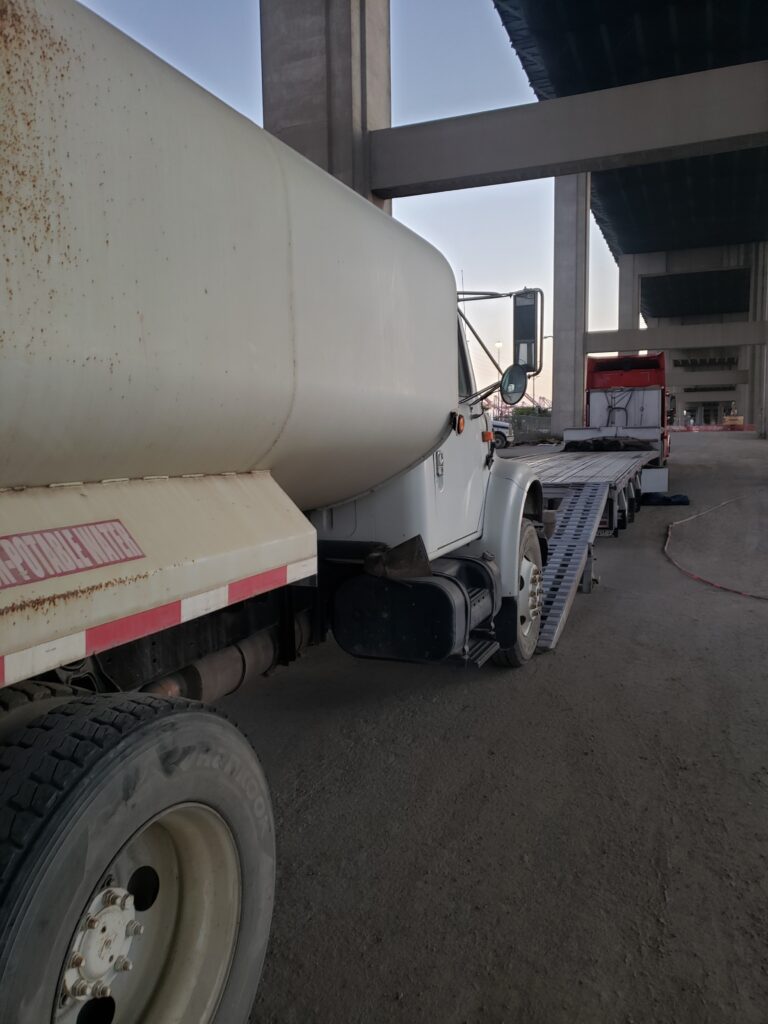 Many steel water tanks are used to house potable water and water suitable for fire-fighting endeavors in areas at a high risk of wildfires. The largest potable water tank in the U.S. is located in Austin, TX, a tank known as the Martin Hill Reservoir Water Tank. It's a whopping 260 feet wide and 120 feet high and capable of holding up to 34 million gallons of water. Most tanks, however, are not that large, but areas at risk of sudden wildfires do often utilize large flame-retardant steel tanks for water storage.
Other water tank styles, such as polyethylene tanks, are commonly used for cold water storage. These tanks can often easily hold up to 50,000 gallons of water, they're durable, lightweight, and it's possible to install them in a wide variety of landscapes, from beds of sand to within pavement structures.
Which Water Tanks Are Most Common in the United States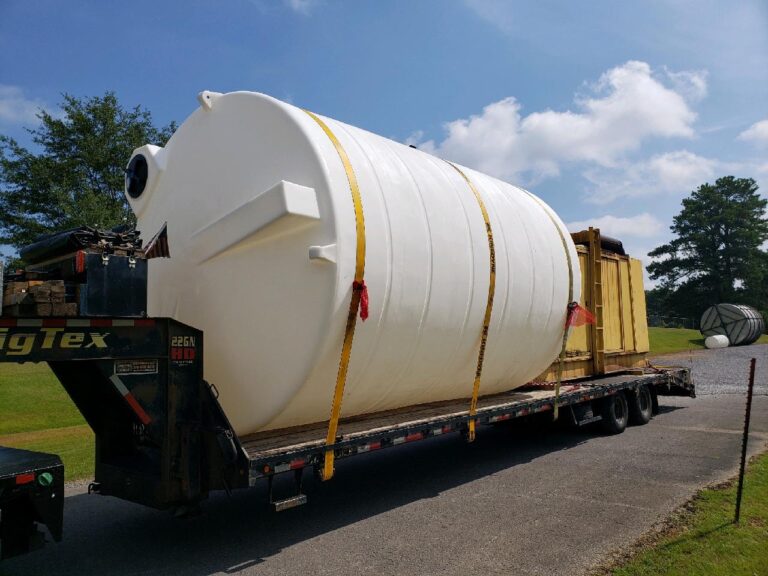 The most popular steel tanks used in North America often have a water storage capacity of more than 100,000 liters, a diameter of 39.6′, and a wall height of 10.7′ or more, such as those manufactured by GSC Tanks of Georgia. Some models can even hold up to 400,000 gallons of water, suitable for use in areas where the water demand is exceptionally high.
Fiberglass tanks are also extremely common in the U.S. and are often used to meet industrial and agricultural firms' needs. One of the reasons that fiberglass water tanks are so prevalent is that they're available in various sizes and readily built to customizable specifications.
The third most prevalent type of water tanks in the continental United States is polyethylene. Still, there are also several other common tank styles in use, such as:
● Carbon welded water tanks
● Pillow tanks
● Folding tanks
● Corrugated tanks
● Above-ground
● Below-ground
● Concrete storage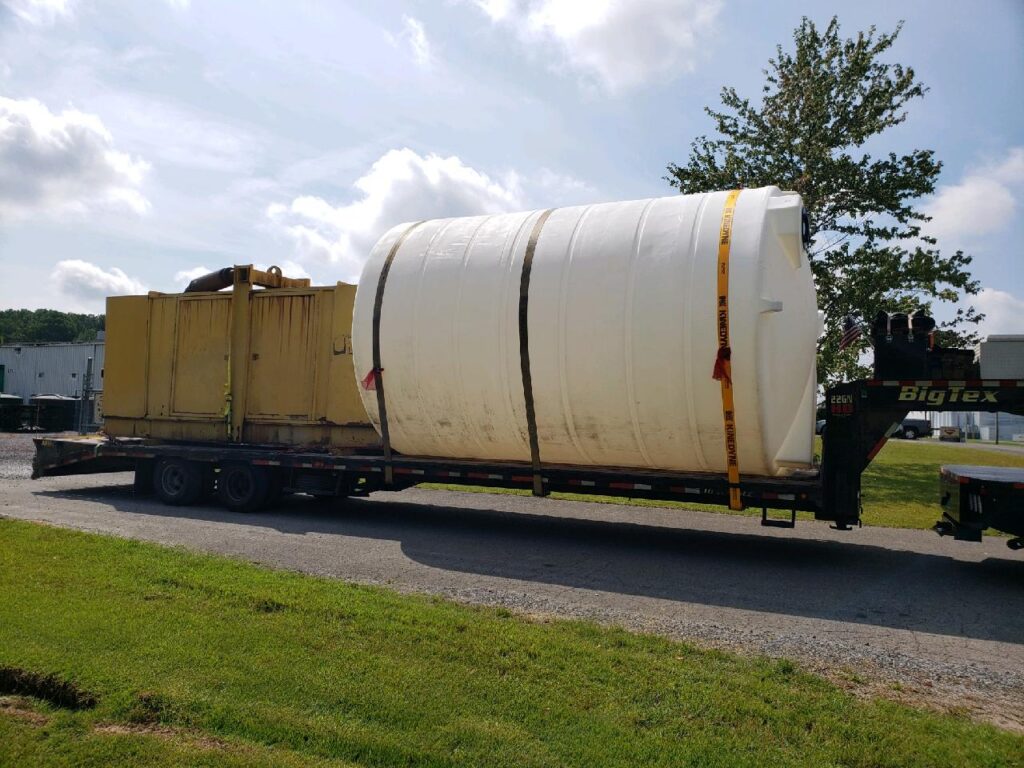 How to Ship a Water Tank
As we've previously discussed, water tanks can be extraordinarily heavy and are generally rotund, meaning they can at first seem quite a complicated object to ship safely. In many cases, water tank shipments will require extensive planning, especially if an oversized, industrial water tank. Larger tanks will need a suitable truck and trailer appropriately rated to handle the heavy load, but also permit applications may be necessary, depending on the state. Water trank transport often requires customized quotes and project services to coordinate all service aspects. If bulk shipping plastic water tanks in Arizona, for example, an RGN trailer may be the trailer of choice since its equipped to handle up to 42,000 lbs and has the following ample transport capabilities:
● 29-foot main deck length
● 10-foot front deck length
● 9-foot rear deck length
● 8.5-foot width
● 11.5-foot main deck height
● 8.5-foot front deck height
● 10-foot rear deck height
For other projects, such as shipping a steel water tank through San Francisco, transporters may prefer a step deck trailer. In all cases, transport companies will typically offer load assistance, so licensed, experienced crews do that loading and offloading for you. Door-to-door transport is the most commonly used transport option since the items' bulkiness can make it difficult to centralize equipment pick-up and drop-off.
Get Your Water Tank Transport Quote!
Step 1:

Fill Out Quote Form

Fill out the short & easy quote form.
Step 2:

Speak With An Agent

We'll pick up your heavy equipment or vehicle.
Step 3:

Get Transported On Time

We deliver on time so you can get back to work.