Choose Heavy Haulers to Transport Your Water Tank
At Heavy Haulers, client satisfaction comes first. Not only do we want to create a long-term relationship, but we hope, that by doing outstanding work, you'll recommend us along the way. Our well-seasoned, professionally trained drivers have operated vacuum trucks long enough to adapt to any situation. We also have an online team that is at your service 24 hours a day to answer any questions you may have when it comes to transporting your water tanks.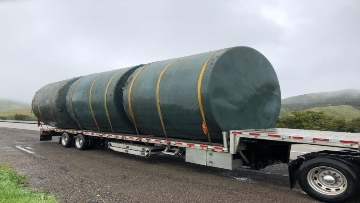 We'll Ship Any Sized Water Tank!
No water tanks are too big or heavy, no distance is too long, and of course, no task is too urgent for Heavy Haulers. Our team of seasoned experts will safely transport any sized water tanks and deliver them anywhere in the United States, Canada, and even Mexico.
We Can Haul Any Sized Water Tank
When it comes to water tank transport, we have a wide array of trucks to choose from. Oversized water tanks are no problem! Call and speak with an elite logistics team member, and they'll put your mind at ease. Our experienced drivers will handle loading and transporting them to your destination safely and on time. Heavy Haulers services are rated the best in and out of the United States. So, trust the professionals to handles all your heavy hauling needs.
Recent Water Tank Shipments
See what you need?
Call us for a FREE Shipping Estimate at (800) 908-6206
See what you need?
Call us for a FREE Shipping Estimate at (800) 908-6206
How to Ship a Water Tank with Heavy Haulers
Depending on the size and weight of your tank, a transport specialist will determine the best trailer to ship your water tank. If it's an oversize load, it will require specialist permits and a properly planned route. We'll also determine if you need load assistance and how to best provide it. We'll make sure the best crew is put together to help. We want you to have the most affordable water tank transport, and the best way to do that is to call us now. We're here to handle every step of your water tank shipping service. (800) 908-6206
Determining the Best Route to Ship Your Water Tank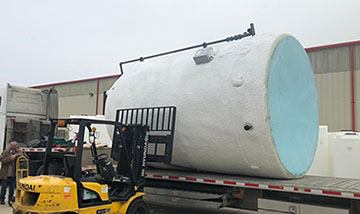 Once mileage is calculated, we can determine the truck and trailer that is best suited for transport. Our elite logistics team understands the regulations concerning road weights in every state, and will determine the best route to ship your cargo. They will be in constant communication with our skilled drivers to ensure your equipment reaches its destination safely and on time.
On Time Delivery
You can lose a lot of business opportunities if we don't deliver the tanks on time. Our vacuum trucks run at a standard speed that will ensure we reach our destination on time. We also do regular service to the transportation trucks to avoid any inconvenience that is caused due to breakdowns. We value you and your time, so we work both day and night to make sure that the tanks arrive at their final destination without any delays whatsoever. Water tanks are delicate and that is why we have personnel in charge of handling the cargo to avoid any damages. Our fleet has a wide array of trailers that fits your needs.
Common Equipment Heavy Haulers Transports
Trust Heavy Haulers to transport any brand of equipment you own. Most of our drivers are experienced heavy-machinery operators who can safely maneuver your loads aboard our trailers. Some of the brands we have shipped include:
Heavy Haulers Ships Across All 50 States
Alabama - Alaska - Arizona - Arkansas - California - Colorado - Connecticut - Delaware - Florida - Georgia - Hawaii - Idaho - Illinois - Indiana - Iowa - Kansas - Kentucky - Louisiana - Maine - Maryland - Massachusetts - Michigan - Minnesota - Mississippi - Missouri - Montana - Nebraska - Nevada - New Hampshire - New Jersey - New Mexico - New York - North Carolina - North Dakota - Ohio - Oklahoma - Oregon - Pennsylvania - Rhode Island - South Carolina - South Dakota - Tennessee - Texas - Utah - Vermont - Virginia - Washington - West Virginia - Wisconsin - Wyoming
Looking For Transport
With a Specific Trailer?

Max Weight: 150,000+ lbs. | Main Deck Length 29 ft.
| Well Width 8.5 ft. | Legal Height Limit 11.6 ft.

Max Weight: 48,000 lbs. | Max Length 53 ft.
| Max Width 8.5 ft. | Max Height 8.5 ft.
Max Weight: 48,000 lbs. Max Length 53 ft. |
Max Width 8.5 ft. | Max Height 11 ft.
Max Weight: 45,000 lbs. | Max Length 29 ft.
| Max Width 8.5 ft. | Max Height 11.5 ft.
Heavy Haulers Pilot Car Services
Are you looking for a reliable pilot car
for your transport?
Get Started
The hauling weight of Your water tank also determines the shipping cost
Water tanks come in a large variety of shapes, sizes, and weights. Of course, the heavier the weight, the more it costs to ship. Knowing the details of your specific tank will help our elite logistics team not only find you the best price, but also the best equipment for transport. For instance, heavier tanks require machinery that has a lower center of gravity to enhance their stability. Call today and we'll work to find the best prices and equipment to get your tank to where it needs to be.







11423605

MILES TRAVELED






1214292

LOADS SHIPPED







1315658103

TONS TRANSPORTED






921637

CLIENTS SATISFIED