Choose Heavy Haulers to Transport Your Water Tank
At Heavy Haulers, client satisfaction comes first. Not only do we want to create a long-term relationship, but we hope, that by doing outstanding work, you'll recommend us along the way. Our well-seasoned, professionally trained drivers have operated vacuum trucks long enough to adapt to any situation. We also have an online team that is at your service 24 hours a day to answer any questions you may have when it comes to transporting your water tanks.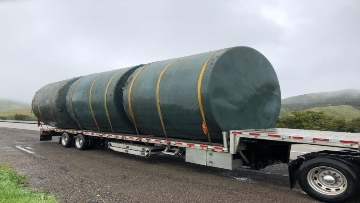 We'll Ship Any Sized Water Tank!
No water tanks are too big or heavy, no distance is too long, and of course, no task is too urgent for Heavy Haulers. Our team of seasoned experts will safely transport any sized water tanks and deliver them anywhere in the United States, Canada, and even Mexico.
We Can Haul Any Sized Water Tank
When it comes to water tank transport, we have a wide array of trucks to choose from. Oversized water tanks are no problem! Call and speak with an elite logistics team member, and they'll put your mind at ease. Our experienced drivers will handle loading and transporting them to your destination safely and on time. Heavy Haulers services are rated the best in and out of the United States. So, trust the professionals to handles all your heavy hauling needs.