Shipping a Peterbilt Tandem Axle Truck
JT was assigned to transport the Peterbilt tandem axle truck from West Valley, UT 84120 to Livingston, TN 38570. The operation was scheduled to take two days, inclusive of the time taken to prepare and load the truck. JT has been part of our car shipping specialists for some time now. In our years of operation, specialists such as JT have always come through and made us the best in the country. Transporting the Peterbilt tandem axle truck was no different.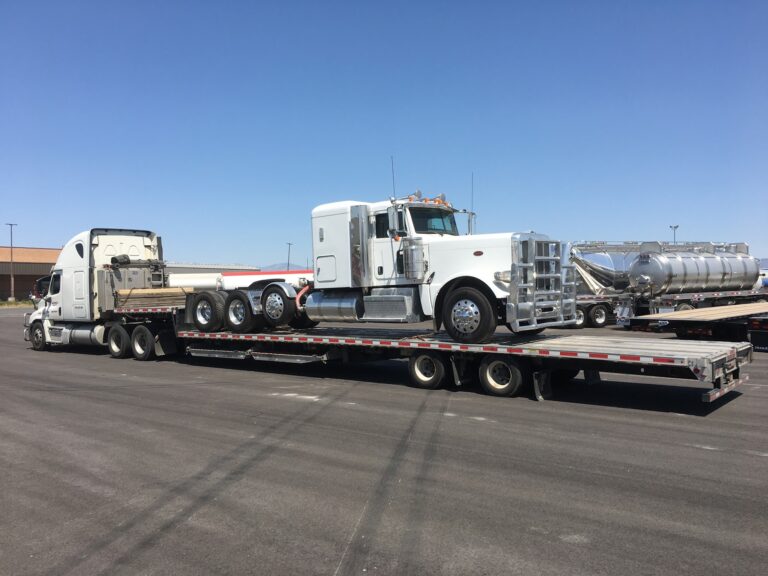 Heavy Haulers Offers Professional Peterbilt Tandem Axle Truck Transportation Services
The tractor truck unit for Peterbilt was being shipped to a client who intended to use it for logging purposes. The operation was limited by a schedule and therefore required added resources. Heavy Haulers was quick to provide all the resources requested by JT and his team. JT chose to use a step deck trailer to ship the truck. Once the vehicle was loaded on the trailer, JT and the driver went through the logistics of the operation. Soon afterward, the Peterbilt tandem axle truck was on its way to Livingston. TN.
Shipping Peterbilt Tandem Axle Truck at Affordable Rates
The cab of the Peterbilt tandem axle truck had some loose fixtures which were removed to be replaced after offloading. The engine on the truck was located on the front axle. The weight had to be redistributed to the rear part of the vehicle. With four axles and a six by four configuration, all the wheels were tied down with tie straps to minimize wiggling during transit. JT ensured all the safety measures were implemented during and after transportation. For instance, the driver had to make stops for integrity checks after every 150 miles. These stops also allowed the driver to rest and minimize fatigue.
At Heavy Haulers, we allow clients to check in on the progress of their shipment. Clients can contact any of our agents and follow up on our services. The Peterbilt tandem axle truck arrived at its destination on time and securely. We provide the same professionalism when shipping your vehicle.
Step 1:

Fill Out Quote Form

Fill out the short & easy quote form.
Step 2:

Speak With An Agent

We'll pick up your heavy equipment or vehicle.
Step 3:

Get Transported On Time

We deliver on time so you can get back to work.