The Best Websites for Used Construction Equipment (and How to Transport)
Purchasing and transporting construction equipment online may be daunting for many business owners. Construction equipment, even used machinery, can be quite expensive, so you need to know you're not making a mistake with the place you choose to buy from. We've compiled a short intro to which websites are best for used construction equipment to help you.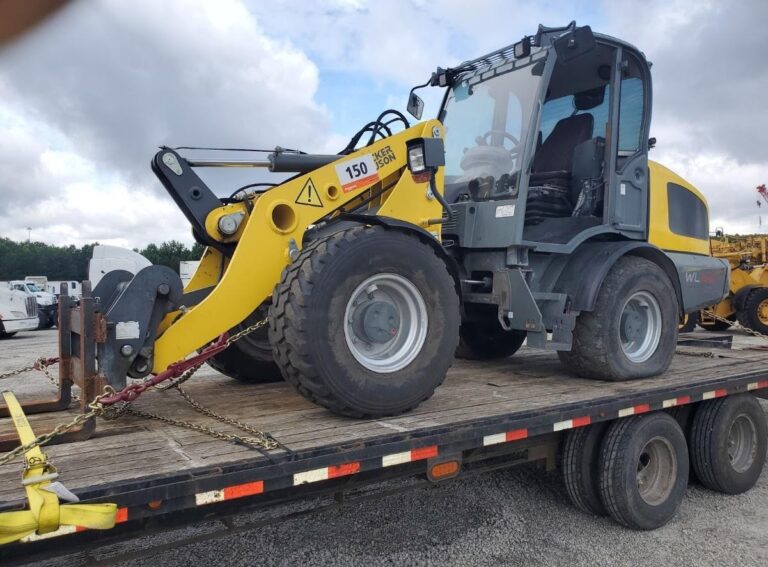 The Best Used Equipment Auction Sites
Ritchie Bros, as you'll probably know, is the largest industrial auctioneer. Unreserved bids are present on all items, so all items will sell, making it a lucrative option for sellers looking for a quick sale. The potential here to grab used construction equipment at a bargain price is relatively high, making it a desirable choice for buyers. Ritchie Bros. doesn't just offer in-person bidding at auction sites; they also offer online registration and bidding. It's super easy to drill down to the required categories of equipment you're looking for, so you're likely to find something you need quickly.
Construction Equipment Guide is a little unusual in that it's not an auction site per se, but it gives buyers access to a calendar listing of all the auctions available on any given date. While most of the options available are physical auctions that buyers are encouraged to attend and bid at directly, there are cases where Construction Equipment Guide also links to online bidding opportunities.
Another option if you're not in proximity to a physical auction location is to utilize bidding sites such as eBay. The site has a surprisingly good offering of used equipment for sale, and most online-savvy buyers will already be familiar with the layout and bidding process. The construction section focuses more on Buy It Now sales than real-time bidding, although those options are still available.
The Best Alternatives to Online Used Equipment Auctions
Online auction sites can be an excellent way to procure used equipment, but they're not the only method of obtaining used equipment online. Some large manufacturers like Caterpillar, for instance, offer used construction equipment listings on their website. One advantage of going direct-to-manufacturer for used equipment sales is that even if you want to browse and buy online, you can be sure that your chosen equipment has passed the manufacturer's inspection process. Buying used construction equipment for transport from the manufacturer also means you're likely to be offered financing deals and receive dealer support after purchase.
Another alternative to auction-style listings with countdown timers is to check into the used construction equipment available on websites such as Mascus. Mascus has a broad offering of used construction equipment available for purchase. They even offer construction equipment accessories, such as tires and attachments. One of the great things about Mascus is that it provides users with an easy to navigate website with plenty of options to narrow down the items you want to purchase. For example, you can search by standard parameters, including location, product type, brand, and price, but you can also use the advanced search feature. If you're looking for items of a particular condition, you can search for items with less than X hours of use or less than X km on the meter read-out.
Commercial firms will find Equipment Trader to be another excellent website for construction equipment sales. The website specializes in industrial construction equipment and earthmoving machinery, with deals available on both new and used equipment. Equipment Trader verifies all listings before they're placed, so you're guaranteed a certain level of quality.
How to Transport Your Used Construction Equipment Home
If you're purchasing your construction equipment from an auction house, check with the auctioneer if they already have a preferred shipping partner. You may want to use their partner or bring in a different heavy hauling companyt to handle the transfer.
If you've got to prepare the machine yourself at the site, make sure you've got access to the equipment manual to ensure you've prepared the equipment in a way that's safe to ship. You may need to cover parts vulnerable to rain and wind if the construction equipment is moved on open-air transpor, bubble wrap fragile levers, and secure doors. Ensure there is an open area at the pickup and dropoff site so that your construction equipment can be safely loaded and unloaded. If additional equipment is necessary, such as ramps, cranes, or loading docks, check this will be available.
It takes a certain level of expertise and experience to move oversized construction equipment quickly. If it's your first time buying used construction equipment or you don't have the necessary equipment to handle the transfer yourself, heavy machinery transporters can attend the site on your behalf, fully-equipped with the equipment required.
Before any heavy construction is moved offsite from the sale location, adequate permits will need to be in place. In some cases, machinery can only be moved from the sale site at certain times; make sure you and your chosen transporter are aware of any timing restrictions before making the journey. Also, check if the location has any site policies that will affect your delivery process; if you choose a construction equipment transport company, all these factors will likely be taken care of for you.
Transport Your Construction Equipment With Heavy Haulers!
Step 1:

Fill Out Quote Form

Fill out the short & easy quote form.
Step 2:

Speak With An Agent

We'll pick up your heavy equipment or vehicle.
Step 3:

Get Transported On Time

We deliver on time so you can get back to work.