Shipping John Deere Construction Equipment
Call Our company Heavy Haulers for all John Deere equipment shipping services locally or cross country at (800) 908-6206! Trust Heavy Haulers to ship your John Deere construction equipment. John Deere & Company's construction division is the second largest manufacturer of construction equipment in America. The company's first product was a self-scouring steel plow, developed in 1837. They got into the tractor business in 1918 with the purchase of a rival company. In 1956, Deere & Company created a division to focus on construction and forestry.


The company began building construction machinery in Davenport, Iowa, in 1974. Deere & Company formed a partnership with Hitachi to produce excavators in 1988. By 1995, the construction equipment line had grown to 60 products. The Timberjack line of forestry products was added in 2000, but discontinued in 2006. Deere & Company is the largest producer of forestry equipment in the world. The parent company employs more than 50,000 people.
Common John Deere Equipment We Transport Frequently:
• Scrapers
• Feller bunchers
• Knuckleboom loaders

• Crawler loaders
• Forwarders
• Track loaders
• Tractor loaders
See More of Our Recent John-Deere Shipments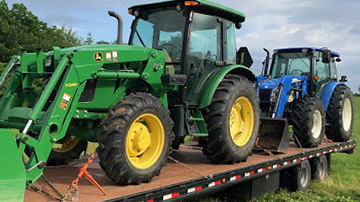 John Deere Tractors being transported on a hotshot trailer
Shipping From: Pyatt, AR

Transporting To: Shiner, TX 77984

Specs:John Deere 5085e Tractor with Loader16L X 8W X 8Hl X 8000 lbs.

Transport Specialist: Roger Castro
(954) 549-5264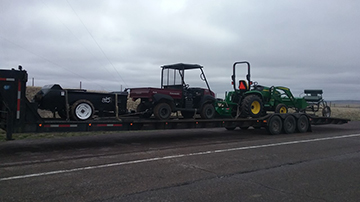 John Deere 3320 Tractor transported on a hotshot trailer
Shipping From: Fort Collins, CO 80524

Transporting To: Casper, WY 82604

Specs: John Deere 3320 Tractor; 12.5L X 8W X 8L; 3,700lbs

Transport Specialist: Hal Foster
(772) 227-1564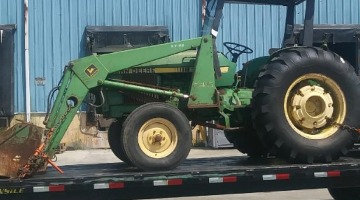 John Deere 2150 Tractor transported from DE to NY
Shipping From: New Castle, DE 19720

Transporting To: Cobleskill, NY 12043

Specs:John Deere 2150 Tractor With Bush Hog; 27L X 8W X 6.7H; 6,500lbs

Transport Specialist: Nick H.
(561) 229-0690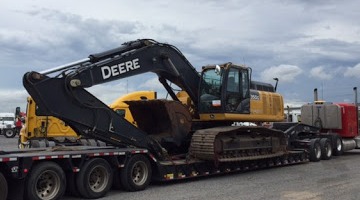 John Deere 350G LC Excavator shipped from Humble, TX
Shipping From: Humble, TX 77396

Transporting To: Oakland, CA 94603

Specs:John Deere 350G LC Excavator; 40L X 11.2W X 10.4H; 77,000lbs

Transport Specialist:Hal Foster
(561) 229-0689