Shipping John Deere Construction Equipment
Call Our company Heavy Haulers for all John Deere equipment shipping services locally or cross country at (800) 908-6206! Trust Heavy Haulers to ship your John Deere construction equipment. John Deere & Company's construction division is the second largest manufacturer of construction equipment in America. The company's first product was a self-scouring steel plow, developed in 1837. They got into the tractor business in 1918 with the purchase of a rival company. In 1956, Deere & Company created a division to focus on construction and forestry.


The company began building construction machinery in Davenport, Iowa, in 1974. Deere & Company formed a partnership with Hitachi to produce excavators in 1988. By 1995, the construction equipment line had grown to 60 products. The Timberjack line of forestry products was added in 2000, but discontinued in 2006. Deere & Company is the largest producer of forestry equipment in the world. The parent company employs more than 50,000 people.
Common John Deere Equipment We Transport Frequently:
• Scrapers
• Feller bunchers
• Knuckleboom loaders

• Crawler loaders
• Forwarders
• Track loaders
• Tractor loaders
See More of Our Recent John-Deere Shipments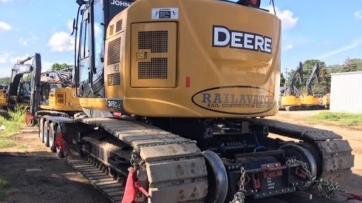 John Deere 245G Excavator Shipped on an RGN Trailer
Shipping From: Rockford, IL

Transporting To: Hamilton, MO

Specs: 2017 John Deere 245G excavator; 32L x 10.6W x 10.7H; 75,000lbs

Transport Specialist: Sam D.
(561) 931-6741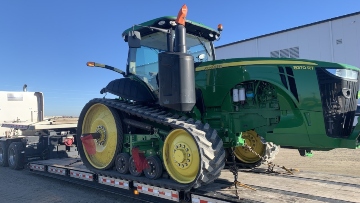 Transporting a John Deere 8370RT Tractor from MN to IL
Shipping From: Willmar, MN

Transporting To: Aledo, IL

Specs: 2015 John Deere 8370RT tractor; 23L x 11.6W x 12H; 38,000lbs

Transport Specialist: Louis S.
(407) 863-3130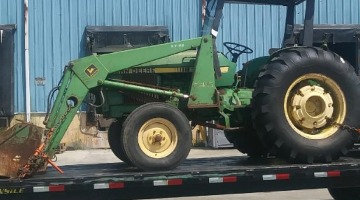 John Deere 2150 Tractor Transported From New Castle, DE to Cobleskill, NY
Nick H. took on this 6,500 pound John Deere 2150 Tractor and shipped it from New Castle, Delaware to Cobleskill, New York, a 278-mile haul. When he did an onsite load valuation, Nick H. decided to load the 27 ft. long and 6.7 ft. high John Deere 2150 Tractor with its Bush Hog onto a Heavy Haulers flatbed trailer. The 8 ft. wide tractor was hauled via the I-80 N for a within schedule delivery in Cobleskill, upstate New York.
Transport Specialist: Nick H.
(772) 238-2766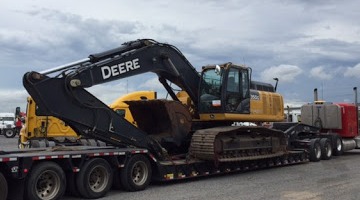 John Deere 350G LC Excavator Transported From Humble, TX to Oakland, CA
When Hal Foster from Heavy Haulers got the call to ship this John Deere 350G LC Excavator, he loaded the 77,000-pound load onto an RGN trailer. He shipped the 40 ft. long excavator from Humble, Texas to Oakland, California; 1,926 miles away along the US border with Mexico. The 11.2 ft. wide John Deere 350G LC Excavator required permits, flagging and escort vehicles for traffic management on the busy I-10 W.
Transport Specialist: Hal F.
(772) 227-1564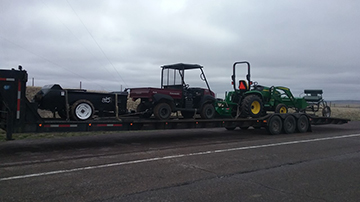 John Deere 3320 Tractor on a Hotshot Trailer Form Colorado to Wyoming
These two John Deere 3320 Tractors were transported on a hotshot trailer from fort Collin, Colorado to Casper, Wyoming by Heavy Haulers' tractor moving specialist, Hal Foster. The 12.5 ft. long tractors had a combined weight of 7, 400 pounds and Hal loaded them onto a hotshot trailer. Each 3,700 pound John Deere 3320 Tractor was 8 ft. long by 8 ft. wide, and chains secured the load. This tractor duo was delivered 4 hours and 32 minutes later after a 233-mile drive along the I-25 N.
Transport Specialist: Hal F.
(772) 227-1564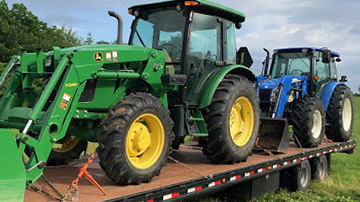 John Deere Tractors Transported On a Hotshot Trailer from Arizona to Texas
Roger Castro from Heavy Haulers received contact from a client who urgently required these two John Deere 5085e Tractors with their loader attachments from Pyatt in Arizona to Shiner, Texas. A hotshot trailer undertook the transport of the 8,000-pound tractors, comfortably handling their 16 ft. lengths pus the 8 ft. heights. Roger and his Heavy Haulers tractor handlers had the two 8 ft. wide John Deere 5085e Tractors loaded using ramps and secured with chains.
Transport Specialist: Roger C.
(954) 549-5264
John Deere Crawler Tractor
John Deere Crawler Loader
John Deere Cultivator, and John Deere 2WD Tractor