Safe & Efficient Hay Transport Services to All 50 States, Mexico, and Canada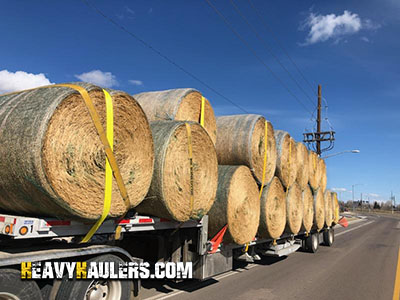 Hay Bales Being Transported
Heavy Haulers specializes in providing comprehensive transport services for even the hay bales for your business. From routing and loading to its safe delivery, your hay bales and other large agricultural equipment is under our professional care. With continual supervision and delivery from only fully licensed and trained drivers, we can deliver your hay transport on schedule, wherever you need it in North America. Regardless of which type of bales you need to move, Contact Heavy Haulers today for your free quote on professional hay transport relocation.
Hay Transport & Relocation from Heavy Haulers
Your agricultural operation relies on hay for many reasons. Its primary purpose is to feed livestock, but it can also be beneficial to gardens and landscaping. Standard hay bales generally weigh from 50 to 100 pounds, while round bales weigh around 2,000 pounds. Hay transports are needed to safely and efficiently haul such heavy loads. Having enough working hay transports is crucial to the success of your agricultural business, so it's important to ensure professionals are in charge. To safely haul a hay transport or other overweight load, you must first make sure you have the right equipment. At Heavy Haulers, we have a full range of flatbeds and trailers that can handle any oversize load. Whether you need to relocate one hay transport or several, our experienced staff can make certain everything goes according to schedule. No matter which style bale you work with, our transport specialists can move any brand, size, or model hay transport, including:
John Deere
International Harvester
Koyker Manufacturing
Farmco Manufacturing
Te Slaa Mfg.
H & S Manufacturing
And many more!
See what you need?
Call us for a FREE Transport Estimate at (800) 908-6206
Common Trailer Types Available from Heavy Haulers
Heavy Haulers specializes in hauling heavy loads such as construction equipment, oil field rigging and Super Loads. We are wideload experts! We offer an extensive range of trailer choices, including:
Max Weight: 48,000 lbs. | Max Length 53 ft. | Max Width 8.5 ft. | Max Height 11 ft.




Max Weight: 45,000 lbs. | Max Length 29 ft. | Max Width 8.5 ft. | Max Height 11.5 ft.
Max Weight: 150,000+ lbs. | Main Deck Length 29 ft. | Well Width 8.5 ft. | Legal Height Limit 11.6 ft.




Max Weight: 48,000 lbs. | Max Length 53 ft. | Max Width 8.5 ft. | Max Height 8.5 ft.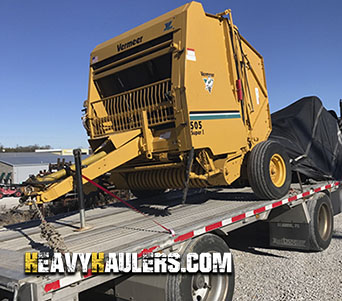 Affordable Hay Transport Services from Heavy Haulers
Trust Heavy Haulers for the most reliable hay transport services. When you contact us, our logistics team will get to work on routing and scheduling your shipment. We will obtain all necessary permits, escorts, and pilot cars, and make sure you have the proper paperwork for weigh stations and customs, as needed. That way, there are no unnecessary delays in your delivery. Our transport specialists will see to the proper loading and securing of your hay transport, so your investment is properly protected. Professional drivers that are licensed, insured, and trained will ensure that care is taken during the move. You can stay in continual contact with your transport team, so there are no unwanted surprises. Whether you are moving a hay hauler locally or across the continent, Heavy Haulers offers the finest professional transport services for your oversize load at affordable prices. Contact us today at (800) 908-6206 for more information and a free quote for hay transport.