Professional Sprinter Van Transportation Services in All 50 States, Canada, and Mexico.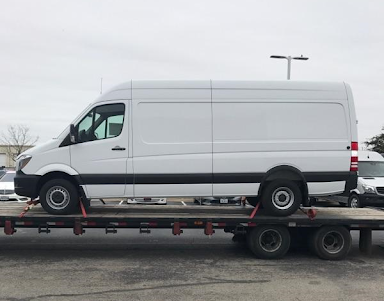 Shipping a Sprinter Van
Heavy Haulers is here to help you with your transportation services; we have been doing this business for over a decade now. We have our logistics coordinators who are located in our seven branches throughout the US; restrictions are not in our DNA as we will help you move all types of loads from construction, farming, heavy loads and any other that you might be thinking of. We will move your loads to over 50 states which include Canada and Mexico. Heavy Haulers an award-winning company, this means we take our work seriously and professionally.
At Heavy Haulers, we transport all types of loads including machine parts, industrial equipment, Armored trucks, trailers, animal services, fuel tank trailers, refrigerated trucks, sprinter vans, beverage trucks, and mixer trucks. We consider ourselves us wide load experts; we offer different types of trailer options that include:
Double Drop Deck Trailers
Step Deck Trailers
Flatbed Trailers
Removable-Gooseneck Trailers
Heavy Haulers will help you with all the logistics as we have a team of experts that deals with that, we will calculate for you the whole cost at the same time the best budget in the market. With us, you don't need to worry about permits or insurance as all this will be looked upon by our very own capable experts. We have experienced drivers who are experts at hauling trucks which will make sure you get the best service possible, so you can just relax as Heavy Haulers do the heavy lifting for you.
Recent Sprinter Vans Transported by Heavy Haulers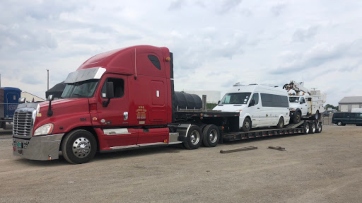 Shipping a Mercedes-Benz 3500 Sprinter Van
Shipping From: Fort Wayne, IN

Transporting To: Hallandale Beach, FL

Specs: 2011 Mercedes-Benz 3500 sprinter van

Transport Specialist: Brian G.
(754) 203-9267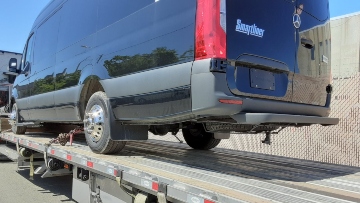 Hauling a Mercedes LWB Sprinter Van from Massachusetts to South Carolina
Shipping From: Somerville, MA

Transporting To: Charleston, SC

Specs: 2019 Mercedes-Benz Sprinter LWB Van Extd. Length

Transport Specialist: Hal F.
(772) 227-1564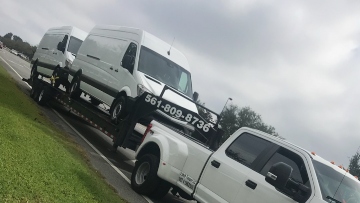 Transporting 2 5,800 pound Mercedes-Benz Sprinter Vans
Shipping From: Sanford, FL

Transporting To: Fort Lauderdale, FL

Specs: 2 Mercedes-Benz Sprinter Van 8500# 24L 7W 9.7H

Transport Specialist: Sam D.
(561) 931-6741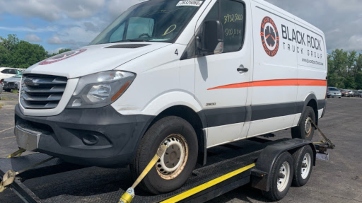 Shipping a Freightliner Sprinter 2500 Cargo Van
Shipping From: North Charleston, SC

Transporting To: Houston, TX

Specs: 2002 Freightliner Sprinter 2500 Cargo Van 8.6 H 22 L Van Extd. Length

Transport Specialist: Brian H.
(754) 203-8979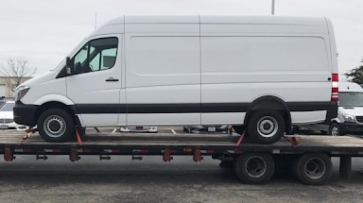 Hauling a 5,600 pound Mercedes-Benz Sprinter Van to Florida
Shipping From: Georgetown, TX

Transporting To: Sandord, FL

Specs: 2017 Mercedes-Benz Sprinter Van 3500; 5,600 pounds

Transport Specialist: Brian G.
(754) 203-9267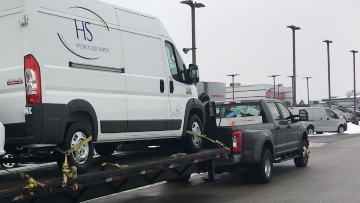 Transporting a Dodge RAM ProMaster Cargo Van
Shipping From: Fort Wayne, IN

Transporting To: Oakwood, GA

Specs: 2017 Dodge RAM Pro Master Cargo Van 20L 8W 9H

Transport Specialist: Janelle F.
(754) 203-9287
Transporting a Mercedez-Benz Sprinter Van
We recently transported this 2017 Mercedes-Benz Sprinter from Santa Clarita, CA to Tacoma WA. This was approximately 1,100 miles! We were able to get this done for our client for $1,200! The Sprinter was 16 feet long, 8 feet wide and 9 feet high. After dealing with a couple of companies that were unsuccessful of getting this hauled they called Heavy Haulers. Our agent JT was able to assist this customer. Call JT at Heavy Haulers to transport your Sprinter! 954)-505-8921.
Sprinter Van Being Transported by Heavy Haulers
Need your work van transported? Just bought a new toy? Just sold your old toy? No matter the size we can handle all of your transport needs and we back it up with top ratings on the BBB. Our transportation specialist, JT, is always ready to assist you on your next haul. Call Heavy Haulers and ask for JT to move your 2017 Mercedes-Benz Sprinter or any of your transportation needs. - 954-505-8921
Speak with a Member of Our Logistics Team Now!
(800) 908-6206
Common Trailer Types Available from Heavy Haulers
Heavy Haulers specializes in hauling heavy loads such as construction equipment, oil field rigging and Super Loads. We are wideload experts! We offer an extensive range of trailer choices, including:
Max Weight: 48,000 lbs. | Max Length 53 ft. | Max Width 8.5 ft. | Max Height 11 ft.




Max Weight: 45,000 lbs. | Max Length 29 ft. | Max Width 8.5 ft. | Max Height 11.5 ft.
Max Weight: 150,000+ lbs. | Main Deck Length 29 ft. | Well Width 8.5 ft. | Legal Height Limit 11.6 ft.




Max Weight: 48,000 lbs. | Max Length 53 ft. | Max Width 8.5 ft. | Max Height 8.5 ft.
We transport many brands of Trucks across the country and North America
Trust Heavy Haulers to transport any brand of truck you own. We are experienced in handling all types of brands and manufacturers, we have hands-on experience shipping all truck manufacturers there is on the road! Some of the truck brands we commonly ship include:
Let Heavy Haulers move your Sprinter van
Trust Heavy Haulers to move your Sprinter van. We are dedicated to giving our clients the service possible; we have a team of experts who make sure everything goes as planned. We go the extra mile to make sure the service that you get is of a first class, so get in touch with us today. Even if your van has some special considerations that need to be looked into, we have the experience, and we always make sure we meet our client's needs. Call us today, so you have a taste of what it means with working with the best, we make sure loads reach to set location with the shortest time possible.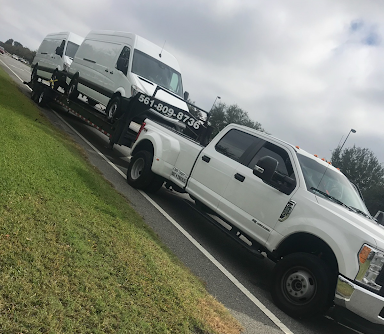 Daily Sprinter Van Shipping Services All Throughout The United States
Sprinter van is a light commercial van that can be used as a minibus, chassis, pickup truck or a passenger van. Many of these vans are used in carrying security personnel, or in the transportation of valuable items. When you need to move, this van thinks of Heavy Haulers s . We offer ideal solutions that are customized just for you, sometimes moving this van can leave you wondering on how best this van can be moved without it having scratches or any type of damage. Heavy Haulers has done this for years now, and you can be assured that your van will reach the desired location safe and sound. We have a set of trucks that will be best suited for a sprinter van, and since we understand how important this van is to you, we will take all the right precautions to make sure it is delivered smooth and secure.