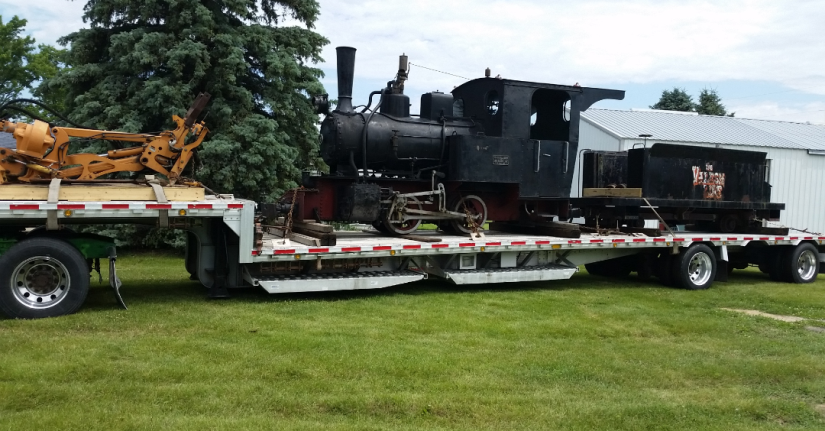 Locomotive Steam Engine Shipping
Locomotive Steam Engine Shipping On Step Deck Trailer from Iowa to Vermont
This locomotive steam engine was shipped by Stephen from Heavy Haulers on a high performance drop deck trailer. The antique collector's locomotive was scheduled for interstate shipping from Oelwein, Iowa to Saint Albans, Vermont, and was labeled INOP meaning (inoperative). Stephen decided to route the transport on the I-90 East, which passes through the cities of Cedar Rapids, Iowa City, Chicago, Syracuse, Buffalo, and Cleveland.
Locomotive Steam Engine Shipping
The locomotive steam engine was loaded with a graded crane under Stephen guidance, on a capacity drop deck trailer. Wooden blocks were used to support the locomotive on the lowered platform which alleviated back and forth movement during transportation. The 29 ft. long locomotive with its coal wagon weighed 28,000 pounds and had a height of 15 ft. from base to the top of its smoke turret.
Wooden blocks were used to support the locomotive on the lowered platform which alleviated back and forth movement during transportation.
Stephen and his team tied down the 6.5 ft. wide steam engine locomotive with chain and belt strappings for secure transportation. The 1,191-mile journey was initiated with Stephen calling the client to notify and furnish them with a cargo tracking link. Once underway, the transport encountered some road construction along the I-380 S to Iowa City and I-120 E entering Illinois State.
Shipping Locomotive Steam Engine​
At Naperville near Chicago, the shipment would have taken the faster ON-401 E but that would have called for border permits since the highway goes through Toronto and Montreal in Canada. More road construction near Toledo, OH and a crash just outside of Cleveland, PS ate some time off the schedule, but the going was good. The haul through upstate New York was uneventful and the entire route took the Heavy Haulers driver team a total of 29 hours and 3 minutes.

Delivery was performed successfully in Saint Albans, Vermont, near the Canadian border. Stephen was onsite to ensure that every aspect of the offload went as smoothly as the loading and just concluded transport of the steam locomotive engine and wagon. The client was only charged the competitive fees after satisfactorily receiving the railroad equipment, due to our no deposit and no hidden cost charges.

Stephen is available for information on shipping vintage locomotives and other unusual loads which will start with a free load valuation for reliable estimates. Call Stephen from Heavy Haulers today on (800) 908-6206.

Height: 15 ft. Weight: 28,000 lbs. Length: 29 ft. Width: 6.5 ft. Transport miles: 1191 miles Route used: I-80 East
Typically, the maximum legal weight of a step deck is 48,000lbs. Step deck trailing towing can also be used to transport cargo that meets the following maximum dimensions: 48ft – 53ft length if using an extended trailer, 8.5ft width, and 10ft – 11ft height.
Transport Your Locomotive Steam Engine With Heavy Haulers Today!
Step 1: Fill Out Quote Form
Fill out the short & easy quote form.
Step 2: Speak With An Agent
We'll pick up your heavy equipment or vehicle.
Step 3: Get Transported On Time
We deliver on time so you can get back to work.
Black ice is a wintertime threat to driving safety on roadways. Black ice is a type of ice that forms on wet roadways when temperatures drop rapidly.
Read More »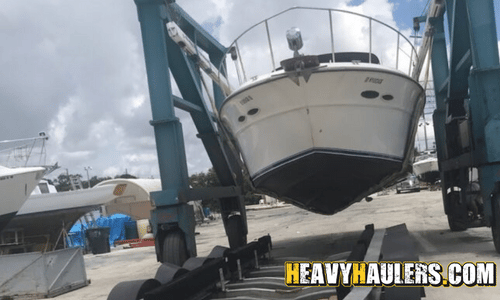 Heavy Daily Haulers Blog Daily Blog What is Overland Boat Transport? One of the reasons you purchased a boat was for the opportunity to see
Read More »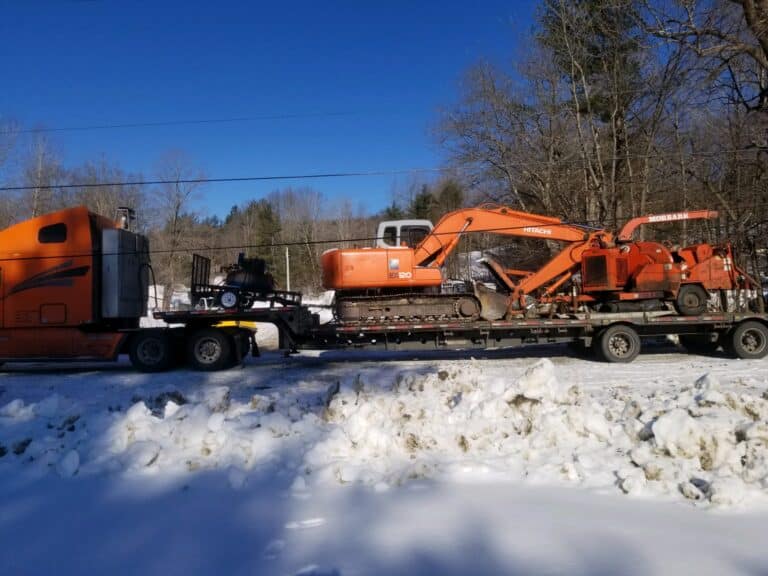 Shipping equipment in the snow is not that hard, but only if you have the proper means of transport, appropriate expertise, and adhere to the applicable rules and regulations. Hauling heavy loads during snowstorms comes with complexities ranging from bad roads to reduced visibility.
Read More »