Moving in a Hot Shot Trailer with Heavy Haulers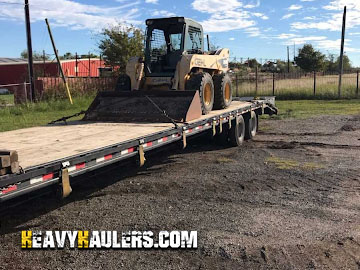 Hot Shot trailers are useful, flexible, and suitable for moving equipment and machinery of all sorts. Unlike larger trailers, hotshot trailers can be used even with a pick-up truck, if the load is light enough and the truck has enough torque. Heavy Haulers can help you move a smaller load, from furniture or appliances to an ATV or motorcycle. Hotshot trailers are useful if you're buying or selling goods and just need a simple transport. The certified, licensed, and bonded drivers from Heavy Haulers can work with you to move your items on a hotshot trailer.
Hotshot trailers carry less weight – typically between 12,000 and 20,000, which is the max that these trailers can hold. They're used in the same manner as a step-deck trailer and sit low to the ground as the step desk does. This allows them to hold cargo that's a little taller than others, up to about 10 feet. Hot Shot trailers are mostly used for hauling, smaller LTL freight as in "Light Truck Load" or "Not Full Truck Load."
Shipping Your Cargo on a Hotshot Trailer with Heavy Haulers
Start with a phone call to one of our logistics experts. They'll find the right driver and size of hotshot trailer to move your cargo safely and securely. You'll receive a unique code to keep up with your shipment in real-time. We also complete any paperwork you'll need for your shipment, including permits, weigh station forms, and, if you're shipping to or from Canada or Mexico, customs paperwork, too. All our drivers are double-insured, and we can load and unload your cargo from our trailers, too. Ready to ship your cargo with a reliable company? Call us today at (800) 908-6206 for a FREE, no-obligation quote.
Contact Our Expert Shipping Specialists


(800) 908-6206
How to Move Your Own Hot Shot Trailer With Us
Your hot shot trailer is important to your lifestyle and freedom of movement. So, when you need to transport one, or more, you need someone who can get it to you safely. You need someone who knows the state regulations for shipping and can correctly load your hot shot trailer for transport. These light trailers are used to haul so much, it's no wonder they are so popular. At Heavy Haulers, we have years of experience in hauling hot shot trailers across this entire country. Our team of trailer shipping experts is ready to take care of your trailer transport problems. Trust us to move your hot shot trailer efficiently and affordably.
Hauling a Load with a Hot Shot Trailer is Easy! Just Call Us!
After searching around for a reliable, well known, and well reviewed company to move their track loader, Heavy Haulers received the call from our now constant clients to step in and help. Austin, our agent, was in charged to plan and overlook the 230 miles trip from Austin to Wylie within Texas. This hot shot to the right was used to move the 4,000 pound 1 Gehl 7810, measuring about 12' long, 12' wide, and 6' high. Do you need a track loader? Let us handle it, call us at (800) 908-6206, Austin will be happy to help.
Recent Hotshot Trailer Services Moves
Zetor Tractor Transported on a new rig
Shipping From: Vancouver, WA

Transporting To: Bonanza, OR 97623

Specs: Fetor Tractor 10000 lbs 20L X 8W X 10H

Transport Specialist: Hal Foster
(772) 227-1564
Transporting a 2002 Mack Dump Truck Using A Hotshot Trailer
Heavy Haulers can transport your trucks as well as your equipment and implements. This 2002 Mack Dump Truck was loaded in Amarillo, TX and delivered in beautiful Miami, FL. This panda single axle dump truck was approximately 17,000 pounds and loads of fun! If you are looking for a company to haul your dump truck, or any other heavy equipment, within the United States, Mexico or Canada call Brian H. at Heavy Haulers for your quick quote: (754) 203-8979
Shipping a Bobcat-skidsteer on a Hotshot Trailer
JT at Heavy Haulers recently hauled this Bobcat Skid Steer for a customer in distress. We hear this story all too often ...Customer is left waiting for the carrier on the scheduled date and time but both the carrier and the broker are nowhere to be found. Needless to say, this customer was both angry and worried that his equipment wouldn't make it on time to the jobsite, as this skid steer is the backup replacing the nonworking one on site. Our specialist, JT, put everything he had on-hold to help this customer. JT had this skid steer loaded within two hours of taking the order and saved the day! If you are looking for a superhero to get your freight transported call JT at Heavy Haulers today. (754) 254-5444.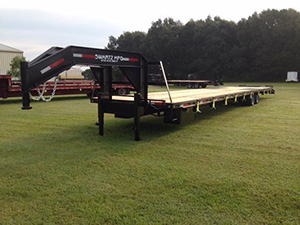 Heavy Haulers Provides Hot Shot Trailer Transport in All 50 States!
There's no reason to shop around, state by state, for professional hot shot trailer shipping when you can get everything you need from one reliable source. Heavy Haulers offers premium hot shot trailer hauling in every state in the nation. No more researching to figure out how to get your trailer, or shipment of trailers, to you at a price you can afford. We are the nation's top choice for trailer transport and nobody knows more about it than we do. Whether you need to move it from the next town or from the next coast, we can get your hot shot trailer where you need it to be, safely and affordably.


More Recent Hotshot Trailer Moves
Shipping a 1971 Ford Tractor loaded on a Hotshot
Heavy Haulers transported this 1971 Ford Tractor from Rapid City, SD to Calmar, IA so it can do what tractors do best. This transport was over 600 miles and had a happy farmer waiting at the other end of the journey. The tractor weighed only 3,100 pounds and it measured 16 feet in length, was 6 feet wide and 7 feet tall. Heavy Haulers understands your needs as a customer and we back it up with top ratings on the BBB. If you need your farming equipment transported give Travis a call and tell him all about it: (813) 492-8263
Hauling a 2011 Kubota M9540D Tractor on a Hotshot
Heavy Haulers recently transported this 2011 Kubota M9540D Tractor. It was loaded in Laredo, TX and delivered nearly 1,500 miles away in Burnsville, NC. This Kubota measured 15 feet in length, 9 feet in height and weighed 7,000 pounds. Our Heavy Haulers transportation specialist, Brian H., scheduled the pick-up and delivery of this Kubota for one of our repeat clients. If you need your agricultural machinery transported give Brian H. at Heavy Haulers a call today for your free quote. - 727-388-4438
Transporting a Case 4690 Tractor on a Hotshot
Heavy Haulers recently transported this Case 4690 tractor for a client. This particular Case tractor was picked up in Georgetown, OH and delivered to Kingsbury, IN. Heavy Haulers can arrange for your heavy machinery to be hauled anywhere in the United States, Mexico and even Canada! This Case 4690 measured 12 feet in length, 8 feet 5 inches in width and 10 feet in height with an approximately weight of 22,300 pounds. If you need your tractor transported then you need to call JT at Heavy Haulers to schedule your next shipment. - (754) 254-5444
Shipping a Case 4690 Tractor on a Hotshot Trailer
This client needed same day pickup in order to arrive on time at the jobsite after another company left him stranded. Heavy Haulers' transportation specialist, JT, had this Case 4690 Tractor loaded within three hours and delivered ahead of schedule! There's a reason why our first time customers become loyal customers after the initial order and we welcome you to experience the difference for yourself. Contact JT directly and let him know what you need moved and he'll provide you with the game plan and personalized quote. - (754) 254-5444
Shipping a 1958 John Deere 830 Tractor on a Hotshot Trailer
Brian H. at Heavy Haulers recently hauled this 1958 John Deere 830. It was picked up in Dorsey, IL and delivered to its final destination in Waddington, NY! The total weight was 4,500 pounds. Heavy Haulers can haul your load to anywhere in the United States, Mexico or Canada. If you need any tractors or implements transported call Brian H. at Heavy Haulers today for an estimate: (754) 203-8979
2018 LS MT 125 Tractor Transported On a Hotshot Trailer
Did you know that these LS MT 125's can do it all? And when you buy a brand new toy that does it all you need to call those that haul it all - Heavy Haulers. Small equipment that packs a big punch! It'll even do that thing that you've been meaning to do but you keep putting it off for later. Yeah, even that! So when you buy your LS MT 125 for that project make sure you call the leaders in the heavy haul industry. Your Heavy Haulers representative is ready to assist you from quote to delivery. Matt Hildeman - 954-234-2862
2015 Ford F59 Chassis Loaded on a Hotshot Trailer
Heavy Haulers has the proper equipment for every job and the owner of this rolling chassis was impressed with not only how quickly our driver arrived but also the condition of our rigs plus he enjoyed the only two jokes the driver knows and shared with him (jokes vary by driver). When your vehicle is important to you make sure you call the company that values your valuables. Heavy equipment? No problem. No wheels? We'll figure it out. Have wheels but no body? Yes, we have that covered as well. Contact Hal Foster, your personal representative, for your next quote: (772) 227-1564
See what you need?
Call us for a FREE Shipping Estimate at (800) 908-6206
Common Trailer Types Available from Heavy Haulers
Heavy Haulers specializes in hauling heavy loads such as construction equipment, oil field rigging and Super Loads. We are wideload experts! We offer an extensive range of trailer choices, including:
Max Weight: 48,000 lbs. | Max Length 53 ft. | Max Width 8.5 ft. | Max Height 11 ft.




Max Weight: 45,000 lbs. | Max Length 29 ft. | Max Width 8.5 ft. | Max Height 11.5 ft.
Max Weight: 150,000+ lbs. | Main Deck Length 29 ft. | Well Width 8.5 ft. | Legal Height Limit 11.6 ft.




Max Weight: 48,000 lbs. | Max Length 53 ft. | Max Width 8.5 ft. | Max Height 8.5 ft.
We transport many brands of trailers across the country and North America
Trust Heavy Haulers to transport any brand of trailer you own. We are experienced in handling all types of brands and manufacturers, we have hands-on experience shipping all trailer manufacturers there is on the road! Some of the trailer brands we commonly ship include:







11423605

MILES TRAVELED






1214292

LOADS SHIPPED







1315658103

TONS TRANSPORTED






921637

CLIENTS SATISFIED