How to Load a Boom Lift with Heavy Haulers
Not every boom lift is created equal, and learning how to load, properly transport, and prevent operational accidents for your specific boom lift is an essential task. However, many tips can help you to safely load and haul boom lift cargo, regardless of manufacturer. Heavy Haulers provides safe boom lift loading and transport. Keep reading to find out more.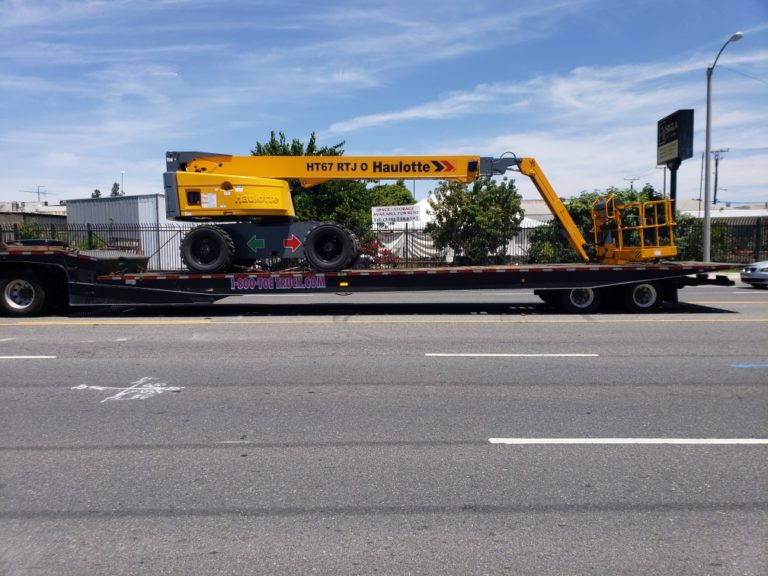 What is a Boom Lift Anyway?
Boom lifts are a type of aerial platform used by workers to undertake a wide variety of tasks. They have a variety of other names too, which can make it quite confusing when you're looking for aid. You may also have seen them referred to as cherry pickers, man lifts, telescopic lifts, or basket cranes. However, they all have the same components.
The main components of a boom lift are:
– Grounded base
– Hydraulic lift and crane system
– Platform or bucket
In some cases, boom lifts are attached to vans or trucks, making it easier to load a boom lift for transport. They're equipped to maneuver safely around objects and can transport people and materials to much higher heights. Boom lifts can typically extend anywhere from 30-170ft and can be electric-powered or powered by an internal combustion engine. They are commonly used by emergency services such as firefighters, and tradespeople such as electricians, window cleaners, and construction workers.
Types of Boom Lifts and How to Transport
The two main types are straight or articulating. Straight booms, sometimes referred to as telescopic boom lifts, have the work platform attached to a telescopic extension arm. With no hinges, this type of boom has limited object maneuverability; however, it's an incredibly solid choice and can be used to reach the highest heights. Loading these booms can be considered the safest and easiest option, due to their lack of moving hinges and increased stability.
Articulating booms, as the name suggests, comprise of multiple boom sections that articulate. These hinged sections enable the extension arm to bend around obstacles. Despite not having as high a reach as a telescopic boom, the articulating boom lift is useful because it can reach hard-to-navigate areas. They can fold up compactly when not in use, making it easier to load a boom for transportation. Usable both indoors and outdoors, a boom lift can safely be loaded onto a flatbed truck for transport and does not need to be shipped in an enclosed carrier.
Loading equipment via forklift is common in many industries, and because the step deck trailer platform sits closer to the ground, it means forklift operators don't need to raise the forks as high to load and unload cargo. Thus, the loading and unloading process for step deck trailers is much safer for everybody involved.
Another essential advantage of shipping using step deck trailers is that the lower deck height can allow up to 41″ of additional cargo height more than a standard flatbed trailer before you'll need to apply for a height permit.
Large cargo can be placed lower to the ground, ensuring that the shipment meets federal shipping and transport regulations without additional paperwork stress or delays. Using a step deck trailer tow, you can transport equipment up to 11ft in height, whereas flatbed trailers can carry equipment with a max. height of 8ft.
Preparing a Boom Lift for Loading
Before you load a boom lift, ideally, you need to be aware of the contents of the operations manual. This not only helps you to prepare for the use of the boom lift while on job sites, but it will also provide critical information regarding how to properly prepare for loading onto a truck for transport.
Before loading a boom lift, the boom must be in the fully retracted position. If your model has a 360 turntable, make sure that its wheels are circle-end and that all axles are withdrawn before stowing. Not stowing correctly may result in damage during boom lift haulage, not just to the machine but also to people around it. Also, make sure that the turntable is locked, so it doesn't rotate while in transit.
Make sure that you've got tie-down chains and straps at the ready to secure the machine once it's on the trailer. All free moving parts should be restricted before loading and leaving your job site.
Additional Pre-Departure Checks for Boom Lift Transport
– Check emergency controls are functional
– Ensure necessary protective gear is onboard
– Inspect all hydraulic, pneumatic, electrical, and fuel systems
– Check cables, locking pins, and harnesses are secure
– Confirm the guard rail is secure
– Make sure missing parts or loose-fitting parts are reported or fixed
– Finally, when loading a boom lift, the machinery must be slowly driven onto the trailer. One or two other colleagues can help guide the vehicle on and off the trailer, so that blind spots are all covered, and there are no collisions while trying to get the equipment in position before leaving the site.
Get Your Boom Lift Shipping Quote Now!
Step 1:

Fill Out Quote Form

Fill out the short & easy quote form.
Step 2:

Speak With An Agent

We'll pick up your heavy equipment or vehicle.
Step 3:

Get Transported On Time

We deliver on time so you can get back to work.