Heavy Haulers Transports Boom Lifts All Across North America and Overseas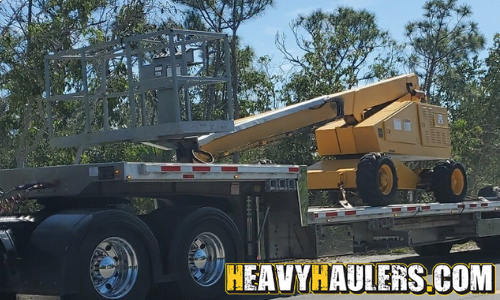 Contact Our Boom Lift Shipping
Specialist Now!
(800) 908-6206
Heavy Haulers is the industry-leading boom lift shipping company. We transport standard and oversize boom lifts all across North America and even overseas. A dedicated logistics agent finds the best truck, driver, and trailer to ship your boom lift. Your boom lift is essential to your livelihood, and Heavy Haulers transports it with care. Every detail is pre-planned with the highest safety standards available. We are license, bonded, and insured to haul boom lifts all across the country. Our dedicated international division is available to move your boom lift with port-to-port and other options.
Boom lifts are most commonly transported on flatbed trailers, removable gooseneck trailers (RGN), or step deck trailers. Based on the dimensions, weight, and needs of your boom lift freight, your logistics agent will determine the best trailer to fit your needs. We handle all permits and paperwork for boom lift transport, so you can be confident in your shipping experience. Call now for a boom lift shipping quote! (800) 908-6206
Quality and Confident Boom Lift Transport Services
Heavy Haulers has over a decade of experience shipping boom lifts all across the country. Our mission is to create a quality transport experience that our clients have confidence in. At Heavy Haulers, shipping a boom lift isn't about finding the first driver, we work with the best. That's because we understand your boom lift is important to you. At Heavy Haulers we ship all heavy equipment as if it were our own.
• The articulating, or "knuckle" booms have multiple sections that articulate, creating an aerial platform that allows workers to gain access to places that are otherwise blocked or have obstacles.
• Telescopic Boom Lifts are a differing sort of high-level work platform. These lifts reach horizontally toward your destination, instead of vertically. Also known as "stick booms," these platforms allow reach over unstable terrain or other obstacles to complete a job.
Whatever type of boom lift you need to transport, Heavy Haulers will get the job done safely and with the quality service you expect from a shipping company. Call now and let's get started! (800) 908-6206
Call Now for Boom Lift Transport! (800) 908-6206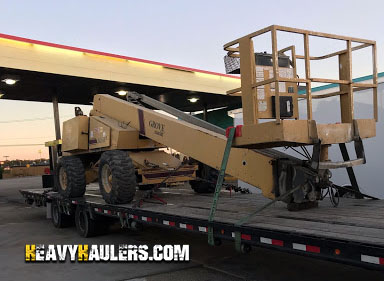 HOW TO SHIP A BOOM LIFT
Heavy Haulers has the experience with the right equipment to ship your boom lift. Boom lifts ship as oversized loads and may need special permitting for city streets or narrow highways. Most boom lifts can be transported on RGN trailers or flatbed trailers, depending on the weight and length of the boom. Some boom lifts with attachments such as compressed air connectors for power tools, electrical outlets, or carrying frames for windows. Each of these elements must be secured to protect the delicate wiring and ensure that the boom lift travels safely contained. Protecting the tilt sensors is especially important. To ensure this, you'll need professional route planning, to make sure your oversized load can travel safely along each street and possibly a team of escort drivers. Moving these large articulated lifts requires drivers certified in driving larger rigs and transporting larger loads.
Recent Boom Lifts Transported by Heavy Haulers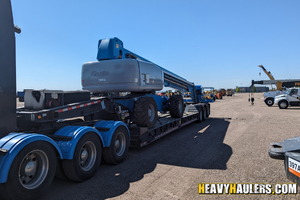 2022 Genie S25 Aerial Work Platform (Inoperable) Shipped to IA
Origin: Longmont, CO 80504
Destination: Centerville, IA 525444
Specs: 45,0000lbs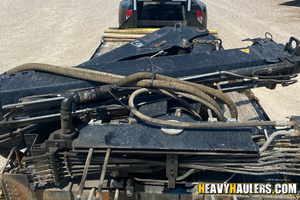 2004 HIAB 144B Knuckle Boom Shipping
Origin: ABERDEEN, ID 83210
Destination: VALDOSTA, GA 31602
Specs: 10 FT. LONG, 8 FT. WIDE, 10 FT HIGH; 6000 LBS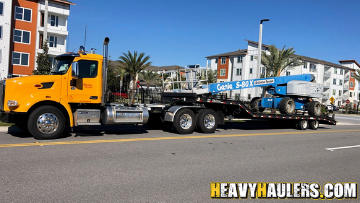 Genie S80 Boom Lift Hauled to Lake Mary, FL
This 8.3 ft. high 2000 Genie S80 Boom Lift was shipped on a short haul from Daytona to Lake Mary, FLorida by Jamie; a Heavy Hauler's logistics load specialist. This lift weighed 35,5000 pounds and had a width of 8 ft. which did not necessitate permits. After arranging for its transport insurance, Jamie loaded the 36 ft. long Genie S80 Boom Lift Boom Lift onto a Heavy Haulers RGN trailer with the boom secured onto the rear high deck above the axles.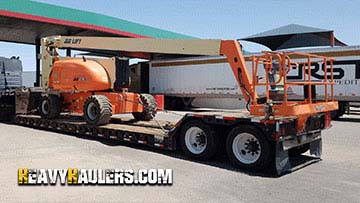 Shipping a JLG 800A Articulated Boom Lift on an RGN Trailer
Let Chris Kyle transport your next JLG lift! This JLG 800A man lift was recently picked up in Tucson, AZ and delivered to its destination in San Jose, CA. This particular JLG lift was 37 feet long, 8 feet wide, 10 feet high and weight approximately 35,000 pounds. If you are looking for a reliable company to get your next shipment of freight transported call Chris Kyle at Heavy Haulers.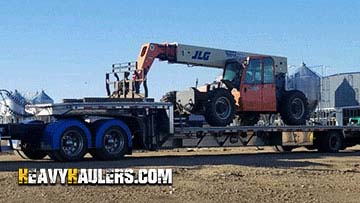 26,000lbs 2006 JLG G9-43 Boom Lift hauled to IL
Willam Thomas. at Heavy Haulers recently transported this 2006 JLG G9-43 boom lift. This client needed a same day pick up. Willam Thomas was able to secure a carrier within the first hour of contact. This JLG boom lift was picked up in Yale, SD and delivered to Rockford, IL. It was 20 feet long, 8 feet wide, 8 feet high and 26,000 pounds. Call Willam Thomas. for more information on your next quote: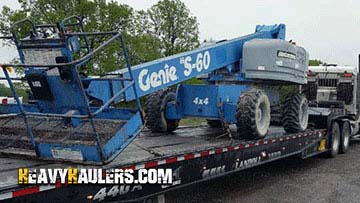 Loaded a Genie S60 Telescopic Boom Lift on a hotshot trailer
Heavy Haulers recently hauled this 2006 Genie S60 Telescopic Boom Lift from Harrisonville, New Jersey, to Nixa, Missouri. The trip was more than 1,130 miles long. Weight: 20,000 pounds. Length: 28 feet. Width: 8 feet 2 inches. Height: 8 feet 9 inches. To haul your telescopic boom lift anywhere in the country, talk to Mike at Heavy Haulers directly at:
Call Now for Boom Lift Transport! (800) 908-6206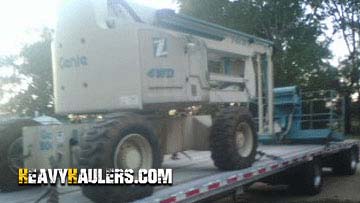 Shipping a Genie Z-45/25 Articulated Boom Lift
Heavy Haulers recently shipped this Genie Z-45/25 Articulated Boom Lift from Overland Park, Kansas, to Denton, North Carolina. The trip was more than 1,000 miles long. To ship your articulated boom lift anywhere in the country, speak with Brian at Heavy Haulers directly at: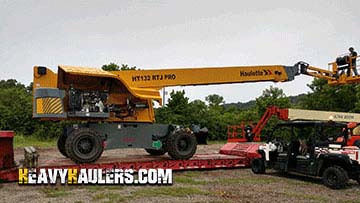 Transporting a Haulotte HA132RTJ Telescopic Boom Lift
Heavy Haulers transported this Haulotte HA132RTJ Boom Lift for a new customer. This journey began in Birmingham, AL and ended nearly 700 miles away in Shiloh, OH. Length: 38 ft. 8 in. Width: 10 ft. Height: 8 ft. 2 in. Weight: 48,000 lbs. If you need your heavy equipment transported call Brian G. at Heavy Haulers to receive your quick quote today.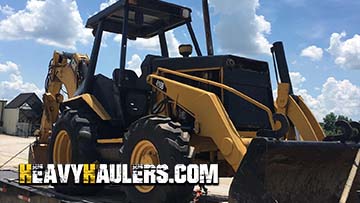 Hauling a JLG 460SJ Boom Lift on a hotshot
Does your JLG Lift need a lift? Well then you're in luck because Heavy Haulers has what you need and want! Top rated with the BBB? ...Yes. Great reviews? ...More yes. Known for solid customer service? I said yes! Put down the questions and pickup your phone and call us to see for yourself. This lift was quickly and safely towed to its next job site ready to work. If your business needs a lift to the next construction site, whether an actual lift or any other heavy equipment and machinery, call the company called by all to haul - Heavy Haulers. Brian Goncharsky is ready to provide you with your next quote: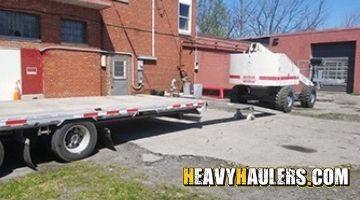 Shipping 1999 Terex TB60 4x4 Boom Lift
Does your 1999 Terex TB60 Boom Lift need a lift? Heavy Haulers is the company to call because we haul it all! From small to big we're the ones for the gig. Usman added this boom lift to his fleet because his company signed their largest job of the year and after confirming that Heavy Haulers is top rated with the BBB he trusted us to transport his new investment. Our first time customers become return customers, no doubt it about. Thanks for the opportunity, Usman. We hope your company keeps growing and we can't wait to haul you to the next job site! Contact Willam Thomas and tell him all about your next deadline and he'll take care of you: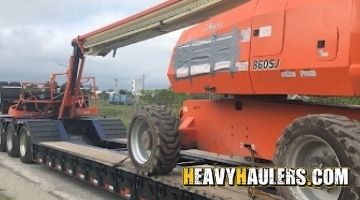 Boom Lift Transported On a Double Drop Trailer by Heavy Haulers
Milos Visnjic is the versatile shipper of this JLG 1850SJ Boom Lift which was picked up in Jacksonville Florida for delivery to East Bethany, in upstate New York. The 60,000 pounds Boom Lift was loaded onto a double drop deck trailer for the 1065 mile cross country journey, after the overweight cross-state permits were ready. Milos and the Heavy Haulers team took on the 48 ft. long, 8.2 ft. wide and 10 ft. high boom lift and delivered with the boom supported by the high deck above the rear axles.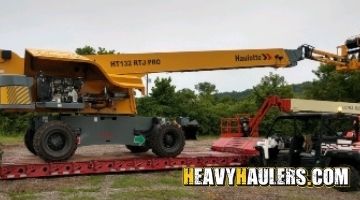 Haulatte HA132RTJ Boom Lift Shipped On an RGN Trailer to Ohio
This 48,000lbs Haulatte HA132RTJ boom lift was shipped to Shiloh, Ohio from Birmingham, Alabama by Brian G. and the experienced Heavy Haulers equipment handlers. Brian G. loaded the 8.2 ft. high boom lift onto an RGN trailer from Heavy Haulers that had the capacity for its 48,000-pound weight, and 10 ft. width. Since the 38.9 ft. long Haulatte HA132RTJ boom lift was 2,000 pounds above weight limit while also exceeding in width, Brian G. sourced permits for the 653-mile journey.
Call Now for Boom Lift Transport! (800) 908-6206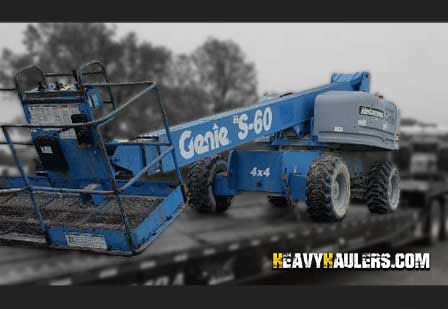 SEE WHAT HEAVY HAULERS CAN DO FOR YOU
Heavy Haulers has your back through the entire shipping process:
 ● ✓ We will transport your Boom lift to all 50 states – including overseas.
 ● ✓ Your load always travels insured – we are a professionally bonded company
 ● ✓ We will provide all paperwork for weigh stations, destination, and permits
 ● ✓ Friendly drivers available to speak with during shipping
 ● ✓ Free Fast equipment shipping & transport quotes available – (800) 908-6206
Come see the difference that experienced professionals can make with YOUR container unloader shipping needs. Heavy Haulers as the right sized equipment, carefully inspected and calibrated to safely move your expensive equipment.
HEAVYHAULERS.COM
START YOUR SHIPMENT TODAY!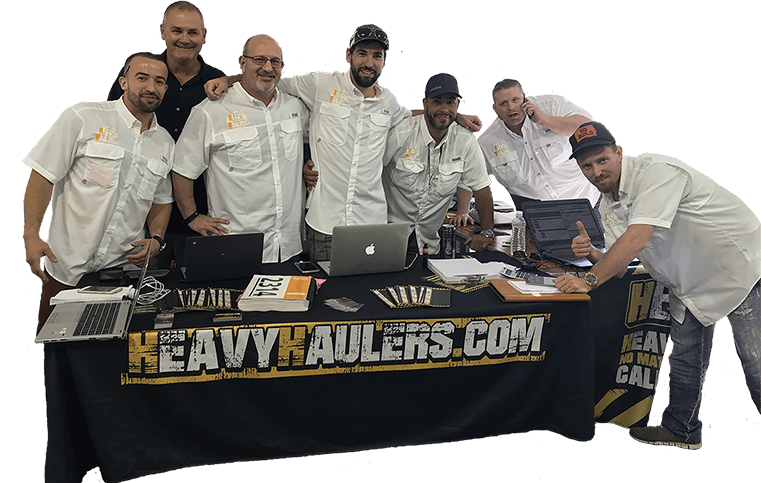 We Are Ready To Help You Haul Your Equipment!
We Know How to Transport all Types of BooM Lifts.
Boom lifts, due to their weight and size, should be transported by a heavy hauling company. When you need a boom lift for electrical work or a construction project, we can safely deliver your equipment even through undeveloped terrain. For window washing or repair in cities, we can deliver there, too. Our drivers are certified to handle deliveries through congested city streets and tight traffic. These are the types of Boom lift Heavy Haulers can move:
Lift transportation For:
Cherry Pickers
Articulating Boom Lifts
Telescopic Boom Lifts
Telescopic Forklifts
Industrial Forklifts
Common Equipment Heavy Haulers Transports
Trust Heavy Haulers to transport any brand of equipment you own. Most of our drivers are experienced heavy-machinery operators who can safely maneuver your loads aboard our trailers. Some of the brands we have shipped include:
Heavy Haulers Ships Across All 50 States
Alabama - Alaska - Arizona - Arkansas - California - Colorado - Connecticut - Delaware - Florida - Georgia - Hawaii - Idaho - Illinois - Indiana - Iowa - Kansas - Kentucky - Louisiana - Maine - Maryland - Massachusetts - Michigan - Minnesota - Mississippi - Missouri - Montana - Nebraska - Nevada - New Hampshire - New Jersey - New Mexico - New York - North Carolina - North Dakota - Ohio - Oklahoma - Oregon - Pennsylvania - Rhode Island - South Carolina - South Dakota - Tennessee - Texas - Utah - Vermont - Virginia - Washington - West Virginia - Wisconsin - Wyoming
Looking For Transport
With a Specific Trailer?

Max Weight: 150,000+ lbs. | Main Deck Length 29 ft.
| Well Width 8.5 ft. | Legal Height Limit 11.6 ft.

Max Weight: 48,000 lbs. | Max Length 53 ft.
| Max Width 8.5 ft. | Max Height 8.5 ft.
Max Weight: 48,000 lbs. Max Length 53 ft. |
Max Width 8.5 ft. | Max Height 11 ft.
Max Weight: 45,000 lbs. | Max Length 29 ft.
| Max Width 8.5 ft. | Max Height 11.5 ft.
Heavy Haulers Pilot Car Services
Are you looking for a reliable pilot car
for your transport?
Get Started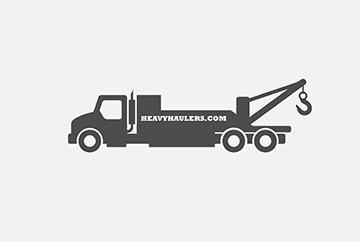 Boom Lift Towing Services
How to Decide Towing VS Shipping
Need a Boom Lift towing service? Heavy Haulers is North America's largest towing service provider. We provide towing services for all heavy machinery, including light, medium, and heavy-duty equipment. We have operated in the industry for more than a decade, and we have the experience, the best towing vehicles, and the best towing personnel who will ensure your Boom Lift is in its destination right when you need it. Call us today on (800) 908-6206 and experience the best towing services ever.