Vermont Heavy Machinery Shipping Services
Heavy Haulers is your most reliable choice for shipping construction, agriculture heavy machinery and equipment throughout the U.S., Canada and Mexico. We're the premier shipper of construction equipment in the country. Heavy Haulers has years of freight-hauling and heavy-equipment shipping experience. Our courteous representatives are the most knowledgeable in the business. We offer door-to-door service, port-to-business transport and same-day loading. Call today for outstanding service, great rates and successful shipments!
Ask Heavy Haulers to transport your machinery between Vermont and any state in the nation, Canada and Mexico. Contact Heavy Haulers for FREE transport estimates at (800) 908-6206.
Heavy Haulers visits Vermont highways frequently. The three interstates that operate in the state include:
● I-89 - goes southeast across the state from the northeast corner, between Canada and New Hampshire;

● I-91 - runs north/south down the eastern side of the state, from Canada to Massachusetts;

● Tok - connects with Glenn Highway south of Fairbanks;

● I-93 - short highway that branches off I-91 in the eastern part of the state and heads into New Hampshire.
Heavy Haulers can get your machinery shipped to every city in Vermont including:
Burlington, VT; Essex, VT; South Burlington, VT; Colchester, VT; Rutland, VT; Bare, VT; Montpelier, VT; Winooski, VT; St. Albans, VT; Newport, VT; Hartfood, VT; Springfield, VT; Middlebury, VT; Barre City, VT; Shelburne, VT; Barre, VT; Montpelier, VT; Winooski, VT; St. Johnsbury, VT; St. Albans City, VT; Swanton, VT; St. Albans, VT; Northfield, VT; Lyndon, VT; Morristown, VT; Waterbury, VT.
Transports Around the State of Vermont by Heavy Haulers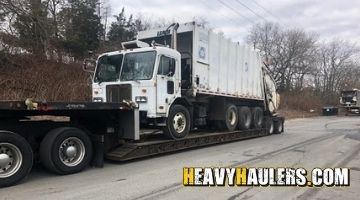 Transporting a Peterbilt Garbage Truck to Vermont
Origin: Egg Harbor Township, NJ
Destination: Burlington, VT
Specs: 1 Peterbilt Garbage Truck / Rear Loader 39780# 37L 8.5W 11.6H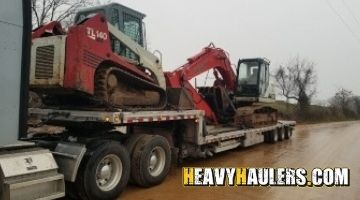 Shipping a tractor from Vermont to North Carolina
Origin: Brattleboro, VT
Destination: Four Oaks, NC
Specs: 2015 Veermer RTX 1250 tractor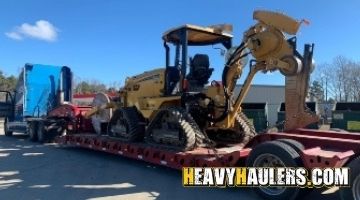 Vermont Transport: Veermer Tractor
Origin: Baskerville, VA
Destination: Stowe, VT
Specs: 2015 Veermer RTX 1250 tractor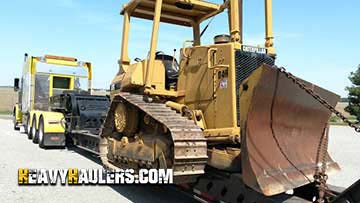 Shipping a Caterpillar Dozer from Vemront to Washington
Heavy Haulers recently transported this Caterpillar D4H Dozer. This route was 566 miles from Morristown, VT to Shaw, WA. This Caterpillar Dozer was 14 ft. long, 8 ft. 5 in. wide, 9 ft. 8 in. high and weighed 24,000 pounds. This load was within legal requirements and did not need any type of If you need any Dozer transport call our agent Brian G. to schedule your next shipment today: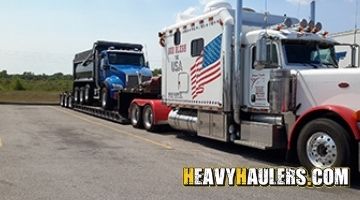 Transporting Kenworth T880 Dump Truck cross country from Vermont to Washington
Heavy Haulers shipped this 2018 Kenworth T880 Dump Truck from . It was picked up in the city of Burlington, Vermont and delivered to a terminal in Tacoma, Washington. A total of 2,839 miles. JT at Heavy Haulers was able to handle all of the necessary paperwork for this shipment. Call JT at Heavy Haulers to schedule your next load anywhere in the United States, Mexico or Canada!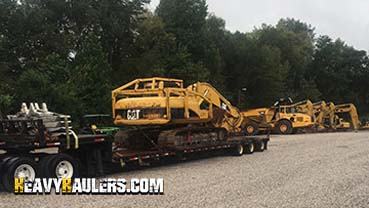 Hauling a Caterpillar Excavator from Vermont to New Jersey
Trust in Heavy Haulers to get your Excavator shipment on the road as early as today. After year of being in the industry Mike Phillips at Heavy Haulers has the experience to make your next shipment a breeze. This is a 2006 Caterpillar 320CL Excavator that was picked up in Stowe, VT and delivered to Long Island City, NY 340 miles away. This Caterpillar was 31 feet long. 10 feet 7 inches wide, 11 feet high and weighed 49,000 pounds. If you have any oversize equipment call Mike Phillips at Heavy Haulers today.
Looking For Transport
With a Specific Trailer?

Max Weight: 150,000+ lbs. | Main Deck Length 29 ft.
| Well Width 8.5 ft. | Legal Height Limit 11.6 ft.

Max Weight: 48,000 lbs. | Max Length 53 ft.
| Max Width 8.5 ft. | Max Height 8.5 ft.
Max Weight: 48,000 lbs. Max Length 53 ft. |
Max Width 8.5 ft. | Max Height 11 ft.
Max Weight: 45,000 lbs. | Max Length 29 ft.
| Max Width 8.5 ft. | Max Height 11.5 ft.
In Vermont and Looking for "Heavy Haul Transport Near Me"? We've Got You Covered!
Vermont, known for its vast forests, is an eastern state that Heavy Haulers is proud to serve. Whether you're transporting logging equipment or construction machinery we're there to get it done right. We handle all heavy load shipping needs, no matter where you are in Vermont. So when you need heavy haul transport "near me" give us a call. We'll get it done right! (800) 908-6206
Vermont Rail Yards & Airports Heavy Haulers Transport To/From
Heavy Haulers delivers to all the rail yards in Vermont. Five short line railroads provide services in Vermont. The busiest rail yards in the state include:
● Burlington - Burlington Rail Yard;

● Rutland - Rutland Rail Yard.
Heavy Haulers ships to and from airports in Vermont. Vermont has nearly 20 airports, including more than a dozen general aviation airports. The busiest airports in Vermont are:
● Burlington - international airport.

● Rutland - regional airport.
When Shipping Equipment in Vermont with Heavy Haulers;
When you choose Heavy Haulers, you're opting for quality. Plenty of fly-by-night operations want your transportation business. We are professional transporters who are in this for the long run. Our nationwide construction-equipment hauling company is:
● Experienced - More than 10 years transporting cargo in the U.S.;

● Double Insured - Carrier and Contingency, Just In Case;

● Professional - Fully Licensed, Bonded and Accredited;

● Efficient - We accept nearly all forms of payment, including cash.
Experience Shipping Heavy Equipment to Vermont
Heavy Haulers specializes in hauling heavy loads such as construction equipment, oil field rigging and Super Loads. We are wideload experts! Heavy Haulers specializes in the heavy stuff! However - we can accommodate all types of equipment no matter the weight. Below you'll find some common pieces of equipment we've transported for the past 10+ years!
Common Equipment Heavy Haulers Transports
Trust Heavy Haulers to transport any brand of equipment you own. Most of our drivers are experienced heavy-machinery operators who can safely maneuver your loads aboard our trailers. Some of the brands we have shipped include:
Heavy Haulers Also Ships Heavy Equipment in The Following Cities:
Richford, VT; Brandon, VT; Poultney, VT; Arlington, VT; Johnson, VT; Jericho, VT; Castleton, VT; Enosburg Falls, VT; Lyndonville, VT; South Barre, VT; Hardwick, VT; Williamstown, VT; Wallingford, VT; Fairfax, VT; Graniteville, VT; Chester, VT; Woodstock, VT; Island Pond, VT; Jeffersonville, VT; Hinesburg, VT; Ludlow, VT; Bethel, VT; East Barre, VT; Orleans, VT; Manchester, VT; South Royalton, VT; North Springfield, VT; Barton, VT; Derby Line, VT; Norwich, VT; North Troy, VT; Alburgh, VT; Derby Center, VT; Saxtons River, VT; Bradford, VT; Shelburne, VT; East Middlebury, VT; Chelsea, VT; Hyde Park, VT; Pittsford, VT; Wells, VT; Putney, VT; Danville, VT; Websterville, VT; Ascutney, VT; South Shaftsbury, VT; Groton, VT; Richmond, VT; Wells River, VT;