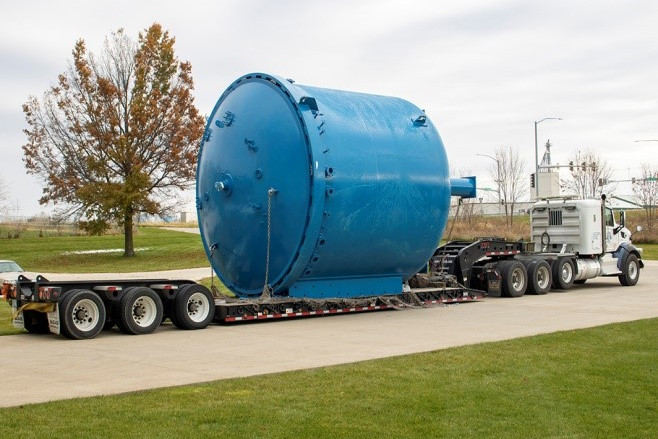 Shipping an Industrial Boiler Cross Country
Oversize Industrial Boiler Picked Up at Port
This 79,366-pound
industrial boiler tank transport required a lot of ingenuity and creativity to ship from the port in Seabrook, Texas to Marion, Iowa. Jay from Heavy Haulers gladly undertook the consignment, proving that we do not shy away from oversize cargo and we have the expertise, experience, and capacity to handle all dimensions of super loads. The contract was a referral to Jay Hays by a previous Heavy Hauler's customer who had experience of our capable, seamless delivery services.
After a load evaluation, Jay settled on our Heavy Haulers stretch
RGN trailer due to the over-dimensional and intricate nature of this cargo. The industrial boiler tank had a standard length of 23.82 ft. but its 17.1 foot height and width respectively were beyond limit. Despite the obvious complications involved, Jay and his Heavy Hauler's team members completed the transport within the most cost-effective, secure and time-efficient means possible.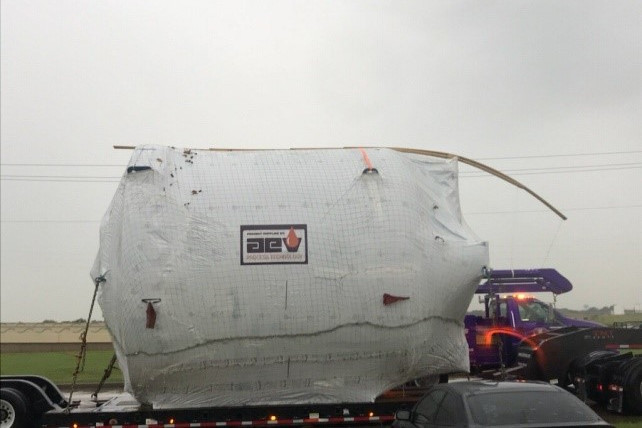 Preparation for shipping the tall boiler tank was a project in itself, and every aspect of the move had to be carefully choreographed and rehearsed by Jay and his teammates. Since the load was oversize and the journey across multiple states, Jay worked on all the weight permits and secondary cargo insurance. The 7-axle extended RGN trailer selected for its weight versatility and removable gooseneck; could be detached to lower the platform, which simplified the industrial boiler tank's loading or unloading.
Cranes and tow wreckers were used to load the large tank onto our Heavy Haulers RGN trailer, an operation that took almost three hours.
Industrial Boiler Loaded on an RGN and Hauled Off

Cranes and tow wreckers were used to load the large tank onto our Heavy Haulers RGN trailer, an operation that took almost three hours. The team, led by Jay, then set about securing the entire tank for the cross country haul, using chain tie downs, tarpaulins, and mesh rigging. A
Boom truck was used when accessing the top reaches of this industrial boiler tank for tarping and rigging purposes.
After the physical route survey was completed, and permits procured, the client was given an expected time for delivery and Jay set out
escort vehicles to accompany the transport.
The large tank transportation headed north towards Houston Texas on the I-45 N and the boom truck traveled alongside the pilot cum escort vehicles to facilitate the removal of on-road obstacles like low hanging utility cables.
Jay and the Heavy Haulers load handlers designed a flat plank aperture which was secured to the top of the load. This would catch any missed cables, causing them to slide off the top without snagging on the tank.
Industrial Boiler Safe Delivery

A total of 23 on-the-road hours were used to safely ship the industrial boiler tank to Marion, Iowa. The load was driven straight into the recipient client's warehouse, a process made easy by the RGN trailer's reverse-into-lot capabilities.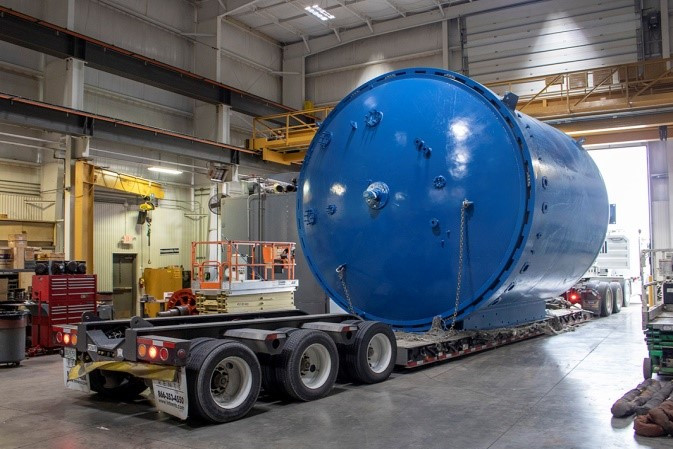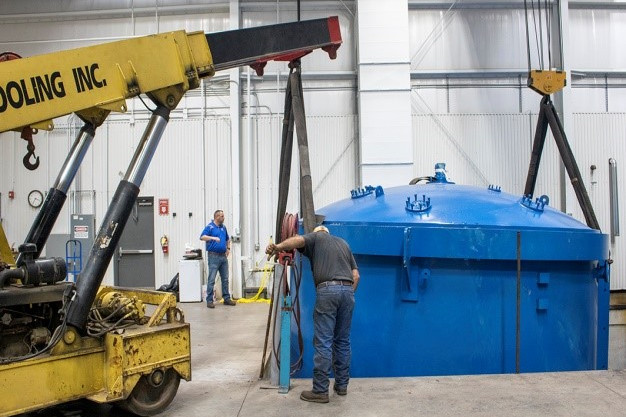 Jay handled the entire project's logistics and freight coordination from start to finish. You can contact Jay anytime on (800) 908-6206.
Height: 1 ft.
Weight: 79,366 lbs.
Length: 23.82 ft.
Width: 17.1 ft.
Transport miles: 1,087.5 miles
Jay Hays
Jay Hays is a senior logistics professional at Heavy Haulers, he coordinated this entire transport from start to finish, If you'd like a shipping estimate or more information on transportation from Jay Hays, please call him at his direct contact below.
Transport Your Oversize Industrial Boiler With Heavy Haulers Today!
Step 1: Fill Out Quote Form
Fill out the short & easy quote form.
Step 2: Speak With An Agent
We'll pick up your heavy equipment or vehicle.
Step 3: Get Transported On Time
We deliver on time so you can get back to work.
Transport Specialist
Jay Hays

Jay specializes in hauling heavy equipment, boats, and aircrafts. For complex moves, Jay knows how to make it simple. An out-of-the-box thinker, he always finds a creative solution for the more complicated transports. It's one of the many reasons his clients keep coming back.