Bucket Truck Transport Services | Heavy Haulers | (800) 908-6206
Heavy Haulers specializes in large equipment transport and oversized load shipment across North America and to all 50 states. Moving large equipment, like a boom truck, is more challenging tat a simple cors-country shipment. Securing the load, placing it on the correctly rated trailer, and moving it with a rig powerful enough to get into tough backcountry and nimble enough to negotiate heavy urban traffic is a job for the experts – and that's where Heavy Haulers shines.
Professional transport services from Heavy Haulers includes familiarity with many kinds of bucket trucks, including the best ways to load, unload, and haul them for our signature door-to-door service. Experienced trip planners plot your route, whether it's one bucket truck or your entire fleet – and allow you to keep up with its travel in real time! For bucket truck and oversized load shipping services, trust Heavy Haulers teams of licensed, bonded drivers. Learn more with a quick phone call to (800) 908-6206.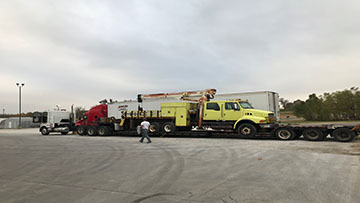 Shipping a boom truck
Ship Your Boom Truck with Heavy Haulers
Although bucket trucks aren't the largest things Heavy Haulers ships, they can be some of the more challenging. Ensuring that the bucket lift is secure without damaging the fragile wiring that allows it to safely lift takes patience and attention to detail. Securing the articulating boom is critical to ensuring that your bucket truck arrives safely and allows our driver to carefully balance the lad.
These types of vehicles are versatile and used for many industries, including aerospace, construction, refinery, and energy. Transporting a bucket/boom truck to your place of business requires a special mode of transportation – and we've got you covered. Double insured drivers familiar with many types of terrain, from farms to the mountains, get your equipment on time and ready to work when you are.
We transport many brands of Trucks across the country and North America
Trust Heavy Haulers to transport any brand of truck you own. We are experienced in handling all types of brands and manufacturers, we have hands-on experience shipping all truck manufacturers there is on the road! Some of the truck brands we commonly ship include:
Heavy Haulers Ships Across All 50 States
Alabama - Alaska - Arizona - Arkansas - California - Colorado - Connecticut - Delaware - Florida - Georgia - Hawaii - Idaho - Illinois - Indiana - Iowa - Kansas - Kentucky - Louisiana - Maine - Maryland - Massachusetts - Michigan - Minnesota - Mississippi - Missouri - Montana - Nebraska - Nevada - New Hampshire - New Jersey - New Mexico - New York - North Carolina - North Dakota - Ohio - Oklahoma - Oregon - Pennsylvania - Rhode Island - South Carolina - South Dakota - Tennessee - Texas - Utah - Vermont - Virginia - Washington - West Virginia - Wisconsin - Wyoming
Looking For Transport
With a Specific Trailer?

Max Weight: 150,000+ lbs. | Main Deck Length 29 ft.
| Well Width 8.5 ft. | Legal Height Limit 11.6 ft.

Max Weight: 48,000 lbs. | Max Length 53 ft.
| Max Width 8.5 ft. | Max Height 8.5 ft.
Max Weight: 48,000 lbs. Max Length 53 ft. |
Max Width 8.5 ft. | Max Height 11 ft.
Max Weight: 45,000 lbs. | Max Length 29 ft.
| Max Width 8.5 ft. | Max Height 11.5 ft.
Heavy Haulers Pilot Car Services
Are you looking for a reliable pilot car
for your transport?
Get Started