Transporting a Volvo Semi Truck
Daniel, one of our reputable heavy machinery and equipment specialists was tasked to transport a Volvo Semi Truck. The distance to be covered was 1,267 miles. This was from Osceola, Wisconsin to Headland, Alabama. Our client had given us a two-day time limit to deliver. Daniel processed the shipment very fast and within no time, he had all the documents in hand. He chose a flatbed trailer due to the measurements of the truck head and sent one of our professional drivers to collect the Volvo truck head. Daniel guided our driver to use the interstate 65 S after confirming he had successfully loaded the truck.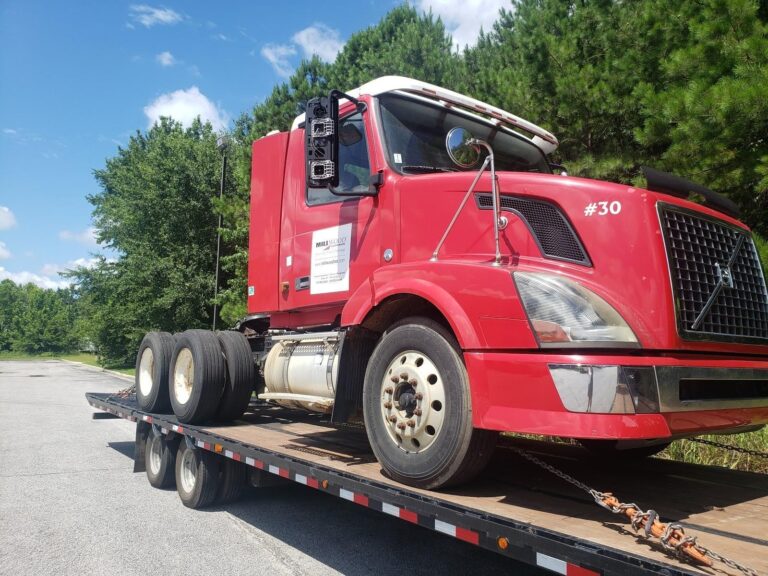 Secure Volvo Semi Truck by Heavy Haulers
Daniel guaranteed our client a timely and secure delivery. At Heavy Haulers, we never promise what we cannot offer. Hours into the shipment, our driver carried out a thorough inspection on the Volvo semi truck and also made sure the straps were securely tightened. Later, it was already dark and hence he parked the trailer and got a hotel for some night sleep. The next day he progressed as planned and hours before the deadline he had already arrived at the company where the truck was needed. Our client was very happy about the timeliness.
Personalized Volvo Semi Truck Tranpsort Services
Transportation of any heavy equipment and machinery as a whole or in parts is affordable with us. We have mastered all the necessary steps to ensure that our clients needs are given undivided attention. Timeliness and competency have over the years earned us our clients trust and loyalty. Clients previously shipping their heavy machinery through other means have been lured by our affordability and flexibility to ship with us over the years. Experts such as Daniel together with a handpicked and experienced team of professional specialists and drivers have the prowess necessary not only for short distance but also long-distance shipments for Volvo semi trucks. We are available 24/7. Call us today (800) 908-6206.
Step 1:

Fill Out Quote Form

Fill out the short & easy quote form.
Step 2:

Speak With An Agent

We'll pick up your heavy equipment or vehicle.
Step 3:

Get Transported On Time

We deliver on time so you can get back to work.