We Transport Rock Crushers Anywhere Throughout North America!
Rock crushers are critical to a smooth excavation job. These precision machines perform exactly how you think – although getting them from one place to another is a little more complex than the actual operation of rock crushers. Heavy Haulers is a speciated heavy machinery company focused on hauling your rock crusher and other excavation gear from one job sit to the next.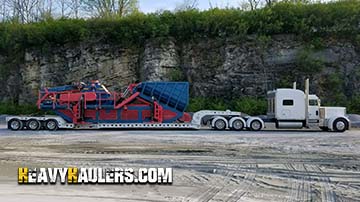 Rock Crusher Transport
Rock Crusher Shipping Trailers Available in 48 Hours.
Rock crushers can come in many different sizes, depending on the size of the rocks that need to be crushed. Using a rock crusher during an excavation or mining job makes disposing of waste material easier, and can even have future benefits, as smaller gravel can be used for other things. Heavy Haulers can help move your rock crusher from one site to the next, as well as the rest of your mining equipment.
Trust Heavy Haulers to Move Your Rock Crusher
Most mining and excavation jobs use rock crushers with different degrees of capability and a variety of the desired size of the fragments produced. Crushers are designed to work with a certain parameter of size, so your job may have one crusher or multiple ones, including machines with multiple plates. Once your crushing is done, then the gravel and debris are passed through to a grinder, followed by a ball mill. A typical processing line at a mine might consist of a crusher followed by a SAG mill followed by a ball mill.
Common Trailer Types Available from Heavy Haulers
Heavy Haulers specializes in hauling heavy loads such as construction equipment, oil field rigging and Super Loads. We are wideload experts! We offer an extensive range of trailer choices, including:
Max Weight: 48,000 lbs. | Max Length 53 ft. | Max Width 8.5 ft. | Max Height 11 ft.




Max Weight: 45,000 lbs. | Max Length 29 ft. | Max Width 8.5 ft. | Max Height 11.5 ft.
Max Weight: 150,000+ lbs. | Main Deck Length 29 ft. | Well Width 8.5 ft. | Legal Height Limit 11.6 ft.




Max Weight: 48,000 lbs. | Max Length 53 ft. | Max Width 8.5 ft. | Max Height 8.5 ft.
The Different Tasks That Rock Crushers Are Most Often Used For
As an illustration, you should be cognizant that such applications may include uses such as for gravel while building a road, or other such similar purposes. Moreover, you ought to consider the fact that sometimes many rock crushers are used in conjunction with one another so that the rocks that are ejected by one rock crusher will then be fed into the other rock crusher for further processing. Furthermore, you should be aware that this process is frequently utilized when the owner of the rock crusher wishes to be able to produce a final product that is made up of multiple tiny rocks.
Consequently, you ought to be aware that this process is used to create very fine rocks by combining multiple stages of the use of a group of different rock crushers. Moreover, you ought to be cognizant that a rock crusher must be shipped carefully if you want to be able to use your rock crusher at your job site. Hence, you should understand that only a business that has plenty of experience with shipping rock crushers will be capable of shipping your rock crusher safely and securely.
Additionally, you should keep in mind that Heavy Haulers has the experience needed to be able to transport your rock crushers safely. Heavy Haulers has also been in the business of transporting rock crushers for quite some time. Therefore, you will be able to have a great deal of peace of mind whenever you entrust your rock crushers to the team of experts at Heavy Haulers. Call Heavy Haulers toll free at (800) 908-6206 and get a free quote for your rock crusher transport needs!