Flexible Snowmobile Shipping Services
Wherever you're planning to ship a snowmobile, we've got personnel waiting to assist you. We're a snowmobile shipping company with a nationwide network of snowmobile transport professionals, and we can help you to ship from every major U.S. city as well as remote destinations. It doesn't matter to us if you're planning to attend snowcross championships in Sweden, sending a used snowmobile from Wyoming, bringing your snowmobile out of storage, or moving to another state, we're a flexible snowmobile shipping transport services provider that can accommodate your snowmobile hauling needs.
As part of our snowmobile transport service, we can provide you with expedited enclosed shipping, door-to-door snowmobile transport, oversized snowmobile shipping, route planning, permit handling, border crossings, as well as additional protection for expensive snowmobiles. We can customize our load tracking service to alert you as often as you need, so you can always know where your shipment is. Call for a free shipping estimate! (800) 908-6206
Contact Our Expert Shipping Specialist's
(800) 908-6206
Professional Snowmobile Shipping Transport
Snowmobile shipping services at Heavy Haulers are handled by fully insured, qualified professionals that know their way around a snowmobile. Over the last decade, we've professionally shipped snowmobiles from Arctic Cat, Ski-Doo, Yamaha, Polaris, and more. We're a snowmobile transport company that's built our reputation on hauling snowmobiles safely, securely, and efficiently. We don't expect you to know the ins and outs of how to haul a snowmobile, but our friendly office staff is more than happy to provide you with helpful advice whenever you need it.
Snowmobiles vary in size, weight, manufacturer, and model. In its simplest form, it's a motorized sled designed for winter travel on snow and ice. Older snowmobiles can accommodate two people, but most modern snowmobiles accommodate only one rider. Powered by either two-stroke or four-stroke engines, snowmobiles are powered by gasoline and travel on kevlar composite tracks. Regardless of if your snowmobile is used for utility purposes, racing, or recreationally, you'll receive the same professional snowmobile shipping transport treatment.
Common Snowmobiles Shipped by Heavy Haulers
• Yamaha snowmobiles
• Polaris snowmobiles
• Arctic Cat snowmobiles
• Ski-Doo snowmobiles
• Utility snowmobiles

• Trail snowmobiles
• Sport Trail snowmobiles
• Touring snowmobiles
• Performance snowmobiles
• Crossover snowmobiles
• Mountain snowmobiles
How to Ship a Snowmobile with Heavy Haulers
Shipping a snowmobile can be a daunting process if you've never had to do it before. At the Heavy Haulers snowmobile transport company, we understand the importance of being able to provide clear, helpful advice. That's why, when you request a quote from us, we'll give you a comprehensive quote that covers everything you might need. Based on the size and weight of your snowmobile, as well as the shipment origin and destination, we'll offer you the most suitable snowmobile transport method and pair you with an available local resource who will handle all of the hard work for you. Contact us to get started! (800) 908-6206
Common Trailer Types Available from Heavy Haulers
Heavy Haulers specializes in hauling heavy loads such as construction equipment, oil field rigging and Super Loads. We are wideload experts! We offer an extensive range of trailer choices, including:
Max Weight: 48,000 lbs. | Max Length 53 ft. | Max Width 8.5 ft. | Max Height 11 ft.




Max Weight: 45,000 lbs. | Max Length 29 ft. | Max Width 8.5 ft. | Max Height 11.5 ft.
Max Weight: 150,000+ lbs. | Main Deck Length 29 ft. | Well Width 8.5 ft. | Legal Height Limit 11.6 ft.




Max Weight: 48,000 lbs. | Max Length 53 ft. | Max Width 8.5 ft. | Max Height 8.5 ft.
HEAVYHAULERS.COM
START YOUR SHIPMENT TODAY!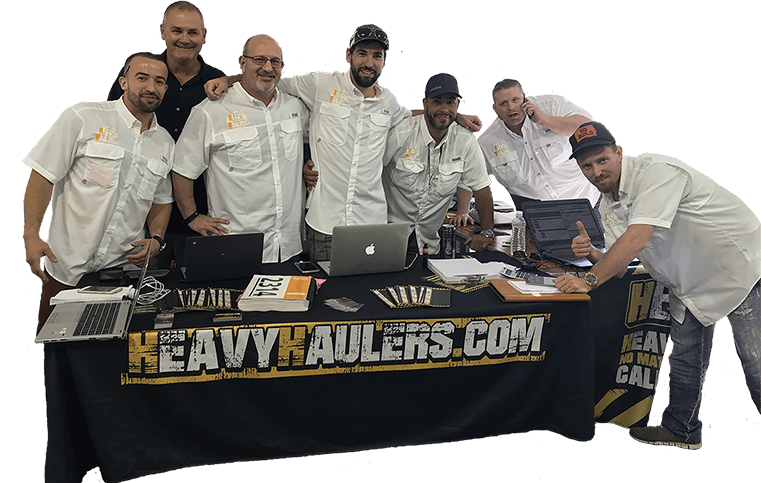 We Are Ready To Help You Haul Your Equipment!
See what you need?
Call us for a FREE Shipping Estimate at (800) 908-6206