Complete Guide for Dump Trucks
If you need to move loose material, such as soil, construction aggregate, sand, and ore, you'll need a dump truck. It's the most suitable piece of equipment to use in the civil and building industry to move load within construction sites. Mining companies also invest in dump trucks to transport mineral ores from one place to another. In this piece, we look back into the history to understand when the first dumper-mounted truck was invested, the various types of modern dumpers, and the applications of these pieces of machinery.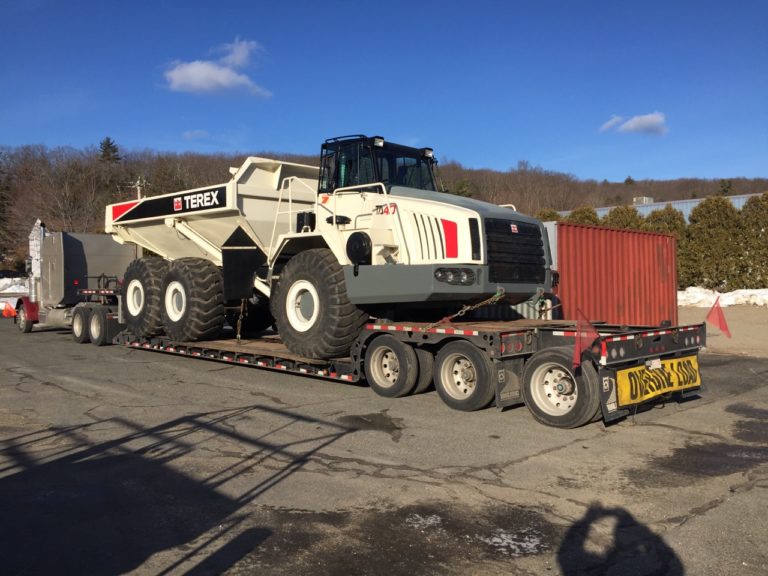 The History of Dump Trucks
The demand for dump trucks/dumper trucks/tipper trucks has been steady since the late 19th century. They were used in coal mines and railroad constructions. The earliest dump mechanism comprised a tub-like container with a front and rear door. It was towed by a pair of horses pulling the load. Once the cargo reached its intended destination, the operator opened the rear door, and the load-bearing container slid down, dumping the cargo.
Following the invention of gasoline and diesel engines, various forward-thinking inventors created a motorized version of its predecessor, the steam dump truck. That was during the WWI era when the military demanded the equipment. The first motorized dump truck was invented in 1914 by August Fruehauf, the owner of Fruehauf Trailer Corporation. By 1920, he had created semi-trucks with dump trailers for sale. Other companies that manufactured dumper trucks during this time included Lauth Juegens and Galion Buggy.
In the 1930s, new tipper truck design emerged, particularly the modern heavy-duty off-road dump trucks and the bottom dumpers that proved very valuable for use among miners and construction workers. In the 1950s, larger heavy-duty tipper trucks with a 20-ton payload, and a 180 HP entered consumer markets. Today, many technologically updated dump trucks meet the rise in construction activities and civil infrastructural developments.
Types of Dumper Trucks
Tipper trucks come in all sorts and configurations. Below are some of the common types.
– Articulated Dump Trucks – These are large, heavy-duty tippers featuring the hinge between the cab and the dumper. They have hydraulic rams to tilt the dumper, thus offloading the cargo. Articulated dumpers have a payload rating of 10-50 tons, making them ideal for civil and mining sectors.
– Truck-Mounted Dump Trucks – Also referred to as a crawler dump truck, truck-mounted dumpers are designed with a chain track that allows them to access rugged, slippery, uneven terrain that a standard wheeled truck cannot. A benefit of these dump trucks is that they can maneuver through small spaces, regardless of the ground conditions.
– Rigid Rear Dump Truck – If you need a truck for use off-road to carry heavy dirt or mineral ores, you might want to acquire a rigid rear dump truck. These dumpers are enormous, with a wheel diameter of about three meters. They have an incredible 350-400-ton payload; they have limited flexibility, hence their name.
– Underground Dump Trucks – These dumper trucks are used in underground mining explorations. They have a high production output while lowering your hauling costs. They are suitable for use over long hours on soft- and hard-rock underground mining.
More Types:
– Standard Dump Truck
– Transfer (Truck & Transfer)
– Off-Road/Off-Highway Dump Trucks
– Semi-Trailer End Dump Truck
– End Dump (Dump Trailer, Semi-End Dump) Truck
– Side Dump Truck
– Haul Truck
– Winter Service Vehicle
– Tri-Axle Dump Truck
– Superdump Truck
– Bottom Dump (Belly Dump)
– Truck and Pup
– Double Bottom (Double Belly Dump)
Applications of Dumper/Tipper Trucks
Construction Works: Dumpers are widely used in construction sites. Builders use dump trucks to prepare the ground by transporting loose cargo, such as excavated dirt, soil, or gravel. Moreover, you can couple the dumper with a pup trailer to maximize their payload capacity and have the ground cleared within a short time. Some dump trucks can carry wet concrete, making such equipment essential in laying the foundation for new building construction.
Quarrying and Mining: Dump trucks that can carry much heavier loads or varying lengths, weight and shape while still meeting the federal bridge formula standard are commonly used in mining sites.
Infrastructural Development: Civil developments, such as road and bridge construction, leverage dump trucks to efficiently implement the project. The equipment offers versatility and flexibility, allowing them to carry materials needed for the infrastructural development project. Their design makes them ideal for moving loads in narrow sections such as alleyways and tunnels. Most dumpers have on- and off-road functionality and can work under any weather condition, making them perfect for unforeseen conditions in civil development works.
Landscaping and Ground Maintenance: Gravel, dirt, and soil need to be moved from a site during landscaping projects, and hardscaping material must be transported to the job site. That's the purpose of a dump truck. They can operate for long hours, transporting loads to and from the working area. A lightweight dumper can easily maneuver through tight spaces without interfering with the ground's structural integrity. Once beatified, the landscape requires proper maintenance. Again, dump trucks are needed to supply the necessary materials and removing any excavated soil or gravel.
Transport Your Dump Truck Today!
Step 1:

Fill Out Quote Form

Fill out the short & easy quote form.
Step 2:

Speak With An Agent

We'll pick up your heavy equipment or vehicle.
Step 3:

Get Transported On Time

We deliver on time so you can get back to work.