The Best Soil Stabilizer Shipping Services
When it comes to soil stabilizer shipping, Heavy Haulers has the most affordable prices. We use capable trailer rigs to ship soil stabilizers for domestic, commercial, and municipal construction projects. A highly-skilled member of our logistics team will match you to the right driver and trailer for your soil stabilizer. With over a decade of experience in oversize and heavy haul trucking, Heavy Haulers is the best in the industry.
Transporting soil stabilizers is handled with the best care. We make sure to find the best driver, who has experience moving equipment. We also make sure they have the best trailer to transport a soil stabilizer. You deserve the best shipping experience available, and we always deliver. Heavy Haulers is the industry leading soil stabilizer transport company. Call now! (800) 908-620
Picking The Right Trailer for Soil Stabilizer Transport
The best trailer for transporting your soil stabilizer depends on the dimensions and weights. A dedicated logistics specialist will take down all your information, and then make sure to find the best trailer for shipping a soil stabilizer. At Heavy Haulers we pride ourselves in making sure you have the best transport experience available.
A lowboy, step-deck, or flatbed trailer may be needed to transport your soil stabilizer. Once we have the necessary information, a member of our elite logistics team will connect you with an experienced driver from our large and versatile fleet. Most times, we can have someone to you within the hour. Call now and get your free soil stabilizer shipping quote. (800) 908-6206
Transporting Soil Stablizers with Heavy Haulers
Contact Our Expert Shipping Specialist's
(800) 908-6206
With over ten years in the oversize hauling industry, Heavy Haulers soil stabilizer transports start with a highly skilled logistics team. We have load shipping specialists that will assist with any interstate and cross border permits to facilitate safe transport throughout the US, Canada, and Mexico. Route plans incorporate all your schedules and time frames while looking into conditions for shipping to estimate feasible delivery times.
Heavy Haulers delivers soil stabilizers to road, airport, industrial complex, or harbor building projects. Soil stabilizers work by binding soil with traditional stabilizing compounds such as clay or cement and with greener technologies like synthetic polymers, surfactants, tree resins or fiber enforcement. Heavy Haulers is familiar with the transport and operation of soil stabilizers, including cold recycler stabilizers and tractor towed varieties. We'll calculate distances, load weights and take into account the need for pilot or escort cars for the safe transport of your soil stabilizer. Call now! (800) 908-6206
See what you need?
Call us for a FREE Shipping Estimate at (800) 908-6206
How to Ship a Soil Stabilizer with Heavy Haulers
Transporting a soil stabilizer with Heavy Haulers is done with top-notch professionalism. We provide the best soil stabilizer shipping solutions in the industry. Whether you're hauling a soil stabilizer overseas or moving it to a new job, we'll get it moved. To ship a soil stabilizer you'll need the weight and dimensions. This way, our transport specialists can give you an accurate shipping quote. We'll make sure to search high and low for the cheapest soil stabilizer transport costs. Call now and let's get started! (800) 908-6206
Common Trailer Types Available from Heavy Haulers
Heavy Haulers specializes in hauling heavy loads such as construction equipment, oil field rigging and Super Loads. We are wideload experts! We offer an extensive range of trailer choices, including:
Max Weight: 48,000 lbs. | Max Length 53 ft. | Max Width 8.5 ft. | Max Height 11 ft.




Max Weight: 45,000 lbs. | Max Length 29 ft. | Max Width 8.5 ft. | Max Height 11.5 ft.
Max Weight: 150,000+ lbs. | Main Deck Length 29 ft. | Well Width 8.5 ft. | Legal Height Limit 11.6 ft.




Max Weight: 48,000 lbs. | Max Length 53 ft. | Max Width 8.5 ft. | Max Height 8.5 ft.
HEAVYHAULERS.COM
START YOUR SHIPMENT TODAY!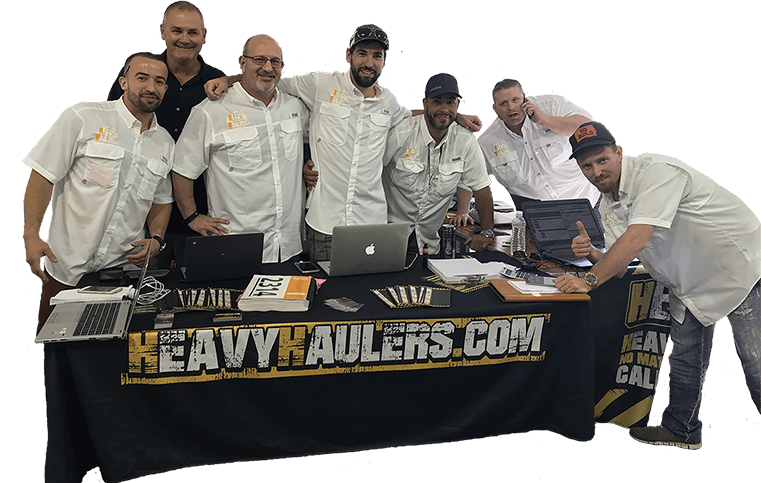 We Are Ready To Help You Haul Your Equipment!
See what you need?
Call us for a FREE Shipping Estimate at (800) 908-6206