Transport Your Heavy Duty Rock Truck With Heavy Haulers!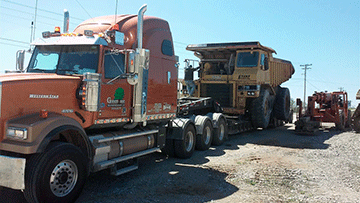 Shipping a Cat 773B Rock Truck
Looking for reliable shipping services for relocating a rock truck? While other shipping companies may have problems hauling an oversize load like this, Heavy Haulers specializes in shipping overweight loads. We offer comprehensive hauling services for rock trucks and other heavy-duty equipment for your mining or construction business and offer professional shipping to all 50 states. Heavy Haulers moves all brands of rock trucks, including CAT, Terex, Volvo, Eagle Industrial, Komatsu, Moxy, John Deere/Bell, Hitachi, and more. Call Heavy Haulers today at (800) 908-6206.
Rock trucks are rigid dump trucks that are specifically designed to handle the heavy loads of materials from mines, quarries, gravel pits, and construction sites. Made to be used off-road, these heavy-duty haulers can handle the roughest terrain. They can transport loads that would take dozens of traditional dump trucks to manage. These powerful trucks can carry between 100 and 300 tons of rock, dirt, and other materials, making them the more cost-efficient choice for your business. Designed for the heaviest loads, they save the cost of repairing or replacing a typical dump truck used for the same purpose.
Dependable Rock Truck Shipping with Heavy Haulers
At Heavy Haulers, shipping oversize loads like rock trucks is our specialty. We provide fully-insured relocation services for all rock truck brands, including:
When you choose Heavy Haulers for your rock truck relocation needs, you get our many years of experience in shipping oversize loads. Our logistics personnel will take care of all routing and scheduling for your rock truck shipment. Heavy Haulers will obtain any necessary permits, escorts, and pilot cars for the move, so you never have to worry about it. Our shipping specialists will make sure your rock truck is properly loaded and secured for the safety of your investment and everyone on the road. Stay in touch with your transport team continually during the trip, so there are no unwelcome surprises when they arrive. Take advantage of our professional rock truck shipping services for a stress-free move. Contact us today at Heavy Haulers for more information on transporting a rock truck.
Speak with a Member of our Logistics Team Now!
(800) 908-6206
Common Trailer Types Available from Heavy Haulers
Heavy Haulers specializes in hauling heavy loads such as construction equipment, oil field rigging and Super Loads. We are wideload experts! We offer an extensive range of trailer choices, including:
Max Weight: 48,000 lbs. | Max Length 53 ft. | Max Width 8.5 ft. | Max Height 11 ft.




Max Weight: 45,000 lbs. | Max Length 29 ft. | Max Width 8.5 ft. | Max Height 11.5 ft.
Max Weight: 150,000+ lbs. | Main Deck Length 29 ft. | Well Width 8.5 ft. | Legal Height Limit 11.6 ft.




Max Weight: 48,000 lbs. | Max Length 53 ft. | Max Width 8.5 ft. | Max Height 8.5 ft.
We transport many brands of Trucks across the country and North America
Trust Heavy Haulers to transport any brand of truck you own. We are experienced in handling all types of brands and manufacturers, we have hands-on experience shipping all truck manufacturers there is on the road! Some of the truck brands we commonly ship include:
Heavy Haulers Ships Across All 50 States
Alabama - Alaska - Arizona - Arkansas - California - Colorado - Connecticut - Georgia - Hawaii - Idaho - Illinois - Indiana - Iowa - Kansas - Kentucky - Louisiana - Maine - Maryland - Massachusetts - Michigan - Minnesota - Mississippi - Missouri - Montana - Nebraska - Nevada - New Hampshire - New Jersey - New Mexico - New York - North Carolina - North Dakota - Ohio - Oklahoma - Oregon - Pennsylvania - Rhode Island - South Carolina - South Dakota - Tennessee - Texas - Utah - Vermont - Virginia - Washington - West Virginia - Wisconsin - Wyoming
Your Heavy Haulers Shipping Experience
We offer a free, no-obligation quote for all your construction equipment shipping needs. One call (800) 908-6206 to our logistics specialists gets you started. We take down the details of your route, including any large urban areas to navigate through. Your timeline is taken into account, as we understand the moving quickly is important.
Once we have your route planned, we take a careful inventory, alongside you or your representative, of everything to transport. Heavy equipment is weighed and we plan which pieces of transport equipment are rated for your larger machinery. The loads are then secured, triple-checked for safety and security. Once we reach your destination, you check your inventory against the list. We can help with unloading and reassembly where needed
Don't wait – call Heavy Haulers today (800) 908-6206 for your construction equipment transport needs!







11423605

MILES TRAVELED






1214292

LOADS SHIPPED







1315658103

TONS TRANSPORTED






921637

CLIENTS SATISFIED