Transport Your Heavy Duty Rock Truck With Heavy Haulers!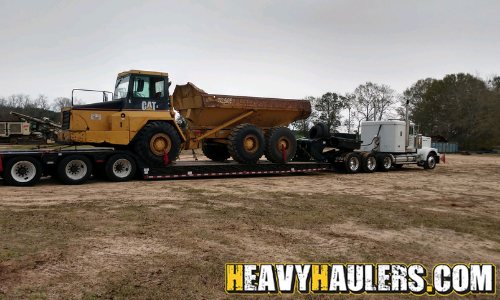 Contact Our Rock Truck Transport Specialist!
(800) 908-6206
Looking for reliable shipping services for relocating a rock truck? Heavy Haulers specializes in shipping overweight loads, such as articulated dump trucks. We offer comprehensive hauling services for rock trucks and other heavy-duty equipment for your mining or construction business and offer professional shipping to all 50 states. Heavy Haulers moves all brands of rock trucks, including CAT, Terex, Volvo, Eagle Industrial, Komatsu, Moxy, John Deere/Bell, Hitachi, and more.
Rock trucks, also known as articulated dump trucks, are rigid dump trucks that are specifically designed to handle the heavy loads of materials from mines, quarries, gravel pits, and construction sites. Made to be used off-road, these heavy-duty haulers can handle the roughest terrain. They can transport loads that would take dozens of traditional dump trucks to manage. These powerful trucks can carry between 100 and 300 tons of rock, dirt, and other materials, making them the more cost-efficient choice for your business. Designed for the heaviest loads, they save the cost of repairing or replacing a typical dump truck used for the same purpose.
Complete Articulated Dump Truck Shipping Services
Choose Heavy Haulers to transport your dump trucks from one job site to the next. Our services include door-to-door transportation for your articulated dump trucks and heavy construction gear. As professionals in the commercial shipping industry, we understand that time is money. Our goal is to save you and your company both. With services planned to take advantage of the best routes and trailers designed even for the heaviest oversized loads, Heavy Haulers is the preferred shipment company for dump trucks – and beyond.
Choosing the right trailer for your articulated dump truck can make a difference in how quickly you're able to have your special equipment moved to the next job site – or if it makes it there at all. Heavy Haulers chooses the best trailer for your rock truck and ensures that even the largest, 400 -ton trucks arrive safely. Our focus is safe transport for our crew and your articulated dump truck. Call for a free shipping estimate! (800) 908-6206
Common Types of Rock Trucks and Articulated Dump Trucks Heavy Haulers Transports
At Heavy Haulers, shipping oversize loads like rock trucks is our specialty. We provide fully-insured relocation services for all articulated dump truck brands, including:
● CAT Rock Truck Transport
● Volvo Articulated Dump Truck Shipping
● Komatsu Rock Truck Delivery
● Terex Articulated Dump Truck Hauling
● Hitachi Rock Truck Delivery
● Eagle Industrial Rock Truck Hauling
● Moxy Articulated Dump Truck Transport
● Doosan Rock Truck Shipping
● Euclid Articulated Dump Truck Delivery
● John Deere Rock Truck Transport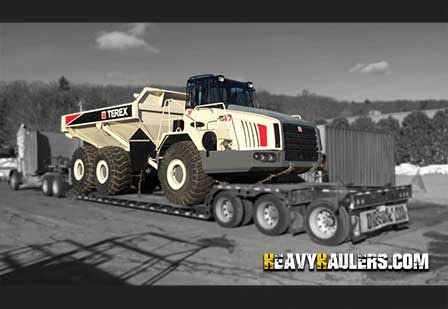 How To Ship an Articulated Dump Truck
Choose Heavy Haulers to ship your rock truck. Articulated dump trucks nearly always ship as oversize loads. Smaller models might be able to fit on a regular RGN trailer, depending upon weight. Larger rock trucks require multi-axle trailers. You probably need route planning, travel scheduling and escort drivers for your oversize load. Shipping these super-large off-road articulated dump trucks requires specialized haulers with wideload transport experience.
When you choose Heavy Haulers for your rock truck relocation needs, you get our many years of experience in shipping oversize loads. Our logistics personnel will take care of all routing and scheduling for your rock truck shipment. Heavy Haulers will obtain any necessary permits, escorts, and pilot cars for the move, so you never have to worry about it. Our shipping specialists will make sure your articulated dump truck is properly loaded and secured for the safety of your investment and everyone on the road. Stay in touch with your transport team continually during the trip, so there are no unwelcome surprises when they arrive. Take advantage of our professional rock truck shipping services for a stress-free move. Contact us today at Heavy Haulers for more information on transporting a rock truck. Call today! (800) 908-6206
See More of Our Recent Articulated Dump Trucks Moves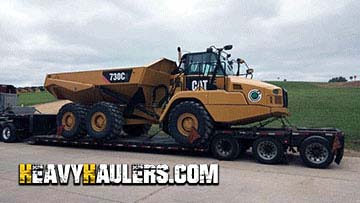 Hauling a Caterpillar 730C2 Articulated Dump Truck
For the heavy equipment that loads it all call the company that hauls it all - Heavy Haulers. This Caterpillar 730C2 Articulated Dump Truck needed a lift from Dubuque, Iowa to Sparks, Nevada and Heavy Haulers was once again trusted to get the job done. It's no wonder why our first time customers turn into Heavy Haulers extended and growing family. The trip covered nearly 2,000 miles with an oversize load. If you need your 55,000 pound money-maker transported to the next project make sure you call the industry leaders for the white-glove treatment. To haul your Caterpillar articulated dump truck or other heavy equipment, call Sam at Heavy Haulers: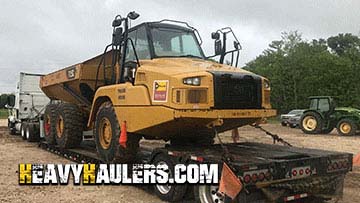 Shipping a Caterpillar 725C Articulated Truck
Heavy Haulers received the order to deliver this Caterpillar 725C Articulated Truck on a tight schedule from West Columbia, Texas to Lawrenceville, Georgia and Heavy Haulers made it safe to home base. From quote to deliver we knocked this one out of the park in record time. Heavy Haulers are the heavy hitters in the heavy hauling business. This big boy weighed in at over 49,000 pounds and was loads of fun to run. If you need your loader loaded and hauled, forget the rest and make the call for your free quote. Contact Willam Thomas at Heavy Haulers directly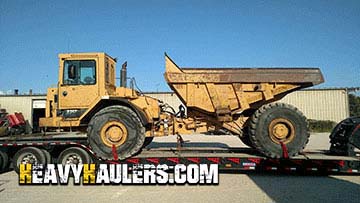 Transporting a Caterpillar D25 Articulated Dump Truck
Heavy Haulers recently transported this beautiful 2007 Caterpillar D25 Articulated Dump Truck from Iowa to Texas. The oversize load weighs in at over 44,000 pounds and is one mean toy. This monster truck is over 28 feet but it was no match for our rig. Delivered safe and sound wheels to the ground and ready to move around whatever you can throw at it. Heavy Haulers can tame even the largest beast. We know you work hard to put food on the table and Heavy Haulers is right there with you pulling for you. To transport your Caterpillar articulated dump truck, or any other industrial equipment, contact Sam directly at Heavy Haulers: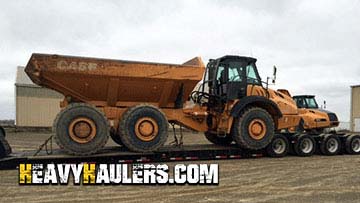 Shipping a Case 330 Articulated Dump Truck
Our return customer called us to schedule the delivery of their new addition to their fleet. When business is good and you need to purchase another Case330 Articulated Dump Truck to complete the project on time you call Heavy Haulers to deliver on time. Heavy Haulers understands the demands of your customers and it reflects in the way we handle your demands as our customer. We love hearing our customers stories about their growing pains and we're proud to be part of the growth process. Top notch service with top BBB ratings mixed with the right rig for the job and the right attitude every time and you've got yourself a winning team to handle all of your transportation needs. Call Brian directly at Heavy Haulers and share your story while he prepares your free quote: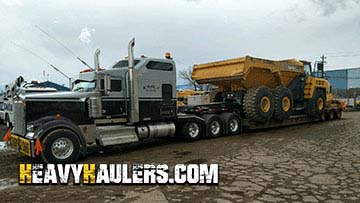 Hauled a Komatsu HM-400 3 Articulated Dump Truck
When others fail you call Heavy Haulers to bail you out. This customer was left stranded by a competitor and Heavy Haulers saved the day. We shipped this Komatsu HM-400 3 Articulated Dump Truck from Sparks, Nevada to Rapid City, South Dakota to another happy customer. The trip was only 1,180 miles through four states and we had the right rig and driver for the job. Over 74,000 pounds of heavy metal ready to work and Heavy Haulers was there ready to haul. To ship your Komatsu articulated dump truck talk directly to Mike and he'll get your heavy equipment at the destination in no time at all: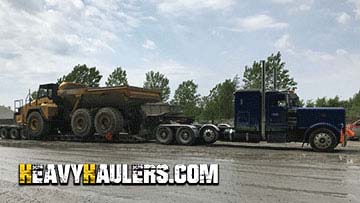 Transporting a Komatsu HM 400-2 Articulated Dump Truck
When your heavy equipment has a heavy price tag you do not want to entrust the first company that calls you. Our return customers know that Heavy Haulers values their valuables and we're backed by great reviews and top BBB ratings. We can haul your cargo from or to any of the 50 U.S. states as well as Mexico and Canada! This Komatsu HM 400-2 we transported from Crescent, IA and delivered over 1,000 miles away to NY was ready to take on its next task. This Komatsu was 37 feet long, 11 feet 3 inches wide, 12 feet 2 inches high and 72,000 pounds. This load did require permits to be able to ship. If you have a Komatsu, or any other heavy machinery, and need it transported call Brian G. at Heavy Haulers today: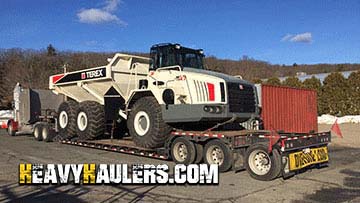 Hauling a Terex 40 Off Highway Dump Truck
We are hired by new customers each and every day but we wouldn't be where we are without our return customers as they make up the bulk of our business. And when John, a return customer, needed his Terex moved to point-B he called his personal Heavy Haulers representative to take care of the process. We hauled his Terex 40 Off Highway Dump Truck from West Hatfield, Massachusetts to Spring Hill, Kansas. This oversize load travelled over 1,400 miles hauling over 68,000 pounds with the right rig for the job every time and this time was no different. Smooth process from quote to delivery. Contact Tye directly for your quick quote.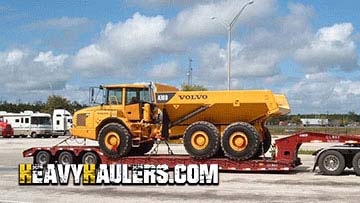 Transporting a Volvo A30D Articulated Dump Truck
One of the cleanest Volvo A30D Articulated Dump Truck we've seen. Transported to Hamilton, Ohio from Grand Prairie, Texas so it can work and play around in the dirt. The journey covered nearly 1,000 miles and this 62,000 pound attention getter was loads of fun to haul. If you have a new toy that's ready to go to work make sure you call the industry leaders of the heavy hauling business - Heavy Haulers. Contact your personal Heavy Haulers representative for that white-glove VIP service. Mike: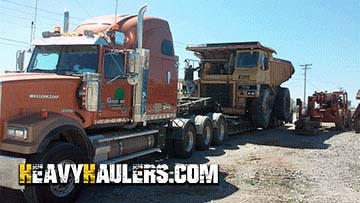 Shipping a Caterpillar 773B Rock Truck
Heavy Haulers recently shipped this Caterpillar 773B Rock Truck from St. Augustine, Florida, to Jacksonville, Florida. This oversize load has a weight of: 86,800 pounds, length: 30 feet 4 inches, width: 15 feet 4 inches and height of: 13 feet 9 inches. This Cat made it to work ahead of schedule because Heavy Haulers understands the importance of meeting deadlines. To ship your Caterpillar rock truck call Brian directly at Heavy Haulers for your free quote: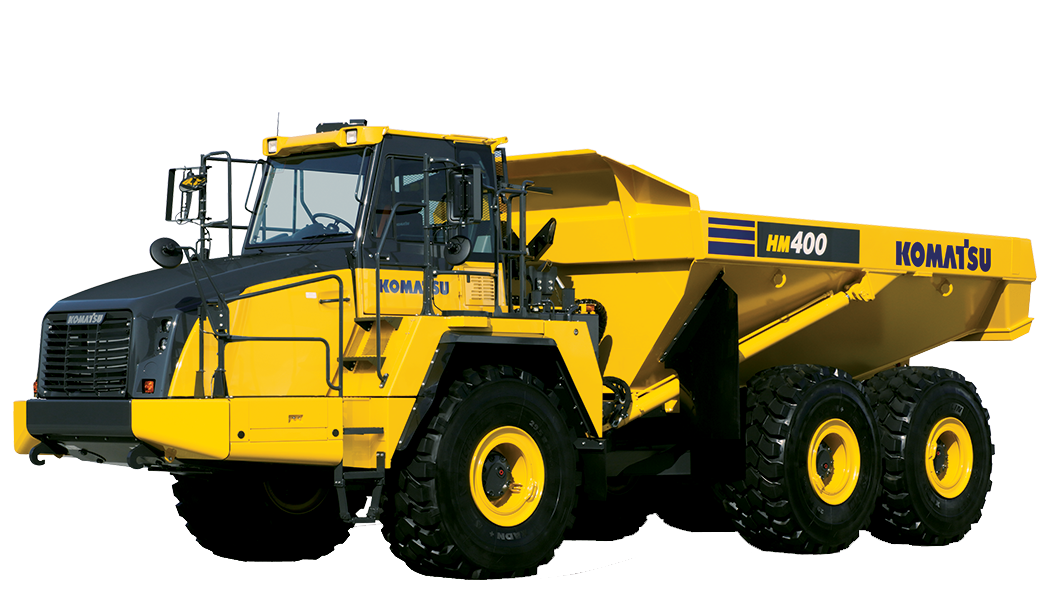 Articulated Dump Truck Transportation Services
Articulated dump trucks are gigantic off-road dump trucks for moving sand, soil, gravel and rock. The articulated truck has a pivot joint between the cab and the bed that aids in maneuverability. The vehicles are all-wheel drive, using hydraulic rams to keep all four wheels on the same path.
The largest articulated dump trucks are capable of transporting 400 tons of material in one load. While regular dump trucks often carry more material, articulated trucks are more adept at negotiating rough terrain. Maximum speed is about 35 miles per hour.
We transport many brands of Trucks across the country and North America
Trust Heavy Haulers to transport any brand of truck you own. We are experienced in handling all types of brands and manufacturers, we have hands-on experience shipping all truck manufacturers there is on the road! Some of the truck brands we commonly ship include:
Looking For Transport
With a Specific Trailer?

Max Weight: 150,000+ lbs. | Main Deck Length 29 ft.
| Well Width 8.5 ft. | Legal Height Limit 11.6 ft.

Max Weight: 48,000 lbs. | Max Length 53 ft.
| Max Width 8.5 ft. | Max Height 8.5 ft.
Max Weight: 48,000 lbs. Max Length 53 ft. |
Max Width 8.5 ft. | Max Height 11 ft.
Max Weight: 45,000 lbs. | Max Length 29 ft.
| Max Width 8.5 ft. | Max Height 11.5 ft.
Heavy Haulers Ships Across All 50 States
Alabama - Alaska - Arizona - Arkansas - California - Colorado - Connecticut - Delaware - Florida - Georgia - Hawaii - Idaho - Illinois - Indiana - Iowa - Kansas - Kentucky - Louisiana - Maine - Maryland - Massachusetts - Michigan - Minnesota - Mississippi - Missouri - Montana - Nebraska - Nevada - New Hampshire - New Jersey - New Mexico - New York - North Carolina - North Dakota - Ohio - Oklahoma - Oregon - Pennsylvania - Rhode Island - South Carolina - South Dakota - Tennessee - Texas - Utah - Vermont - Virginia - Washington - West Virginia - Wisconsin - Wyoming
Heavy Haulers Pilot Car Services
Are you looking for a reliable pilot car
for your transport?
Get Started