Depend on Heavy Haulers to Ship Your Dump Truck Anywhere You Need It!
Heavy Haulers is a large-machinery equipment transport specialist, focused on moving dump trucks and other excavation rigs across North America – or just across town. Our professional services include transporting dump trucks of any size, from a small bucket to the largest articulated dump truck. Bonded, insured, and certified drivers offer door-to-door service – even remote areas where there are no doors yet. We help contractors just like yourself get each project started on time. For dump truck shipping services, trust Heavy Haulers to get it right. Learn more with a quick phone call to (800) 908-6206.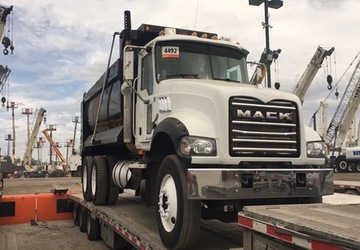 Contact Our Expert Shipping Specialist's
(800) 908-6206
Your Heavy Haulers Dump Truck Shipping Experience
Heavy Haulers provides comprehensive equipment shipping services, whether you're transporting just one vehicle or your entire fleet. Our logistics specialists plan your route carefully, taking into account state and local regulations about each road. We handle the paperwork for weigh stations, and customs if needed, ensuring that your dump truck isn't tangled up with red tape. Professional loaders select the correctly rated trailer and rig to haul your dump truck, and load and unload it in door-to-door transit.
Heavy Haulers prides themselves on a challenge. Whether your dump truck needs to be transported across town, through tight urban streets, or into rough backcountry, over dirt roads and undeveloped land, we will get it there. Time is money – Heavy Haulers wants to save you both. Our shipping quotes are fair and transparent. We take into account your budget and plan the best way to deliver your dump truck.
Recent Dump Trucks Heavy Haulers Has Transported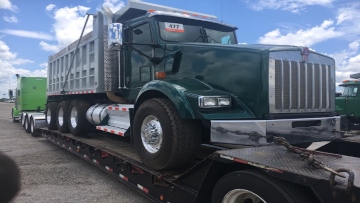 Kenworth Tandem Axle Dump Truck Transported on a Hotshot Trailer
Shipping From: Glassboro, NJ

Transporting To: Newark, NJ

Specs: Kenworth Tri-Axle T800; 29L X 8.5W X 12H; 27,000lbs

Transport Specialist: Blake Klapper (407) 543-6704
Tandem Axle Dump Truck Shipped on a Hotshot Trailer
Shipping From: Fort Worth, TX

Transporting To: Jesup, GA

Specs: Tandem Axle Dump Truck; 26L X 8W X 10H; 22,000lbs

Transport Specialist: Travis Selochan (813) 492-8263
Kenworth T300 Dump Truck Hauled on an RGN Trailer
Shipping From: Philadelphia, MS 39350

Transporting To: Jacksonville, FL 32226

Specs: 2005 Kenworth T300 Dump Truck;26L X 8.5W X 9H

Transport Specialist: Nick H. (772) 238-2766
See what you need?
Call us for a FREE Shipping Estimate at (800) 908-6206
Common Trailer Types Available from Heavy Haulers
Heavy Haulers specializes in hauling heavy loads such as construction equipment, oil field rigging and Super Loads. We are wideload experts! We offer an extensive range of trailer choices, including:
Max Weight: 48,000 lbs. | Max Length 53 ft. | Max Width 8.5 ft. | Max Height 11 ft.




Max Weight: 45,000 lbs. | Max Length 29 ft. | Max Width 8.5 ft. | Max Height 11.5 ft.
Max Weight: 150,000+ lbs. | Main Deck Length 29 ft. | Well Width 8.5 ft. | Legal Height Limit 11.6 ft.




Max Weight: 48,000 lbs. | Max Length 53 ft. | Max Width 8.5 ft. | Max Height 8.5 ft.
We transport many brands of Trucks across the country and North America
Trust Heavy Haulers to transport any brand of truck you own. We are experienced in handling all types of brands and manufacturers, we have hands-on experience shipping all truck manufacturers there is on the road! Some of the truck brands we commonly ship include:
Transport Dump Trucks with The Professionals - Heavy Haulers!
Dump trucks can be some of the most challenging pieces of equipment to transport. Whether it's a smaller sized dump truck designed for municipal use or the largest Cat articulated dump trucks for mining and excavation, Heavy Haulers has moved them all. We understand what types of trailers are needed for specific types of dump trucks, from flatbeds to low-boys. Heavy Haulers has the right rig to safely ship your dump truck anywhere in North America or internationally.
Off-road Dump Truck
Off-road dump trucks are most commonly used to haul aggregate loads in rugged territory and unstable surfaces, like mining operations or oil fields. Off-road dump trucks are used exclusively for non-highway projects, and due to their weight and tires, aren't rated to travel along regular thoroughfares. The articulated frame of these trucks, with the semi-fixed pivot point, helps them stabilize heavy loads over uncertain terrain.
Transfer Dump Trucks
Transfer dump trucks have a separate trailer to help maximize the load capacity without sacrificing maneuverability. These trucks are best used for excavation projects and clearing large swaths of land. Many of these trucks power their cargo container with an electric motor. When shipping these trucks, care is needed to protect the smaller motor and preserve those connections.
Side Dump Trucks
Side dump trucks unload quickly and easily by simply tilting the load off the side. They're ideal for delivering larger amounts of topsoil, gravel, or fertilizer. Large construction sites use these frequently, and the trucks themselves need large spaces to operate. The three-axle trailer and two axle rig allow more weight to be carried.
Semi-trailer end dump truck
These trucks are made in a tractor-trailer formation with the hydraulic lift in the trailer portion, instead of the rig. They're also known as "tipper trucks" and are used to deposit material for construction sies. Gravel, loose rocks, and soail are common loads for these trucks.
Superdump Truck
These dump trucks live up to their name. They consist of a dump truck with a connected trailer, capable of carrying twice the load of a regular truck. The extension of the truck and trailer reaches the maximum length and gross weight for the federal bridge formula, the standard regulation for vehicle size. Care is needed to maneuver these trucks when full.
Semi-trailer bottom dump truck
Semi trailed bottom dump trucks are used to create windrows, or "linear heaps." The loads are deposited from the bottom of the truck, allowing more maneuverability of the load. The clamshell closing mechanism allows the driver to lay the material without stopping the truck or getting out of the cab. When transporting these trucks, care is taken to protect the clamshell carrier at the bottom.
Roll-off trucks
Roll off trucks consist of the truck and chassis, but no attached container. Instead, they transport removable containers. They work best for construction or excavation sites that are clearing large amounts of material. The removable dumpster can be filled with trash, debris, or a mix of waste materials
Haul truck
A haul truck is one of the largest dump trucks available, used for carrying heavy loads long distances. They're commonly used in mining projects and those that span long distances and off-highway jobs. The rigid frame allows more stable hauling of the heavy loads but maneuverability of the container is sacrificed.
Articulated Dump Truck
These large, heavy duty haulers are used mainly off road and are designed to carry extremely heavy loads of material. While they're mostly used over rough terrain, occasionally they can travel over public roads, although transporting them over long distances should be done using a trailer. The front steering and back hydraulic rams make steering over uneven terrain easier.
See what you need?
Call us for a FREE Shipping Estimate at (800) 908-6206
See More of Our Recent Dump Trucks Moves
Shipping a 1997 Mack RD8 Dump Truck
Heavy Hauler can transport your Mack RD8 for you! Call Heavy Haulers agent Brian H. to get your estimate today. This specific Mack truck was picked up in Chattanooga, TN and delivered to Riviera Beach, FL. Heavy Hauler agents are trained to be able to handle every situation as it occurs. Call Brian H. at Heavy Haulers today to get an estimate on your next shipment. (754) 203-8979
Hauling a 2008 Mack Dump Truck
Heavy Haulers work with many of clients throughout the United States, Mexico and Canada. With many years of experience our agents are able to determine which type of trailer you need for your shipment. This 2008 Mack Dump Truck was picked up in Texas and was delivered to the client in Florida. The total time of this transport was 3 days from the pick up! If you need a reliable company to pick up your freight call Antonio at Heavy Haulers today! (239) 202-0537
Transporting a 2008 Mack Dump Truck
Antonio at Heavy Haulers is prepared to assist you with your next shipment. This 2008 Mack Dump Truck was recently hauled from Houston, TX to Quincy, FL. This Dump truck was 28 feet long, 8 feet 2 inches wide, 10 feet 3 inches tall and weighed approximately 26,000 pounds. Antonio was able to schedule the driver to load and deliver this truck on the customers behalf. To schedule your next freight load call Antonio at Heavy Haulers. (239) 202-0537
Hauling a 2008 Mack Dump Truck on an rgn trailer
Finding a reliable company can be difficult at times. This is a Mack Dump Truck Antonio at Heavy Haulers shipped. Heavy Haulers agents are trained and have experience at dealing with all situations as the occur. Antonio at Heavy Haulers is prepared to be able to ship all of your equipment or implements anywhere in the United States, Mexico or Canada. Call Antonio at Heavy Haulers today for more information. (239) 202-0537
Transporting an International 4700 Dump Truck
Did you just purchase a new Tri Axle Dump truck? If so, call Chris Kyle at Heavy Haulers to coordinate the delivery of your new toy! Chris recently transported this Volvo VHD 84 200 Tri Axle Dump truck from Flint, MI to Wakefield, RI . This dump truck measured 25 feet in length was 8 feet 6 inches wide 10 feet 6 inches high and weighed approximately 23,000 pounds. This load was a legal load and did not require any special permits for transport, which saved the client mucho money! Call Chris Kyle at Heavy Haulers to schedule your next shipment. - 954-246-3732
Shipping an International Dump Truck on an rgn trailer
Trust us to transport your International Dump Trucks! We transported this International Dump Truck with a plow attachment for one of our repeat clients. It was picked up in Springfield, MO and delivered to Newburgh, IN. This route was 385 miles from pick up to drop off. It was 28 feet in length, 8 feet in width, 11 feet 6 inches in height and 30,000 pounds! Call today to schedule your next shipment with our agent Brian G.: (754) 203-9267.
Want to know how to transport a dump truck?
Transporting the hefty dump truck requires drivers to follow strict procedures and use specific equipment. We use step deck, flatbed or RGN trailers to carry single, double and triple axle dump trucks. Our drivers are licensed, bonded and insured, so you don't have to worry about unforeseen circumstances causing damage to your vehicle. We also have a tracking system available for you to see the progress of your truck's journey.
Give Heavy Haulers a call at (800) 908-6206 and let us give you a free shipping quote for your dump truck.