Depend on Heavy Haulers to Ship Your Dump Truck Anywhere You Need It!
Heavy Haulers is a large-machinery equipment transport specialist, focused on moving dump trucks and other excavation rigs across North America – or just across town. Our professional services include transporting dump trucks of any size, from a small bucket to the largest articulated dump truck. Bonded, insured, and certified drivers offer door-to-door service – even remote areas where there are no doors yet. We help contractors just like yourself get each project started on time. For dump truck shipping services, trust Heavy Haulers to get it right. Learn more with a quick phone call to (800) 908-6206.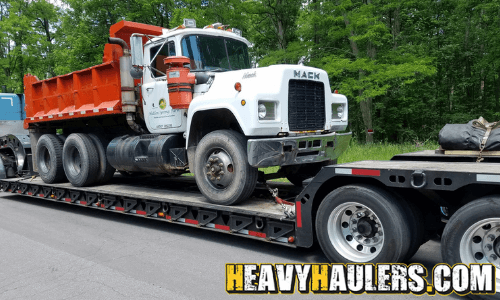 Contact Our Dump Truck Transport Specialist!
(800) 908-6206
Your Heavy Haulers Dump Truck Shipping Experience
Heavy Haulers provides comprehensive dump truck shipping services, whether you're transporting just one vehicle or your entire fleet. Our logistics specialists plan your route carefully, taking into account state and local regulations about each road. We handle the paperwork for weigh stations, and customs if needed, ensuring that your dump truck isn't tangled up with red tape. Professional loaders select the correctly rated trailer and rig to haul your dump truck, and load and unload it in door-to-door transit.
Heavy Haulers prides themselves on a challenge. Whether your dump truck needs to be transported across town, through tight urban streets, or into rough backcountry, over dirt roads and undeveloped land, we will get it there. Time is money – Heavy Haulers wants to save you both. Our shipping quotes are fair and transparent. We take into account your budget and plan the best way to deliver your dump truck.
The Best Dump Truck Transport Company
The best way to transport your dump truck is to give us a call. Heavy Haulers will provide quality transport solutions that fit your needs. We ship dump trucks anywhere in the United States, including Hawaii and Alaska. Need to transport a dump truck overseas? We have a dedicated team for international shipping. Wherever you need to move a dump truck, we're here to get it done.
Dump trucks are used in a variety of industries, but most predominantly would be construction. However, they can be found in mining, waste management, forestry and more. Dump trucks are versatile vehicles that allow easy dumping of materials. Heavy Haulers transports all sizes and weights of dump trucks. Whether you need to ship it across town or across country, we'll find the best transport solution. Call now! (800) 908-6206
Transport Your Dump Truck Now!
Call us for a FREE Shipping Estimate at (800) 908-6206
Heavy Haulers Transports All Dump Truck Types Including:
Articulated Dump / Rock Truck Transport
Rock trucks, also known as articulated dump trucks, are rigid dump trucks that are specifically designed to handle the heavy loads of materials from mines, quarries, gravel pits, and construction sites. Made to be used off-road, these heavy-duty haulers can handle the roughest terrain.
Bottom (Belly) Dump Truck Hauling
Bottom dump trucks are perfect for precision when laying materials. It has a "clamshell" gate that releases materials from the bottom, or rather the belly of the trailer. This is usually a 3-axle tractor pulling a 2-axle trailer with the dump gate for the belly. Bottom dump trucks are highly maneuverable as well.
Double / Triple Bottom Dump Truck Hauling
Double / Triple Bottom Dump Trucks are perfect for hauling groups of materials. They have single-axle semi-trailer dumpers attached to the primary vehicle, however they are difficult to maneuver in tight spots.
End Dump Truck Shipping
An end dump truck has a tractor-trailer combo where the trailer contains its own hydraulic system. This allows loads to be weighted more on the container, rather than the truck bed. However, this can make an end dump truck unstable, so the dumping position is often limited.
Haul Truck Shipping
Haul Trucks are mostly used in quarries and mines. Their payload capacity goes up to 450 tons. Haul Trucks usually have diesel-electric powertrains, but some have diesel engines paired with mechanical powertrains. Rigid frames and conventional steering are staples of haul trucks.
Off-Highway Dump Truck Hauling
Off-highway dump trucks have two primary frames: articulating and rigid. These trucks are used for off-road mining and heavy dirt jobs. Rarely do off-way dump trucks look like a regular highway dump truck. Their unique design and heavy duty capabailities make them popular for hard jobs.
Roll-Off Dump Truck Transport
Roll-off dump truck drops empty dumpsters at a job site and then comes to pick it back up when ready. It has a hoist and subframe, but it does not have a body. The dump container is loaded onto the truck with a winch and cable. Roll-off dump trucks are versatile for a variety of different industries.
Side Dump Truck Transport
Side dump trucks, also known as SDT, have hydraulic rams that tilt the dump body to the side, spilling material on either side of the truck. This allows for rapid unloading and has the advantage of not tipping over unless the dump is stopped prematurely. Side dump trucks can haul almost any materials, making it extremely versatile.
Standard Dump Truck Transport
Standard dump trucks have chasses or base frames with a mounted bed. There may be a vertical hydraulic ram mounted under the front body or a horizontal hydraulic ram and lever system between the frame rails, allowing the bed to be raised for dumping materials. A standard dump tailgate can swing up on top hinges or it may have a "high lift tailgate" where pneumatic rams lift the gate up and over the dump body.
Super Dump Truck Transport
Super dump trucks are able to carry up to 80,000lbs of materials. Thanks to a trailing axle and load bearing axle that allows for much heavier loads, this type of dump truck still meets the federal bridge formula standard. This is often seen in construction for asphalt and concrete paving.
Transfer Dump Truck
Transfer dump trucks have standard dump trucks at the base and pulls a separate movable container on the trailer. Transfar dump trucks are commonly seen at construction sites, because it has greater capacity and great great maneuverability.
Truck and Pup Shipping
Pup dump trucks are very similar to a transfer dump truck. Instead of just being a standard dump truck, the dump truck pulls a second dump trailer. Usually a pump trailer with a hydraulic ram that's capable of self-unloading.
Recent Dump Trucks Heavy Haulers Has Transported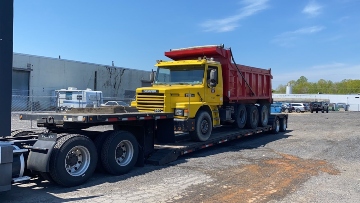 Single Axle Dump Truck Transported
Shipping From: Medina, OH

Transporting To: Hobe Sound, FL

Specs: 1 single axle dump truck

Transport Specialist: Brian G.
(754) 203-9267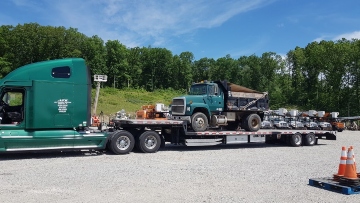 Dump Truck Transport: Ford LN800F Dump Truck
Shipping From: Shrewsbury, MA

Transporting To: Concord, NC

Specs: 1997 Ford LN8000F Dump Truck 22000# 20L 8.5W 10H

Transport Specialist: Hal F.
(772) 227-1564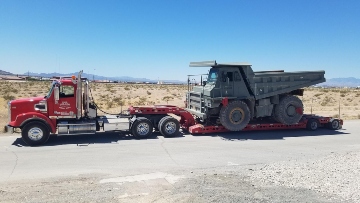 Transporting a CAT 769 Dump Truck
Shipping From: Las Vegas, NV

Transporting To: Pahrump, NV

Specs: 1991 CAT 769 Dump Truck 87K - 30.42L x 15.42W x 13.88H

Transport Specialist: Jamie H.
(754) 203-8738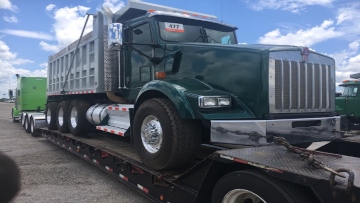 Kenworth Tandem Axle Dump Truck Transported on a Hotshot Trailer
Shipping From: Glassboro, NJ

Transporting To: Newark, NJ

Specs: Kenworth Tri-Axle T800; 29L X 8.5W X 12H; 27,000lbs

Transport Specialist: Blake Klapper (407) 543-6704
Tandem Axle Dump Truck Shipped on a Hotshot Trailer
Shipping From: Fort Worth, TX

Transporting To: Jesup, GA

Specs: Tandem Axle Dump Truck; 26L X 8W X 10H; 22,000lbs

Transport Specialist: Travis Selochan (813) 492-8263
Kenworth T300 Dump Truck Hauled on an RGN Trailer
Shipping From: Philadelphia, MS 39350

Transporting To: Jacksonville, FL 32226

Specs: 2005 Kenworth T300 Dump Truck;26L X 8.5W X 9H

Transport Specialist: Nick H. (772) 238-2766
See what you need?
Call us for a FREE Shipping Estimate at (800) 908-6206
We transport many brands of Trucks across the country and North America
Trust Heavy Haulers to transport any brand of truck you own. We are experienced in handling all types of brands and manufacturers, we have hands-on experience shipping all truck manufacturers there is on the road! Some of the truck brands we commonly ship include:
Looking For Transport
With a Specific Trailer?

Max Weight: 150,000+ lbs. | Main Deck Length 29 ft.
| Well Width 8.5 ft. | Legal Height Limit 11.6 ft.

Max Weight: 48,000 lbs. | Max Length 53 ft.
| Max Width 8.5 ft. | Max Height 8.5 ft.
Max Weight: 48,000 lbs. Max Length 53 ft. |
Max Width 8.5 ft. | Max Height 11 ft.
Max Weight: 45,000 lbs. | Max Length 29 ft.
| Max Width 8.5 ft. | Max Height 11.5 ft.
We Can Ship Your Equipment Anywhere in the
US, Canada, and Mexico
Heavy Haulers Pilot Car Services
Are you looking for a reliable pilot car
for your transport?
Get Started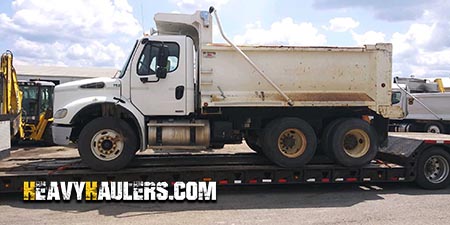 How To Ship a Dump Truck
The best way to ship a dump truck is to give us a call. A dedicated transport specialist will know the best driver and trailer to get you moving. Different types of dump trucks may require different types of trailers. Depending on if the dump truck has single, double, or triple axles, along with the other dimensions, we'll be able to provide you with the best transport solutions possible.
Besides the trailer and rig, you need a driver certified and bonded trained to safely transport your equipment. Shipping your dump truck will also require a route planner, with an eye for construction zones, weigh station regulations, and customs where needed. Heavy Haulers provides that, as well as flagging and an oversized load convoy where necessary.
See what you need?
Call us for a FREE Shipping Estimate at (800) 908-6206
See More of Our Recent Dump Trucks Moves
Transporting a 2003 International 4900 Garbage Truck
Heavy Haulers can transport anything you need! This 1993 International 4900 garbage truck was recently shipped by our specialist, Edwin Ortiz. This garbage truck was picked up in sunny Clearwater, FL and delivered intrastate in equally sunny Fort Lauderdale, FL. This International garbage truck is 24 feet 5 inches wide, 8 feet wide, is 10 feet 5 inches tall and weighs 11 tons! If you need your garbage truck hauled call Edwin Ortiz at Heavy Haulers for your quick quote. - 954-246-3426
Transporting a Volvo VHD 200 Dump Truck
Heavy Haulers recently transported this Volvo VHD200 tri axle dump truck. Another tight delivery window conquered! Chris secured a rig to load this big red within three hours of taking the order. It was loaded in Michigan and safely delivered in Rhode Island in one day. If you need your Volvo Dump truck hauled give Chris Kyle at Heavy Haulers a call! (239) 256-2733 .
Transporting a 2008 Mack Dump Truck
Antonio at Heavy Haulers is prepared to assist you with your next shipment. This 2008 Mack Dump Truck was recently hauled from Houston, TX to Quincy, FL. This Dump truck was 28 feet long, 8 feet 2 inches wide, 10 feet 3 inches tall and weighed approximately 26,000 pounds. Antonio was able to schedule the driver to load and deliver this truck on the customers behalf. To schedule your next freight load call Antonio at Heavy Haulers. (239) 202-0537
Hauling a 2008 Mack Dump Truck on an rgn trailer
Finding a reliable company can be difficult at times. This is a Mack Dump Truck Antonio at Heavy Haulers shipped. Heavy Haulers agents are trained and have experience at dealing with all situations as the occur. Antonio at Heavy Haulers is prepared to be able to ship all of your equipment or implements anywhere in the United States, Mexico or Canada. Call Antonio at Heavy Haulers today for more information. (239) 202-0537
Transporting an International 4700 Dump Truck
Did you just purchase a new Tri Axle Dump truck? If so, call Chris Kyle at Heavy Haulers to coordinate the delivery of your new toy! Chris recently transported this Volvo VHD 84 200 Tri Axle Dump truck from Flint, MI to Wakefield, RI . This dump truck measured 25 feet in length was 8 feet 6 inches wide 10 feet 6 inches high and weighed approximately 23,000 pounds. This load was a legal load and did not require any special permits for transport, which saved the client mucho money! Call Chris Kyle at Heavy Haulers to schedule your next shipment. - (239) 256-2733 .
Shipping an International Dump Truck on an rgn trailer
Trust us to transport your International Dump Trucks! We transported this International Dump Truck with a plow attachment for one of our repeat clients. It was picked up in Springfield, MO and delivered to Newburgh, IN. This route was 385 miles from pick up to drop off. It was 28 feet in length, 8 feet in width, 11 feet 6 inches in height and 30,000 pounds! Call today to schedule your next shipment with our agent Brian G.: (754) 203-9267.
Want to know how to transport a dump truck?
Transporting the hefty dump truck requires drivers to follow strict procedures and use specific equipment. We use step deck, flatbed or RGN trailers to carry single, double and triple axle dump trucks. Our drivers are licensed, bonded and insured, so you don't have to worry about unforeseen circumstances causing damage to your vehicle. We also have a tracking system available for you to see the progress of your truck's journey.
Give Heavy Haulers a call at (800) 908-6206 and let us give you a free shipping quote for your dump truck.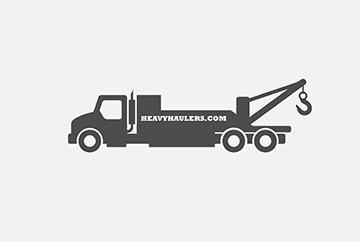 Heavy Haulers Comprehensive Dump Truck Services
● Tranpsorting a dump truck.

● Shipping a dump truck.

● Dump truck transport company.

● Dump truck shipping company.

● Hauling a dump truck.

● Shipping a dump truck overseas.

● Dump truck delivery.

● Moving a dump truck.