Heavy Haul Transport Companies
Are you using a Heavy Haul Transport Company?
This New Holland B95 backhoe will fit on a step-deck trailer.
When having large scale projects, you need to work on; standard transportation is good but not efficient enough. Projects like constructions and mining pose risks, difficulties, and the possibility of damaging the equipment which eventually translates to higher overall operational costs of the business.
Some of the risks and difficulties associated with the projects are solely due to individuals and small business entities taking the work of heavy haul on their hands. trucking companies are vital partners in preventing these difficulties and delays in your plans.
Reasons why you need heavy haul transport companies.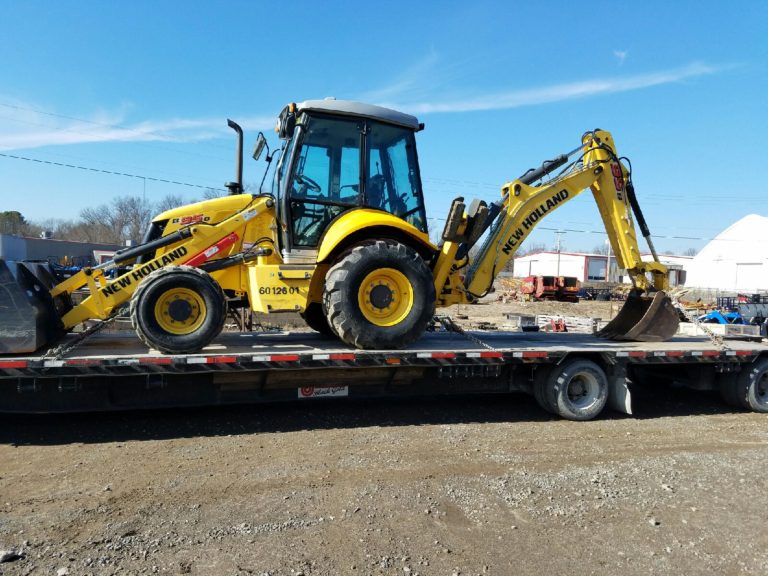 Resources
Heavy haul specialists have plenty of resources that you need to take your project to the next level. The wealth of resources owned by freight carriers may not be available to the small business or individual entities.
Transportation of large and specialized equipment are not the same as transportation of high volumes of storage, and this means different transportation equipment. Heavy hauler companies have access to special trucks and trailers specifically designed to meet every client need.
Heavy trucking companies know the specific requirement for each situation, and proper assessment of the services and materials need. Due to a vast wealth of resources, they haul oversize and over dimensional loads. They select the right type of vehicle regardless of the kind of cargo or equipment you need to ship.
Drivers
Driving heavy haul machines is not like driving any other vehicle. It can be frightening and an intimidating task. Without good experience and training, this task is almost impossible. Conditions like weather changes, road conditions, size of the load and other variables related to equipment shipping require experienced drivers and utmost caution on the roads.
Heavy haul trucking companies make use of experienced and specialized drivers when it comes to large cargos and heavy loads. Their drivers specialize in drop deck and flatbed trailers. They also have expertise in load adjustments to ensure compliance with per-axle weight requirements. This vital factor might be a limitation in individual and small business entities whereas they need to carry on their projects and is one of the primary reasons why you need heavy haul specialists.
Logistics providers give drivers the best training experience which is vital for maneuvering heavy loads and cargo across all types of landscapes. Getting services from these companies ensures all your loads and cargo transportations are under the hands of experienced and reliable drivers.
Permits and Specifications
Trucking and heavy transportation is not just a matter of loading cargo and moving it from one place to the next. There are permits and specifications requirements, especially with large loads. Many of these permits and specifications depend on different states and boundary rules and regulations set.
Permits and specification are one of the most overlooked factors yet critical.Each truck and trailer needs to meet a particular specification. trucking companies due to long-time operations and experience on road trips have experience and are aware of permit issues. They know where and when they are required, and which country and authority need them, hence they can address the challenge head-on.
Wrapping it up
With veteran heavy haul specialists you're rest assured that your project is not prone to bureaucratic holdups and unplanned stoppages on the way. We have thousands of trucks all licensed and insured to haul your heavy loads. Furthermore, we don't ask for any money until we schedule a pickup for your load.
Transport With Heavy Haulers Today!
Step 1:

Fill Out Quote Form

Fill out the short & easy quote form.
Step 2:

Speak With An Agent

We'll pick up your heavy equipment or vehicle.
Step 3:

Get Transported On Time

We deliver on time so you can get back to work.