Shipping New Holland Construction Equipment
Call Our company Heavy Haulers for all New Holland equipment shipping services locally or cross country at (800) 908-6206! Trust Heavy Haulers to ship your New Holland construction equipment. New Holland Construction is a manufacturer of construction equipment for the U.S. market. Founded in 1895 in New Holland, Pennsylvania, New Holland first produced agricultural equipment. The agricultural division remains the main component of the company today. Sperry bought the company in 1947, operating it for nearly 27 years.


New Holland prospered as a division of Ford between 1974 and 1991, when the company was bought by equipment manufacturer CNH's Fiat division. The 1999 purchase of Germany's Orenstein and Koppel, a well-respected construction equipment manufacturer, added to the company's product line. In 2005, New Holland Construction was formed. The company currently produces 13 types of construction equipment. Parent CNH employs more than 60,000 people worldwide.
Common New Holland Equipment We Transport Frequently:

Recent New Holland Equipment Heavy Haulers Has Shipped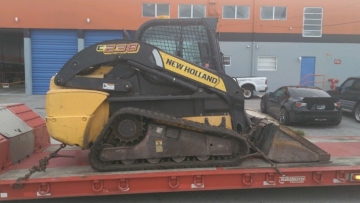 New Holland C238 Skid Steer Transport
Shipping From: Miami, FL

Transporting To: New Holland, PA

Specs: New Holland C238 skid steer; 12L x 6W x 7H; 10,500lbs

Transport Specialist: Brian G.
(754) 203-9267
New Holland T8.330 Tractor Transported
Shipping From: Twin Valley, MN

Transporting To: Riverton, WY

Specs: 2011 New Holland T8.330 Tractor; 20L x 10W x 11H; 26,000lbs

Transport Specialist: Sam D.
(561) 931-6741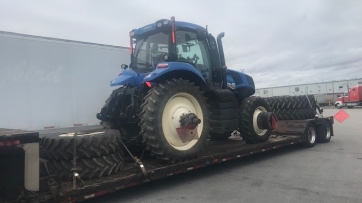 Shipping a New Holland T8.390 Tractor from Kentucky to Michigan
Shipping From: Bowling Green, KY

Transporting To: McBain, MI

Specs: 1 New Holland T8.390; 24L x 10W x 11H; 30,000lbs

Transport Specialist: Jay H.
(561) 562-4968
Transporting a Backhoe to
Texas
Shipping From: Lake Charles, LA 70601

Transporting To: Friona, TX 79035

Specs: Backhoe; 25L X 8W X 9H; 45,000lbs

Transport Specialist: Brian G.
(754) 203-9267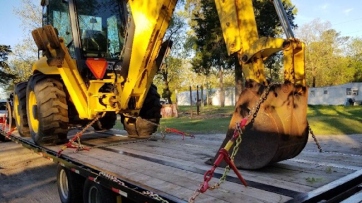 Shipping a New Holland LB115 Backhoefrom North Carolina to Maryland
When your money-maker needs to arrive at point-B on a tight deadline trust the leaders in the business to ensure that your business continues to run smoothly. Having the proper equipment and the right driver is only part of the entire process. When you hire Heavy Haulers to tow your equipment you're teaming up with a company with a proven track record with thousands of successful transport orders. Our job is not done until you receive your prized possession. You will have access to your own Heavy Hauler representative as well as contact with the driver for status updates. One stop shop from pickup to drop. Contact Mike P. today and let him know what you need moved.
Transport Specialist: Mike P.
(754) 203-8914
2015 New Holland Swather Speedrower Transported On an RGN Trailer
This 78,000 pound 2015 New Holland Speedrower was hauled on an RGN Trailer by Alec B. from Heavy Haulers from Appleton, Wisconsin to hoven in South Dakota. The permit carrying 14 ft. long and 13.7 ft. wide Speedrower with a Swather was shipped 632 miles along the SD-20 W after being secured with chain tie-downs and flagged. This 11 ft. high transport took less than the estimated time for delivery in South Dakota despite traveling at a careful speed.
Transport Specialist: Alec B.
(267) 435-2627
Common New Holland Wheel Loaders We Transport!
New Holland wheel loaders are known for their great performance and high precision. The New Holland compact wheel loader for example, is known for its newly improved weight lifting capacity due to its weight distribution. This also makes it easier to load at the centre of a trailer without touching the edge. Their automatic Glide-Ride system engages when over 5.5km/hr to stop the arm from bouncing and to allow seamless travel at a maximum road speed. This feature helps us to transport any type of a New Holland wheel loader safely.
Heavy Haulers Can Transport all Types of New Holland Wheel Loaders, Including:
Common New Holland Crawler Tractors We Transport!
New Holland is highly known due to its speciality in producing the world leader crawler tractors. The first New Holland crawler tractor, 700 C crawler, was produced in 1932. The company has since produced different models of crawler tractors which we all transport. The New Holland TK4 crawler tractor for example is well known for its exceptional performance, stability and comfort. All types of New Holland crawler tractors are made to withstand different terrains and contribute to great productivity.
Heavy Haulers Can Transport all Types of New Holland Crawler Tractors, Including: