Shipping New Holland Construction Equipment
Call Our company Heavy Haulers for all New Holland equipment shipping services locally or cross country at (800) 908-6206! Trust Heavy Haulers to ship your New Holland construction equipment. New Holland Construction is a manufacturer of construction equipment for the U.S. market. Founded in 1895 in New Holland, Pennsylvania, New Holland first produced agricultural equipment. The agricultural division remains the main component of the company today. Sperry bought the company in 1947, operating it for nearly 27 years.


New Holland prospered as a division of Ford between 1974 and 1991, when the company was bought by equipment manufacturer CNH's Fiat division. The 1999 purchase of Germany's Orenstein and Koppel, a well-respected construction equipment manufacturer, added to the company's product line. In 2005, New Holland Construction was formed. The company currently produces 13 types of construction equipment. Parent CNH employs more than 60,000 people worldwide.
Common New Holland Equipment We Transport Frequently:

Recent New Holland Equipment Heavy Haulers Has Shipped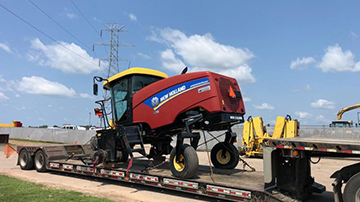 2015 New Holland Speedrower Hauled on an RGN Trailer
Shipping From: Appleton, WI

Transporting To: Hoven, SD 57450

Specs: 2015 New Holland Swather Speedrower;14L X 13.7W X 11H; 78,000lbs

Transport Specialist: Alexander Robinson (561) 229-0691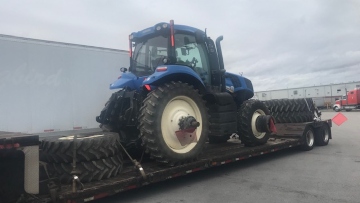 Hauling a New Holland T8.390 from Kentucky
Shipping From: Bowling Green, KY 42101

Transporting To: Mc Bain, MI 49657

Specs: New Holland T8.390; 24L X 10W X 11H; 30,000 lbs

Transport Specialist: Jay Hays
(561) 562-4968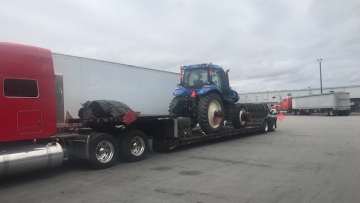 New Holland T8.390 Loaded On Our Trailer
Shipping From: Bowling Green, KY 42101

Transporting To: Mc Bain, MI 49657

Specs: New Holland T8.390; 24L X 10W X 11H; 30,000 lbs

Transport Specialist: Jay Hays
(561) 562-4968