How To Load a Skid Steer
Loading a skid steer for transportation to a new job site is a task you may not have encountered, but it's a regular task for many heavy haulage companies. It's smaller than many other machines found on a construction site, so there's a variety of options when it comes to how to load a skid steer safely on a platform for off-site towing.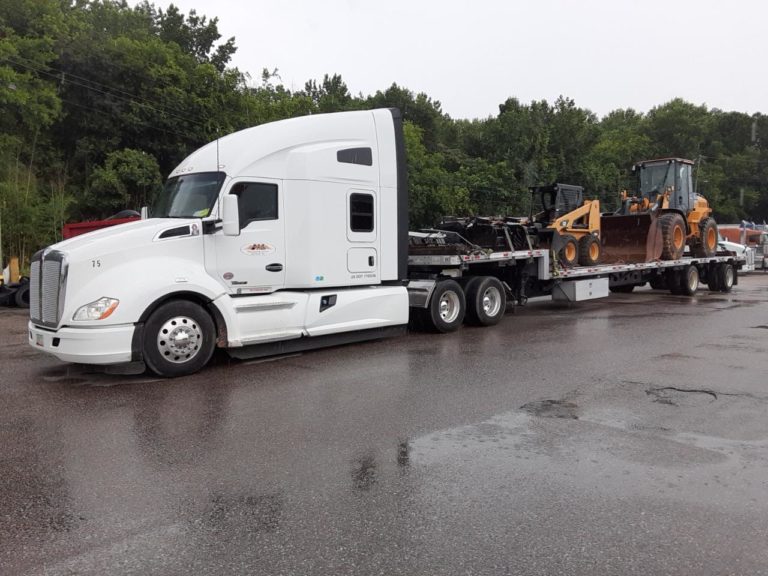 How to Prepare For Skid Steer Towing
Typically, you'll need to prepare your equipment for its skid steer haulage journey before the truck drivers arrive on-site. Preparing a skid steer for towing involves much of the same maintenance steps that you'd use if you were cleaning up your machine and prepping it for on-site storage.
Check your skid steer's operating manual for safety protocols.
Clean the skid steer.
Drain its fluids.
Remove or secure any loose parts.
Remove or secure skid steer attachments.
Disconnect its battery or fuel tank.
The lift arms on a skid steer machine can have different equipment attached, such as pallet forks, buckets, sweepers, and mixers. Your chosen hauler will determine if a skid steer can be shipped with attachments intact, their relevant positioning, or if the attachments need to be removed for shipping separately on the bed of the trailer. For example, a skid steer with fork attachments will be shipped in a similar way to a forklift, with the forks lowered and facing towards the rear of the trailer.
Key Skid Steer Equipment Loading Maneuvers for Transport
When haulers are on-site, fundamental skid steer equipment maneuvers are required to make sure the skid steer is positioned effectively for loading. As skid steers have separate drive wheel controls, the wheels on the left are controlled separately to the wheels on the right, maneuvers of a skid steer can vary from other types of construction equipment. This difference in driving controls provides the machinery with added maneuverability, making it possible to do tight turns easily. Driving a skid steer does take practice, but an experienced hauler will know the basic maneuvers, which help to load a skid steer onto the chosen trailer.
Basic controls often required for loading a skid steer are as follows:
Pushing both control arms forward to propel the skid steer forward
Pulling back on the control arms to move the skid steer backward
Turning towards the right when forward driving
Turning towards the left when forward driving
Lowering buckets or attachments using the left foot pedal
Empty buckets or attachments using the right foot pedal
Turning off the engine before exiting the cab
The Best Trailers for Skid Steer Transport
The right rig for skid steer loading typically depends on the weight and dimensions of your machine. Knowing the manufacturer's make and model is the easiest way to determine its weight and dimensions. When you contact a heavy haulage company for a quote, they should ask for this information as it will help the representative to suggest the right-sized trailer for safe long-haul transportation.
Flatbed trailers can be used to safely transport a skid steer if your site has access to a loading dock. Most flatbed trailers have no issue with skid steer transport haulage, as machinery over 40,000lbs can be shipped on this type of platform. If there's no on-site loading dock at either the start or finish destination, a step-deck trailer will typically be the most suitable option. Using a step-deck means that a skid steer can be loaded safely with a forklift, and it can also accommodate larger skid steer machinery that may otherwise be too tall for traditional flatbed trailers.
For extremely oversized industrial skid steer transport, removable gooseneck trailers (RGN) can be used. One advantage of using an RGN trailer is that the front end of the trailer can be unhooked. Machines can be driven up a ramp directly onto the trailer, so there's no need for additional machinery to load a skid steer onto the trailer platform. However, skid steers often have low ground clearance, so if the ramp is steep, it may be impossible to drive the equipment onto the RGN safely.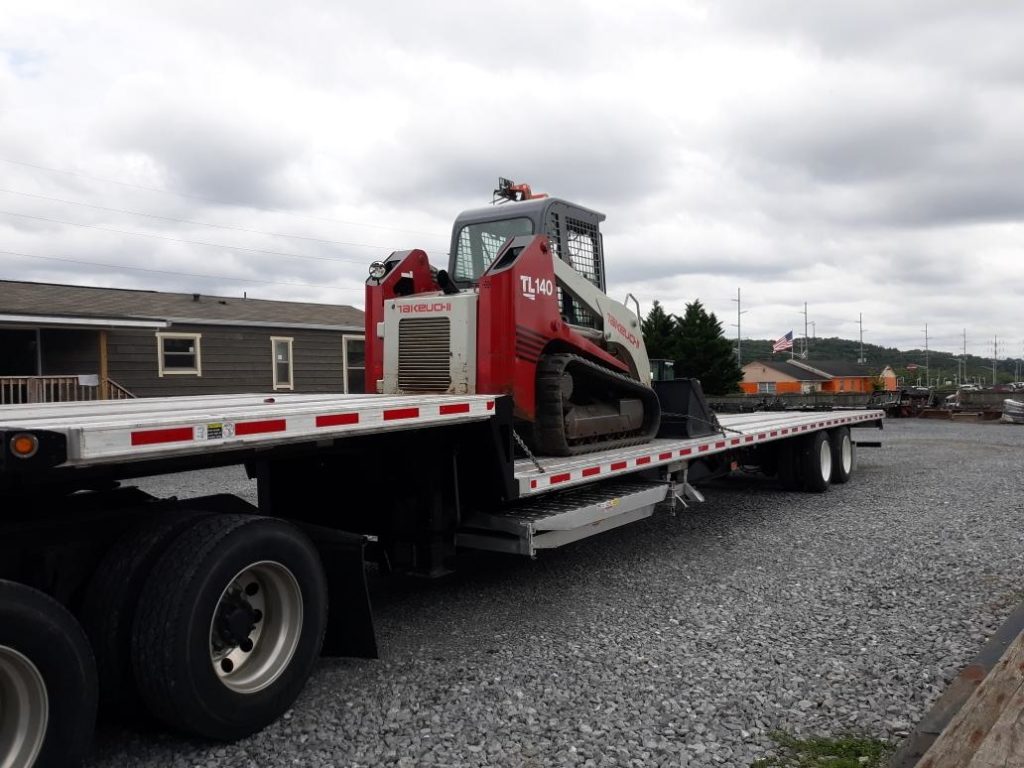 Transport Your Skid Steer With Heavy Haulers Today!
Step 1:

Fill Out Quote Form

Fill out the short & easy quote form.
Step 2:

Speak With An Agent

We'll pick up your heavy equipment or vehicle.
Step 3:

Get Transported On Time

We deliver on time so you can get back to work.