Skid Steer Shipping Services Provided in All 50 States, Canada, and Mexico!
Choose Heavy Haulers, the oversized machinery transport experts, to ship your skid steer from one job site to the next. We understand that as a busy contractor, time is money – as we aim to save you both. From licensed, insured drivers to expert trip planners, Heavy Haulers has made moving your skid steer – and any other heavy equipment you need – simple and hassle-free. With satisfied customers shipping from Canada to Mexico and across the U.S., come see why Heavy Haulers is the preferred transport company for skid steers. Give us a call at (877) 202-3718 today!
Transporting Skid Steers with Heavy Haulers is Easier Than You Think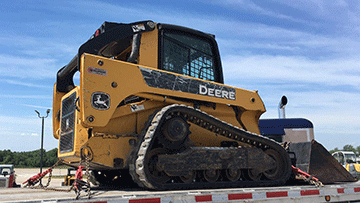 2006 John Deere CT 322 Skid Steer Being Shipped
Depending on the weight and dimensions of your skid steer, you'll either have it loaded on a standard flatbed trailer, which needs access to a dock, or a step deck trailer, loading the skid steer on board with a forklift. Your logistics representative will determine the safest way to ship your skid steer and contract with a dependable, experienced driver to provide Heavy Hauler's door-to-door service. We focus on safety, of your crew, ours, and your expensive equipment. Even the largest skid steers, weighing at more than 40,000 pounds, are no problem for the team at Heavy Haulers. We also have RGN trailers available for the tallest, heaviest equipment.
Schedule Your Skid Steer Shipment Any Day of The Week!
A consultation with one of our logistics specialists is the first step. They'll plan your route, whether you just need a skid steer transported or if you need to move all of your heavy construction or excavation machinery. All paperwork, including customs forms and weigh station records, as well as travel permits, is handled by your representative. You'll receive real-time updates on your shipment. Heavy Haulers specializes in moving large machinery like skid steers. Give us a call today for a FREE, no-obligation quote at (877) 202-3718!
Recent Skid Steers Transported by Heavy Haulers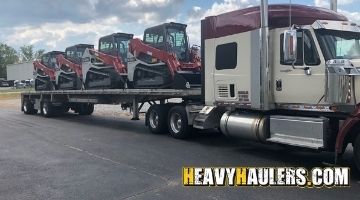 Takeuchi TL10V2 Track Loader Transported To South Dakota on a Flatbed Trailer
Mike Phillips from Heavy Haulers shipped four Takeuchi TL10V2 Skid Steers from Pendergrass, Georgia to Aberdeen, South Dakota on a flatbed trailer. He loaded the 10,000-pound skid steers using a loading dock and tied them down with chain strapping. These Takeuchi TL10V2 Track Loaders had dimensions of 12 ft. length, 6 ft. as width and 7 ft. height, for which delivery was made within the stipulated time frames.
Transport Specialist: Mike Phillips
(754) 203-8914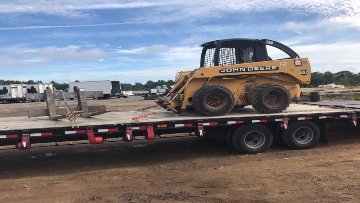 John Deere 260 Skid Steer Hauled On a Hotshot Trailer to Texas
Sam Duncan, the Heavy Haulers equipment shipping specialist performed the logistical planning and dispatch coordination for this John Deere 260 Skid steer. The move was from Brooklyn, Mississippi to Wyllie Texas, and Sam Duncan loaded the 8,300 pounds John Deere 260 skid steer onto a hotshot trailer which comfortably accommodated its 9 ft. length, 7 ft. height and 6 ft. width for the 512-mile journey.
Transport Specialist: Sam Duncan
(561) 931-6741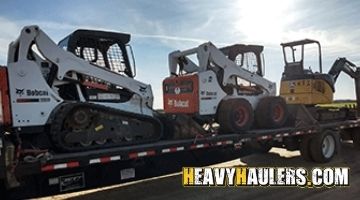 Shipping a Bobcat S750 Skid Steer and Bobcat T590 Track Loader
Heavy Haulers recently shipped these machines, a Bobcat S750 Skid Steer and a Bobcat T590 Compact Track Loader, from Headland, Alabama, to Wylie, Texas. Also included in the shipment: one John Deere 35D Mini Excavator. The trip was nearly 750 miles long. S750 dimensions: Weight: 3,200 pounds. Length: 10 feet. Width: 5 feet. Height: 7 feet. T590 dimensions: Weight: 8,300 pounds. Length: 12 feet. Width: 7 feet. Height: 7 feet. To ship your Bobcat skid steer to its next destination, call Tye at Heavy Haulers directly at
Transport Specialist: Tye
754) 253-3770