Sizzlin' Transport Services for This Vintage Food Truck
Shipping a Vintage 1948 Diamond T Food Truck on Our RGN Drop Deck Trailer
This vintage 1948 Diamond T food truck transport was shipped by Stephen Ladd from Ravenel, SC to Gardiner, New York. Expert vintage vehicle handlers were deployed for the move, and Stephen did a load evaluation for shipping that required the capabilities of a Heavy Haulers RGN drop deck trailer.
This vintage food truck was a 1948 model that had an 18,000 pounds GVWR and featured a conventional cab with an inbuilt kitchen and pantry. The truck was a model 201 powered by a Hercules QX-series 6-cylinder engine, built immediately after the second world war by the now-defunct Diamond T Company. This car manufacturer had also had produced vehicles for the US military during the war and produced commercial models that raised the bar for pickup trucks between 1928 and 1950.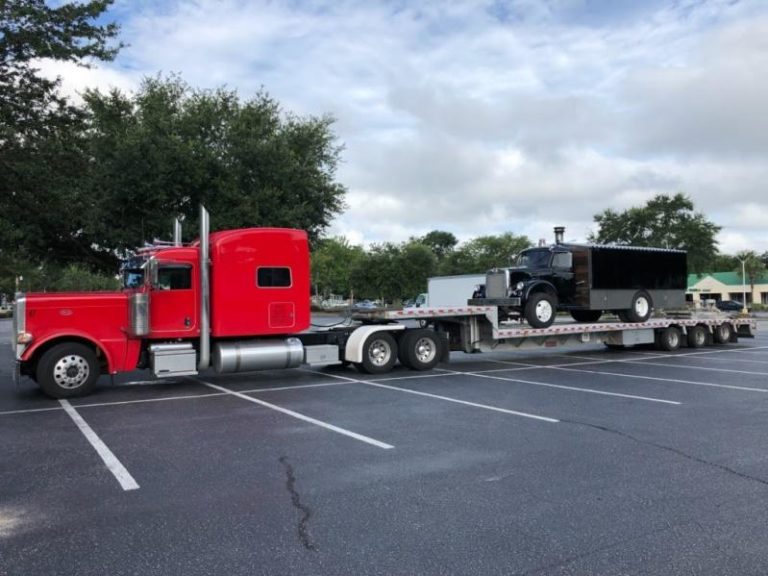 A classic restoration, the owner was particular about how the vintage food truck was handled and chose Heavy Haulers through customer referral. The Heavy Haulers RGN drop deck trailer had the capacity to comfortably handle the vehicle, and loading was facilitated by ramps attached at the rear on which the truck was driven on board.
Once secured, the transport drove from Ravenel in South Carolina, through the states of North Carolina, Virginia, Maryland and New Jersey for the delivery in Gardiner, upstate New York. The journey was 820 miles long and took 23 hours from loading to unloading, mainly due to highway construction obstruction on the I-95 North. The stretch between the cities of Richmond and Philadelphia were especially treacherous and Stephen decided to deploy traffic management escort vehicle.
Unloading the Diamond T vintage food truck at the clients Gardiner location was seamlessly completed by the handpicked team Stephen had set in place. Our competitive shipping rates that didn't require a deposit were charged as quoted after the completion of the project.
Transport Your Vintage Food Truck With Heavy Haulers Today!
Step 1:

Fill Out Quote Form

Fill out the short & easy quote form.
Step 2:

Speak With An Agent

We'll pick up your heavy equipment or vehicle.
Step 3:

Get Transported On Time

We deliver on time so you can get back to work.