Food Truck Transport Services Across All of The United States, Canada and Mexico! Just call (800) 908-6206
Food trucks are expensive investments and an integral part of your business. When it comes to food truck transportation, it could be loaded with other expensive equipment for your business, and that is why you need professionals to ship them carefully to ensure they arrive at their destination safely and in the same condition that they left. At Heavy Haulers, we are specialists, and we have professional drivers with many years of experiences. They are certified and have the expertise required to haul your truck safely to their destination. Our drivers are always conscious of the wraps around the food trucks, and therefore, they drive slowly and carefully to avoid tilting and shifting during transportation that might cause damages to the covers. Trust heavy haulers for the safest shipment of your truck.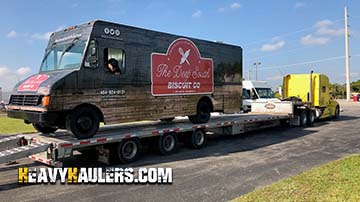 Food Truck Transport Services
Why You Should Trust Heavy Haulers To Ship Your Food Truck
The security of your food truck is very vital, and you need a hauling company that can assure that your vehicle is safe up to the time it is delivered. At Heavy Haulers, the safety of all equipment we transport is our priority. We have all the requirement, licenses, and permits for transportation of all loads. We are licensed, insured, and bonded for shipping of all heavy equipment across the United States Mexico and Canada. No matter the worth, we make sure all the machines are insured to ensure they are safe in case of an emergency. Additionally, We acquire all the states and county permits required for transportation of all trucks, obtain the proper paper works that are needed, and use specialized drivers for shipping your trucks. We also understand the need of having appropriate vehicles that can accommodate all the dimensions of your vehicle and transport it safely, and therefore we have trailers like adjustable flatbeds, drop decks, removable goosenecks and step decks to ensure your truck will get the right match for shipping.
We Transport all Sized Food Trucks | Heavy Haulers | (800) 908 6206
No matter the size, shape, weight, distance or how expensive your food truck may be, Heavy Haulers is your official food truck transportation company. We transport all food trucks, including beverage trucks, snacks trucks, mobile kitchens, waffle trucks, catering trucks, and other types of food trucks. We offer dependable, reliable, and most trustworthy food trucks transportation services with excellent prices. If in need of transporting a food truck, all you need is to call us on (800) 908 6206 and you will get transportation services with a difference.
Our Recent Food Truck Shipments
See what you need?
Call us for a FREE Shipping Estimate at (800) 908-6206
Common Trailer Types Available from Heavy Haulers
Heavy Haulers specializes in hauling heavy loads such as construction equipment, oil field rigging and Super Loads. We are wideload experts! We offer an extensive range of trailer choices, including:
Max Weight: 48,000 lbs. | Max Length 53 ft. | Max Width 8.5 ft. | Max Height 11 ft.




Max Weight: 45,000 lbs. | Max Length 29 ft. | Max Width 8.5 ft. | Max Height 11.5 ft.
Max Weight: 150,000+ lbs. | Main Deck Length 29 ft. | Well Width 8.5 ft. | Legal Height Limit 11.6 ft.




Max Weight: 48,000 lbs. | Max Length 53 ft. | Max Width 8.5 ft. | Max Height 8.5 ft.
We transport many brands of Trucks across the country and North America
Trust Heavy Haulers to transport any brand of truck you own. We are experienced in handling all types of brands and manufacturers, we have hands-on experience shipping all truck manufacturers there is on the road! Some of the truck brands we commonly ship include:
See what you need?
Call us for a FREE Shipping Estimate at (800) 908-6206