Food Truck Transport Services Across All of The United States, Canada and Mexico
Food trucks are expensive investments and an integral part of your business. When it comes to food truck transportation, it could be loaded with other expensive equipment for your business, and that is why you need professionals to ship them carefully to ensure they arrive at their destination safely and in the same condition that they left. At Heavy Haulers, we are specialists, and we have professional drivers with many years of experience. They are certified and have the expertise required to haul your truck safely to their destination. Our drivers are always conscious of the wraps around the food trucks, and therefore, they drive slowly and carefully to avoid tilting and shifting during transportation that might cause damages to the covers. Trust heavy haulers for the safest shipment of your truck.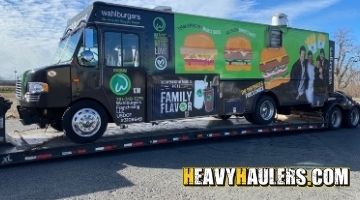 Food Truck Shipping
Why You Should Trust Heavy Haulers to Ship Your Food Truck
The security of your food truck is very vital, and you need a hauling company that can assure that your vehicle is safe up to the time it is delivered. At Heavy Haulers, the safety of all equipment we transport is our priority. We have all the requirements, licenses, and permits for transportation of all loads. We are licensed, insured, and bonded for shipping of all heavy equipment across the United States Mexico and Canada. No matter the worth, we make sure all the machines are insured to ensure they are safe in case of an emergency. Additionally, We acquire all the states and county permits required for transportation of all trucks, obtain the proper paper works that are needed, and use specialized drivers for shipping your trucks. We also understand the need of having appropriate vehicles that can accommodate all the dimensions of your vehicle and transport it safely, and therefore we have trailers like adjustable flatbeds, drop decks, removable goosenecks and step decks to ensure your truck will get the right match for shipping.
We Transport all Sized Food Trucks With Quality Service
No matter the size, shape, weight, distance or how expensive your food truck may be, Heavy Haulers is your official food truck transportation company. We transport all food trucks, including beverage trucks, snack trucks, mobile kitchens, waffle trucks, catering trucks, and other types of food trucks. We offer dependable, reliable, and most trustworthy food trucks transportation services with excellent prices. If in need of transporting a food truck, all you need is to call us on (800) 908-6206 and you will get transportation services with a difference.
Common Types of Food Trucks We Ship:
● Ice Cream Trucks
● Hamburger Trucks
● Sandwich Trucks
● Lunch Trucks
● Breakfast Trucks
● Dessert Trucks
● Hot Dog Trucks
● Barbecue Food Trucks
● Pizza Trucks
● Gourmet Food Trucks
Our Recent Food Truck Shipments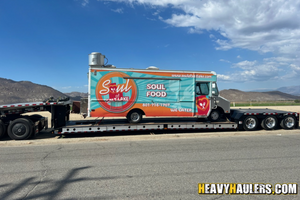 Transporting a 1990 GMC Food Truck
Origin: Nuevo, CA
Destination: Salt Lake City, UT
Specs: Food Truck; L28 W8 H12.6; 15000lbs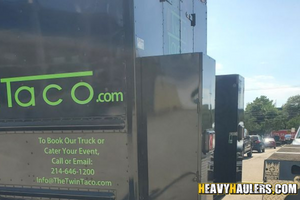 Transporting a Food Truck to Tulsa, OK
Origin: McKinney, TX 75069
Destination: Tulsa, OK 74120
Specs: Food Truck; 18500lbs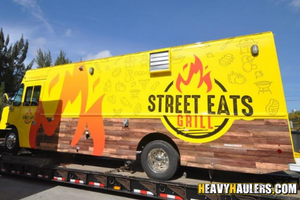 Transporting a 2022 Food Truck
Origin: Deerfield Beach, FL 33442
Destination: Oakdale, MN 55128
Specs:2022 Food Truck; 31L 11.6H 8W; 30000lbs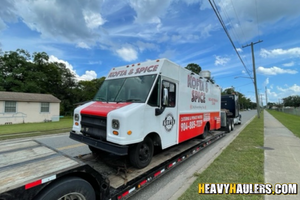 2010 Chevrolet P30 Food Truck
Origin: Jacksonville, FL 32254
Destination: Fredericksburg, VA 22407
Specs: 5,500lbs
Ford F59 Food Truck transport from Georgia to Florida
Origin: Lawrenceville, GA
Destination: Fort Lauderdale, FL
Specs: 2016 Ford F59 Food Truck #17000 L22 W8.5 H11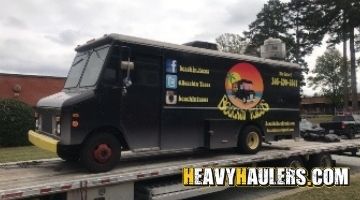 Transporting a Ford Step Van Food Truck from California to Florida
Origin: San Francisco, CA
Destination: Miami, FL
Specs: 2016 Ford F59 Step Van Food Truck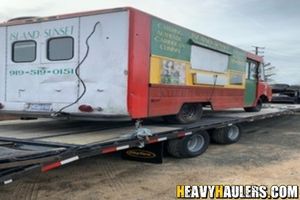 Pizza Truck Hauled on a Flatbed Trailer to California
Origin: Salt Lake City, UT
Destination: Pleasanton, CA
Specs: Food Truck; 25L X 8.5W X 10.6H; 15,000lbs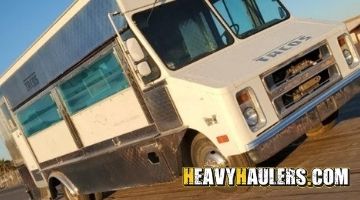 Shipping a Chevy Food Truck from Arizona to Nevada
Origin: Yuma, AZ
Destination: Las Vegas, NV
Specs: 1985 CHEVY P39 26 x 8 x 10 13000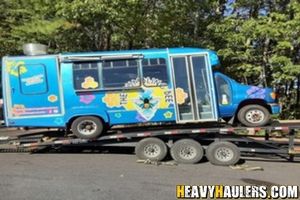 Ford E450 Shuttle Bus Hauled on a Hot Shot Trailer to Colorado
Origin: Virginia Beach, VA
Destination: Boulder, CO
Specs: Food Truck; 25L X 8.5W X 10.1H; 140,000lbs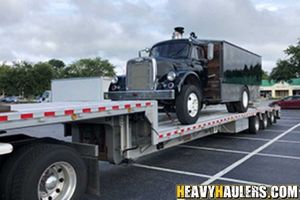 International Harvester Pizza Truck Hauled on a stepdeck trailer to California
Origin: Salt Lake City, UT 84104
Destination: Pleasanton, CA 94566
Specs: 1962 International Harvester Pizza Truck; 25L X 8.5W X 10.6H; 15,000lbs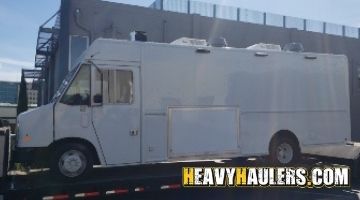 Ford Food Truck Transport from California to Michigan
Origin: San Francisco, CA
Destination: Westland, MI
Specs: 2016 Ford F59 Step Van Food Truck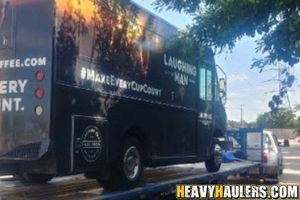 Food Truck Hauled On a Hotshot Trailer from Texas to Wisconsin
The shipping of this food truck was handled by Tye Forte, a Heavy Hauler's transport specialist for oversize and abnormal loads. He did a load valuation and sought overweight permits for the 140,000-pound food truck, which had a within limit 8.5 ft. width and 10.1 ft. height. Tye Forte and the Heavy Haulers load handlers loaded the food truck on a hotshot trailer using loading ramps at Carrollton, Texas for delivery in Muskego, Wisconsin; a 989-mile journey.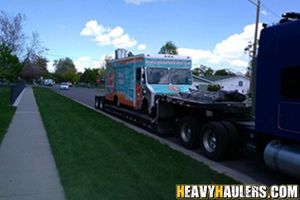 Food Truck Coming in Hot Shipped on an RGN Trailer from Utah to California
Brian Goncharsky handled all the logistics planning and dispatch coordination for this food truck, which was picked up in Salt Lake City, Utah for delivery in Carson California. The truck weighed 30,000 pounds and had a width of 8.5 ft. which called for a Heavy Haulers RGN trailer. Brian G. tied down the 30 ft. long and 12 ft. high food truck with chain rigging for the 700-mile route to crystal city, California.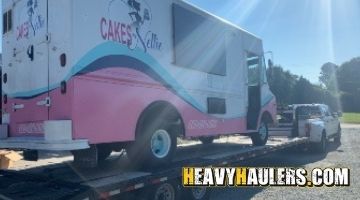 Shipping a Chevy Food Truck from North Carolina to Georgia
Origin: Charlotte, NC
Destination: Atlanta, GA
Specs: 1989 Chevy Food Truck #10000 L21 W8 H10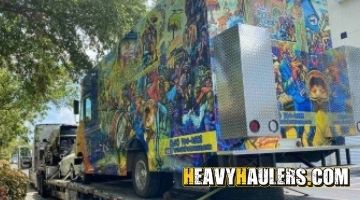 The Real Nawlins Food Truck Shipped From Hollywood, FL
Origin: Hollywood, FL
Destination: Saint Paul, MN
Specs: 2003 Nawlins Food Truck 26L 8W 10H
See what you need?
Call us for a FREE Shipping Estimate at (800) 908-6206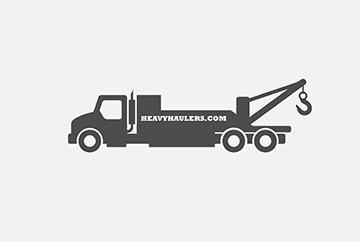 Heavy Haulers Provides Excellent Food Truck Towing Services
Need excellent food truck towing service? We understand how expensive your machinery equipment can be, and the safety of your equipment is our priority. We offer affordable towing services across the United States, Canada, and Mexico. We cover both short and long distances with our reliable towing machines not disappointing with unnecessary breakdowns. You just need to give us a call through (800) 908-6206 and experience the safest and secure food towing services.
We transport many brands of Trucks across the country and North America
Trust Heavy Haulers to transport any brand of truck you own. We are experienced in handling all types of brands and manufacturers, we have hands-on experience shipping all truck manufacturers there is on the road! Some of the truck brands we commonly ship include:
Heavy Haulers Ships Across All 50 States
Alabama - Alaska - Arizona - Arkansas - California - Colorado - Connecticut - Delaware - Florida - Georgia - Hawaii - Idaho - Illinois - Indiana - Iowa - Kansas - Kentucky - Louisiana - Maine - Maryland - Massachusetts - Michigan - Minnesota - Mississippi - Missouri - Montana - Nebraska - Nevada - New Hampshire - New Jersey - New Mexico - New York - North Carolina - North Dakota - Ohio - Oklahoma - Oregon - Pennsylvania - Rhode Island - South Carolina - South Dakota - Tennessee - Texas - Utah - Vermont - Virginia - Washington - West Virginia - Wisconsin - Wyoming
Looking For Transport
With a Specific Trailer?

Max Weight: 150,000+ lbs. | Main Deck Length 29 ft.
| Well Width 8.5 ft. | Legal Height Limit 11.6 ft.

Max Weight: 48,000 lbs. | Max Length 53 ft.
| Max Width 8.5 ft. | Max Height 8.5 ft.
Max Weight: 48,000 lbs. Max Length 53 ft. |
Max Width 8.5 ft. | Max Height 11 ft.
Max Weight: 45,000 lbs. | Max Length 29 ft.
| Max Width 8.5 ft. | Max Height 11.5 ft.
Heavy Haulers Pilot Car Services
Are you looking for a reliable pilot car
for your transport?
Get Started
See what you need?
Call us for a FREE Shipping Estimate at (800) 908-6206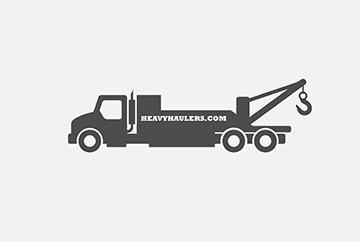 Heavy Haulers Comprehensive Food Truck Services
● Shipping a food truck.

● Transporting a food truck.

● Food truck transport company.

● International food truck shipping.

● Local and domestic food truck transport.

● Types of food trucks Heavy Haulers ships.

● Costs of shipping a food truck.
See More of Our Recent Food Truck Shipments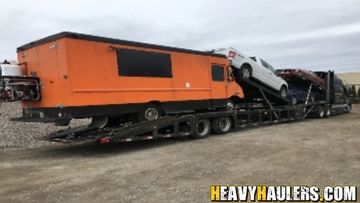 2001 Workhorse P230 Food Truck
Origin: Livonia, MI 48152
Destination: Newark, DE 19711
Specs: 10,000# 22x8x10 10k lbs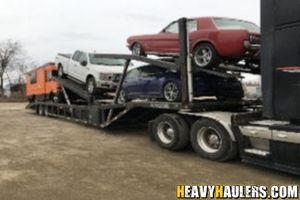 2001 Workhorse P230 Food Truck
Origin: Livonia, MI 48152
Destination: Newark, DE 19711
Specs: 10,000# 22x8x10 10k lbs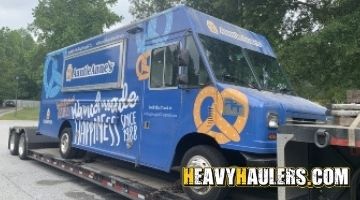 Shipping a Ford Food Truck from Georgia to Pennsylvania
Origin: Tyrone, GA
Destination: Pittsburgh, PA
Specs: 2018 Ford F59 Food Truck #17000 L22 W8.5 H11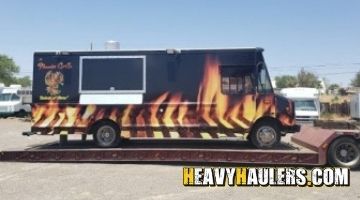 Hauling a Chevy Food Truck from El Paso, TX to Austin, TX
Origin: El Paso, TX
Destination: Austin, TX
Specs: 2005 Chevy P30 Workhorse Food Truck #10000 L23 W8 H11.2