Industry-Leading Break Bulk Shipping Services
Ship break bulk cargo with confidence. Heavy Haulers has over a decade of experience in hauling and transport all over the world. Each break bulk transport is customized to fit the client's needs. At Heavy Haulers, the client comes first. That means we pay attention to detail and find the best prices in the industry. It's our goal to provide a quality break bulk transportation solution.
Break bulk shipping services moves cargo transported in barrels, crates, boxes, drums, or pallets. Break bulk cargo is loaded individually, and not in a container. Heavy Haulers will find the best driver, truck, and trailer to haul your break bulk cargo to the shipyard. The best route is planned to make sure that your break bulk cargo is delivered on time. Call now! (800) 908-6206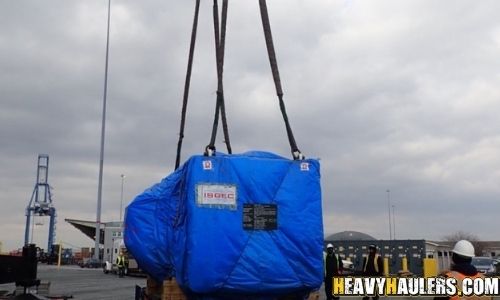 Choose Heavy Haulers for Break Bulk Transport
Break bulk cargo requires a keen eye for detail. Because it's individualized cargo and not loaded into a shipping container, you need a logistics team that knows what they're doing. Heavy Haulers brings a decade of experience, and the reputation to back it up. All drivers are vetted to make sure they have the proper licensing, insurance, and the experience needed to haul break bulk cargo. We provide load tracking so you'll have peace of mind. Your transport agent will be available from dispatch to delivery for any questions you may have.
Different from other heavy goods and items, break bulk cargo includes oversized equipment, large units, or cargo not transported in regular shipping bins. These larger items can move in the ship's hold, or on appropriately sized and weighted skids and pallets. It can also include "heavy break bulk cargo," items weighing over 100 tonnes, such as turbines or heavy engines. Construction equipment and vehicles, as well as boats and small planes, are considered break bulk shipments too. Break bulk cargo is different from bulk shipping for petroleum products. Essentially, items in break bulk cargo must be loaded individually, instead of in standard sized shipping containers or in intermodal containers such as those used for grain or petroleum products. Each piece of break bulk cargo is loaded individually, often needing specialized equipment to do so. Call now! (800) 908-6206
See what you need?
Call us for a FREE Shipping Estimate at (800) 908-6206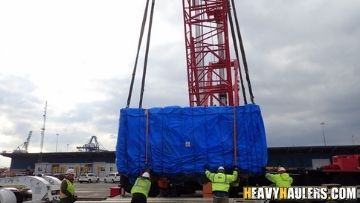 Why Choose Break Bulk Shipping?
Many people prefer break bulk shipping because although the loading and unloading may be more time consuming, it means that their cargo doesn't have to be disassembled for shipment. In addition to allowing pieces of specialized machinery to remain intact, there are other benefits to break bulk shipping. The time spent disassembling and reassembling the items can add a quite a lot of time to the initial shipment estimates for getting your items from Point A to Point B. Reducing the time spent reassembling your complicated machinery can make quite a bit of difference, especially for projects under tight deadlines. Finally, you don't run the risk of possible loss of individual components of your equipment – or errors in reassembly.
Drawbacks to Break Bulk Shipping
Looking at the benefits of moving your unusually sized cargo via break bulk shipping, it seems like a win all around. However, there are some things to consider before booking your shipment. Cost is the main factor in determining whether to use break bulk shipping. These items tend to take up more space in the ship's hold and aren't able to stack uniformly. This means that there is less room for other goods on these voyages, hence the added expense. The ships used for break bulk shipping may be outfitted with special cranes and equipment, as well as specialized ways to secure your items during transport. Some ports may not have the specialized equipment to get your heavy cargo onto the ship – which may mean more overland travel to an appropriate port, and thus more expense.
Who Needs Break Bulk Shipping?
When you're planning your next bid or determining travel to your next job site, consider using break bulk shipping instead of your usual methods. If you're a contractor or owner in the petrochemical, oil and gas, energy, marine, or mining industry, then the break bulk shipping provided by Heavy Haulers is perfect for your needs.
Here's How Heavy Haulers Can Help with Break Bulk Shipping
Break bulk cargo is freight that must be loaded individually. It can not be done in bulk because it won't fit into a container. That means you need a hauling company that understands how to move break bulk cargo with the skill and precision necessary to get it done right. Break bulk items are often transported individually on a pallet or in a crate. Types of break bulk cargo can include oversize construction equipment, boats, cranes, and more. At Heavy Haulers we can help with your break bulk cargo shipping needs by planning out the best transport solutions available. Call now and let's get started! (800) 908-6206
What are Typical Break Bulk Shipments?
Your larger machinery and supplies might travel more easily via the break bulk method. Or, if you have "catastrophic recovery" needs – this is, if you need to transport a broken or destroyed piece of equipment – then the break bulk methods will work best for you.
Timber
Cranes
Paper Pulp
Steel slabs
Moblie Homes
Project Cargo
Drummed Crago
Bagged Cement
Steel Pipes and Rebar
Heavy Construction Machinery
Benefits to You
Heavy industry and power generation businesses can move their equipment all over the world. Some equipment, like windmills, turbines, and larger augers and drilling equipment, can only be transported using the break bulk method.
Allow your goods to enter less developed areas. Some ports aren't large enough for typical container ships, and thus the break bulk shipment method, using smaller ships that displace less water, may be the only way to reach your destination.
It's easier to keep goods separated. If your items need to arrive at different destinations in separate units, it makes more sense to have them broken down separately than to share a container.
Freight rates on break bulk shipping are determined based on the basis of Freight Ton or Revenue Ton. This means that the freight is charged on the volume (CBM) or the weight (MT), whichever one is higher.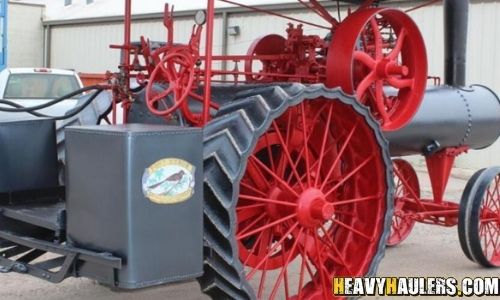 Making it Work for Our Break Bulk Shipping Clients
Break bulk requires more third-party handling of your equipment – and this means that you need a shipping company that you can rely on. Heavy Haulers has made our reputation as a dependable and safe shipping solution thanks to our diligent attention to detail and high standards for those we partner with.
We oversee the entire process, from initial loading to delivery at your final destination. Once your shipment as docked into port, Heavy Haulers can also take care of the overland transport process's including specialized trailers and heavy trucking equipment, or even barges. Part of the Heavy Haulers shipping experience includes real-time contact with dispatch, meaning that you'll know where your shipment is as it's moving.
Heavy Haulers can Transport Any Size Break Bulk Cargo
Although transporting heavy items and unusually sized cargo is more difficult than standard shipments, Heavy Haulers rises to the challenge. We are equipped to handle the job. Some of your shipping methods require specialized equipment and more expensive methods of shipping, but using our extensive network of transportation professionals, Heavy Haulers is able to negotiate the best prices for your load, and pass those savings along to our clients. We understand that you work on a budget, and that time is money. With Heavy Hauler's experience and professional qualifications, we have the capability to move nearly anything, anywhere, by ship. If you think this is the solution to your difficult transport needs, call Heavy Haulers today for a free estimate (800) 908-6206.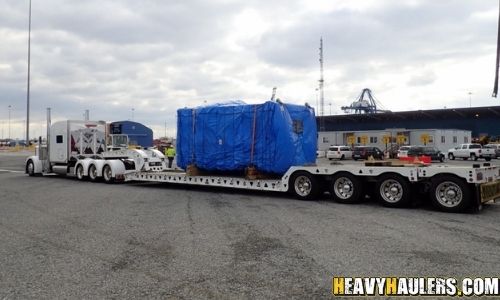 Common Trailer Types Available from Heavy Haulers
Heavy Haulers specializes in hauling heavy loads such as construction equipment, oil field rigging and Super Loads. We are wideload experts! We offer an extensive range of trailer choices, including:
Max Weight: 48,000 lbs. | Max Length 53 ft. | Max Width 8.5 ft. | Max Height 11 ft.




Max Weight: 45,000 lbs. | Max Length 29 ft. | Max Width 8.5 ft. | Max Height 11.5 ft.
Max Weight: 150,000+ lbs. | Main Deck Length 29 ft. | Well Width 8.5 ft. | Legal Height Limit 11.6 ft.




Max Weight: 48,000 lbs. | Max Length 53 ft. | Max Width 8.5 ft. | Max Height 8.5 ft.