Expert Double Drop Deck Hauling By Heavy Haulers
A double drop deck trailer is the easiest way to haul an automobile, heavy duty truck, or other vehicle that can be driven onto the trailer. That's what sets double drop decks apart from the other trailer types. The additional deck lowers to the ground, allowing the shipment to be driven onto the platform without need of any additional equipment. Heavy Haulers, the nation's oversize load shipping specialists, provides professional double drop deck shipping services in all 50 states. Our experienced logistics managers will take care of all the details of your transport, including routing, scheduling, and obtaining permits. Heavy Haulers will also make arrangements for pilot and escort cars. Our transport services experts will make sure that your shipment is properly loaded and protected, so your overweight load arrives in great condition. Add our experienced drivers, who can handle any size freight payload, and Heavy Haulers is your safe, efficient shipping solution.
Recent Loads We Moved on a Double Drop Deck Trailer
Hauling Caterpillar 936F Wheel Loader
Nick H. at Heavy Haulers shipped this Caterpillar wheel loader for one of his clients. This Caterpillar 936F wheel loader was picked up in South Dakota and delivered to its destination in Illinois. Nick H. at Heavy Haulers can ship your freight anywhere in the United States, Mexico or Canada. For more information on the services Nick H. can provide call today! (561) 229-0690
Transporting Caterpillar 936F Wheel Loader
Let Heavy Haulers manage your next haul! This is a Caterpillar 936F wheel loader our agent Nick H. recently shipped. This Caterpillar wheel loader was picked up in Rapid City, SD and delivered to Bedford Park, IL. This wheel loader was 24 feet in length, 8 feet in width, 11 feet high and weighed 27,500 pounds. To schedule your next haul or for more information on our services call Nick H. at Heavy Haulers. (561) 229-0690
How Much Can a Double Drop Deck Trailer Handle?
The whole design of a double drop deck trailer is based on the need to drive something onto the platform for easier loading of heavy vehicles. So, what are the legal limits for transporting on one? The height and width allowances for your double drop deck trailer shipment are each 8.5 feet. The legal limit for length is 48 feet, but some double drop trailers measure 53 feet. Your trailer can handle 48,000 pounds of cargo, which can be easily loaded and unloaded because of its lowered deck.
The experts at Heavy Haulers can take care of your overweight load with no problem. Oversize loads are what we specialize in and nobody offers more comprehensive double drop deck transport services than us. Let us take care of all the permits, routing, and scheduling for your next double drop deck shipment of trucks or other heavy equipment and relax, knowing everything is taken care of by the experts. Our shipping team provides a safe, efficient delivery without any surprises.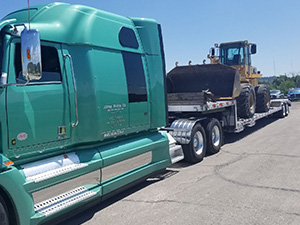 LTL and Partial Load Double Drop Deck Shipping Services
An LTL load is less than a full load, whereas a partial load falls between an LTL and a full load. When you need to ship smaller freight loads, LTL shipping services from Heavy Haulers can save you money. When you have only a part of the double drop deck trailer loaded, other businesses with small shipments can use the remaining space. With each customer sharing the trailer, each one pays a lower fee. In addition to the savings, an LTL or partial load is generally placed on pallets and wrapped, if necessary. Your shipment rides more securely when palletized.
At Heavy Haulers, we take pride in offering the best double drop deck shipping services in all 50 states. Our experienced drivers deliver your LTL load safely and efficiently to any U.S. destination you choose. Your professional double drop deck transport will have all the pilot cars and escort cars needed for the move, Heavy Haulers will make sure of it.







11423605

MILES TRAVELED






1214292

LOADS SHIPPED







1315658103

TONS TRANSPORTED






921637

CLIENTS SATISFIED